Last Updated on 08/02/2023
67% of top celebrity beauty brands are vegan in 2023. Meanwhile 33% contain animal-byproducts.

Cruelty-Free Guide
This data report focuses on the leading celebrity-backed beauty companies, specifically examining their vegan policies and plant-based status in the makeup, skincare, and hair sectors.
To curate this report, we thoroughly researched and analyzed the top beauty brands that have collaborations or ownership ties with celebrities. In total, we considered the top 45 such brands in the US for the year 2023.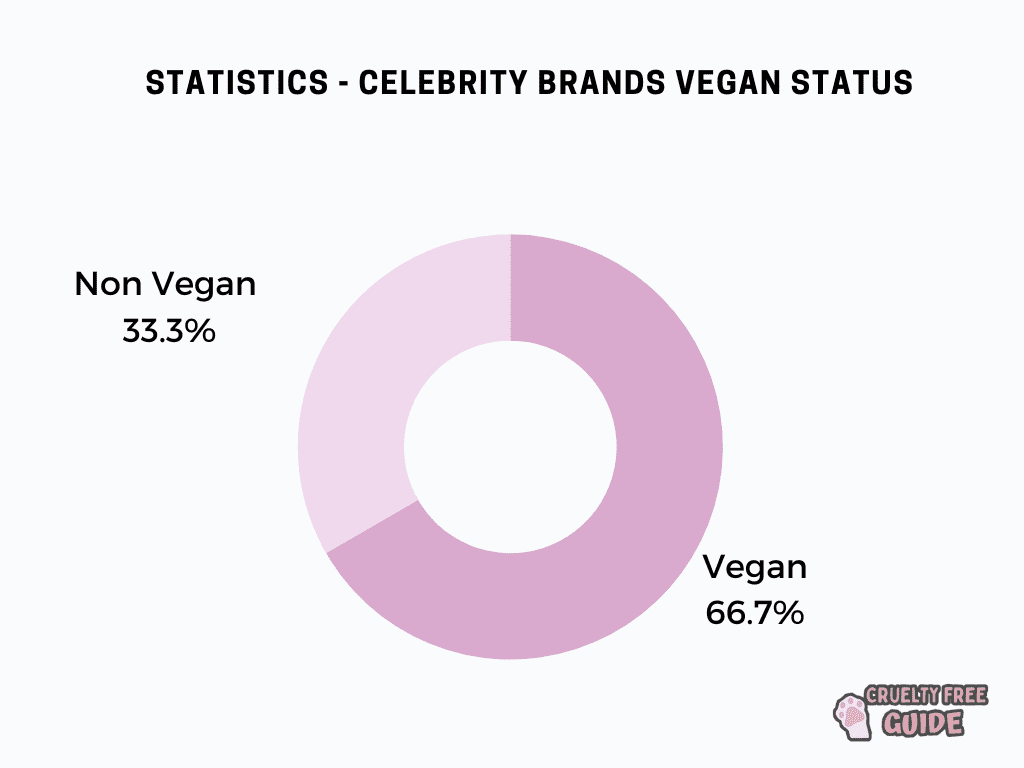 Now, let's delve into the cruelty-free statistics and present the numbers for your review.
67 percent of celebrity owned brands are vegan.
33 percent of celeb brands contain animal ingredients.
Cruelty-Free statistics – 78% of Celeb beauty companies are cruelty-free in 2023.
Cruelty-Free Brands Parent Statistics – 65% of Popular Beauty Companies Owned by Animal Testing Parents in 2023
What is vegan beauty?
Vegan beauty is defined as beauty products that do not contain any animal ingredients. It is free of animal-derived ingredients such as animal fat, beeswax, honey, carmine, among others.
How does Cruelty-Free Guide checks vegan status?
We consider a brand to be vegan when it offers 100 percent of vegan products. Brands that offer 'some' vegan products are classified as vegan-friendly but not vegan or entirely vegan. In this report we have considered only those brands that are entirely vegan.
50% of Top Celeb Beauty Brands Not Vegan (Statistics)
| Celeb Beauty Brands | Celebrity | Vegan Status |
| --- | --- | --- |
| Fenty Beauty | Rihanna | No |
| Fenty Skin | Rihanna | Yes |
| Kylie Cosmetics | Kylie Jenner | Yes |
| Kylie Skin | Kylie Jenner | Yes |
| R.E.M. Beauty | Ariana Grande | Yes |
| Rare Beauty | Selena Gomez | Yes |
| KKW Beauty | Kim Kardashian West | No |
| SKKN By KIM | Kim Kardashian | No |
| Huda Beauty | Huda Kattan | No |
| Haus Laboratories | Lady Gaga | Yes |
| Rhode | Hailey Bieber | Yes |
| About-Face | Halsey | Yes |
| Anomaly | Priyanka Chopra Jonas | Yes |
| Rose Inc | Rosie Huntington Whiteley | Yes |
| Happy Dance | Kristen Bell | No |
| Hey Humans | Jada Pinkett Smith | Yes |
| GXVE | Gwen Stefani | Yes |
| The Outset | Scarlett Johansson | Yes |
| Casa Zeta-Jones | Catherine Zeta-Jones | Yes |
| Pleasing | Harry Styles | Yes |
| LolaVie | Jennifer Aniston | Yes |
| Kind Science | Ellen DeGeneres | Yes |
| SKN by LH | Lori Harvey | Yes |
| KINLÒ | Naomi Osaka | Yes |
| Flower Beauty | Drew Barrymore | No |
| Elaluz | Camila Coelho | Yes |
| Kesha Rose Beauty | Kesha | Yes |
| Florence by Mills | Millie Bobby Brown | Yes |
| Meaningful Beauty | Cindy Crawford | No |
| Victoria Beckham Beauty | Victoria Beckham | No |
| Wander Beauty | Lindsay Ellingson & Divya Gugnani | No |
| Josie Maran Cosmetics | Josie Maran | No |
| Goop Beauty | Gwyneth Paltrow | No |
| Honest Beauty | Jessica Alba | No |
| Good Dye Young | Hayley Williams | Yes |
| MDNA Skin | Madonna | No |
| Kora Organics | Miranda Kerr | Yes |
| JLo Beauty | Jennifer Lopez | No |
| Pattern Beauty | Tracee Ellis Ross | No |
| Keys Soulcare | Alicia Keys | No |
| S'Able Labs | Idris Elba | Yes |
| JVN Hair | Jonathan Van Ness | Yes |
| Lauren Conrad Beauty | Lauren Conrad | Yes |
| Humanrace | Pharrell Williams | Yes |
| TPH | Taraji | Yes |