Last Updated on 08/02/2023
64.5% of Popular Cruelty-Free Brands are Owned by Animal Testing Parent Companies. 35.5% of the remaining is entirely cruelty-free. They are either independent, owned by family of founders and/or backed by investment firms.

Cruelty-Free Guide Report
After collecting and analysis of data, we found that around 65 percent of the renowned cruelty-free beauty brands in the US market are infact owned by Non Cruelty-Free Parent Companies in 2023. Here is our report.
64% of Top Cruelty-Free Brands Owned by Animal Testing Parents
Method
We did a survey to know the most popular beauty brands of fellow Americans.
Curated the result to obtain the list of the top cruelty-free brands.
Is it independently owned or has an owner company? Is it a subsidiary of a conglomerate? If the cruelty-free company is a subsidiary or backed by another company, is the parent company cruelty-free?
Survey
For the survey, we followed these measures.
Asked 500 Americans between the ages of 18 and 65 to list their current favorite beauty brands (wishlist or favorite) via Google form. But we had some conditions.
Simple conditions – The brand must be cruelty-free, popular, and widely available across the States. They can list a maximum count of only three.
Once we had enough data, we started crunching the numbers and statistics for research and transparency.
Result
64.5 percent of users' favorite cruelty-free brands are owned by non-cruelty-free companies.
35.5 percent are indeed entirely cruelty-free.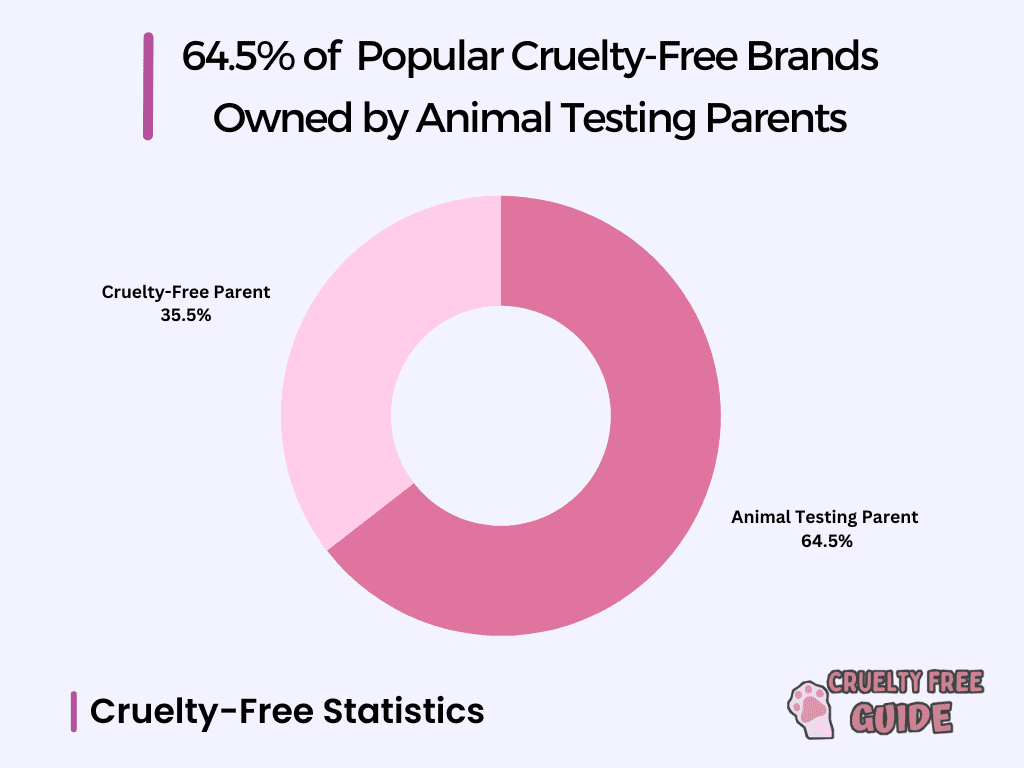 Cruelty-Free Brands Statistics – What data suggest?
People are unaware of real cruelty-free status of a brand.
Interestingly enough, there are numerous entries of non-cruelty-free brands. It leads to the question – are consumers fully aware of which brands are truly cruelty-free?
One example from the survey suggested Maybelline being a popular name. It is popular, affordable, and much hyped. The only issue? Maybelline is not cruelty-free.
6 to 7 out of 10 renowned brands are indirectly supporting animal testing.
Key Takeaways
Cruelty-free choices are not as diverse as we initially thought.
Transparency in labeling and ownership information is crucial for consumers to make conscious decisions aligned with their values.
What should ethical consumers and animal lovers do?
Supporting cruelty-free brands, even if they have some ownership ties, can still have a positive impact by increasing demand for animal-friendly products. But at the end, it is always your personal call.
Making Informed Choices – Make conscious decisions and be aware of the brands you invest in.
Educate and spread awareness without imposing it on other consumers (Our Motto).
Give indie brands and new emerging brands a shot.
Surveyed List of Brands
Here is the list of 62 brands in no particular order. It includes beauty brands in makeup, skincare, hair care and fragrance category.
Brands marked (*) are owned by animal testing parents.
Essence
Sol de Janeiro*
Tatcha*
Ole Henriksen*
Rimmel*
Tree Hut
Herbal Essences*
The Body Shop
Colourpop
Kylie Cosmetics*
Anastasia Beverly Hills
Youth to the People*
ILIA*
Revolution Beauty
Milani
Paula's Choice*
Drunk Elephant*
IT Cosmetics*
Huda Beauty
Native*
PÜR Beauty
Tarte*
Shea Moisture*
TRESemme*
Murad*
Farmacy*
Too Faced*
Pacifica
Glossier
Flower Beauty
Dermalogica*
Hero Cosmetics*
Dove*
Charlotte Tilbury*
St. Ives*
Rare Beauty
REN Skincare*
Smashbox*
Schmidt's*
Hourglass*
E.L.F
Honest Beauty
Fenty Beauty*
The Ordinary*
Aveda*
Drunk Elephant*
Covergirl*
Mario Badescu
Catrice
Urban Decay*
NYX*
R.E.M Beauty
COSRX*
Milk Makeup
Cover FX
Burt's Bees*
Pureology*
Supergoop!
Ulta Beauty
Sun Bum*
Living Proof*
Many of these brands are owned by L'Oreal, Unilever, P&G and similar MNCs. Here is a detailed report on what beauty brands L'Oreal owns and who owns the giant conglomerate itself.
Navigating the Cruelty-Free Landscape
Cruelty-Free brands are growing as ethical consumerism grows. It is important to educate yourself to navigate the ecruelty-free landscape smoothly.
Data Reports
85 percent of Top Beauty Brands are Animal Tested in 2023