*includes affiliate link(s)
Last Updated on 03/28/2023
When starting out on a cruelty free lifestyle, it can get really overwhelming at times. Keeping up with the brands can be difficult. There are constantly new brands adopting 'no animal testing' whereas some brands go back to their old roots, unfortunately. Hey there! This is where I rush in with the cruelty free makeup brands list.
Mainstream drugstore makeup brands are often outperforming their premium counterparts. The drugstore brands have done a great job at improvising their formulations. Unfortunately, drugstore makeup still lacks transparency in some major issues.
Majority of the popular drugstore makeup brands (Maybelline for one) still use animal derived ingredients in their makeup. On top of that, they still test their product ingredients and finished products on innocent animals. All just for the sake of gaining global market share. Can you imagine!
From the past decade, more drugstore makeup brands are coming together in this journey of diminishing animal harming tests. Here is the list of drugstore brands offering 100% cruelty-free products in an affordable range.
PS – This article is being updated. We'll be done shortly.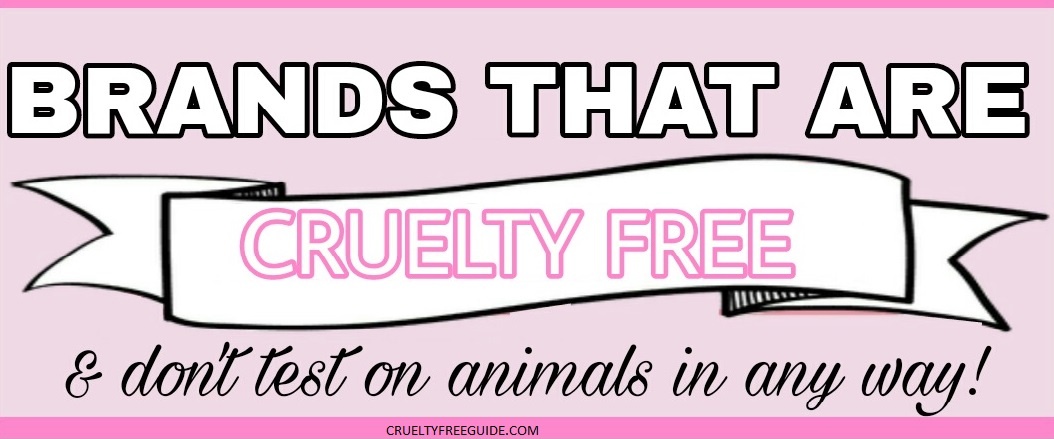 Cruelty-Free Makeup Brands *2023*
Also, if there is any change in the cruelty-free status of a company, edits will be done to keep the list updated. As a result, they'll be removed or added.
Note:
Brands marked with (*) asterisk are cruelty-free but owned by parent companies that test on animals. The brands don't perform any cruelty tests.
You can click on the particular brand's name for more information.
| Makeup Brands | Parent Company | Certification | Vegan |
| --- | --- | --- | --- |
#
| | | | |
| --- | --- | --- | --- |
| 100% Pure | None | PETA | Transitioning to All Vegan |
| 14e Cosmetics | None | Leaping Bunny | Completely Vegan |
| 17 | Boots | Leaping Bunny | Entirely Vegan |
| 3INA | Independent | PETA | Not 100% vegan |
A
| | | | |
| --- | --- | --- | --- |
| Aesthetica Cosmetics | None | PETA | 100% Vegan |
| Afterglow Cosmetics | None | PETA | Vegan |
| Alphée | Independent | Leaping Bunny | Some Vegan Products |
| Anastasia Beverly Hills | None | PETA | Some Vegan Options |
| Annabelle | Marcelle | PETA | Offers Vegan |
| Ardell | American International Industries (AII) | None | Some Vegan Picks |
| Athr Beauty | None | PETA | Vegan |
| Auric | None | None | Some Vegan Options |
| Australis | Heritage Brands | None | Some |
| Aveda | Estée Lauder* | Leaping Bunny, PETA | Vegan |
| Axiology | Independent | PETA | 100% vegan |
B
| | | | |
| --- | --- | --- | --- |
| bareMinerals | Orveon | PETA | Offers Some Vegan Products |
| BareFace Cosmetics | None | PETA | Some |
| BareFaced Beauty | None | PETA | Some Vegan Options |
| Barry M | Independent | PETA | Some Vegan Options |
| BeautyCounter | Counter Brands | Leaping Bunny | Offers Vegan Products |
| Beauty Bakerie | None | PETA | Some Vegan Options |
| Beauty Blender | None | Leaping Bunny, PETA | Offers Vegan Options |
| Beauty By Stony | Independent | PETA | Offers Vegan |
| Beauty Without Cruelty | Lotus Brands | Leaping Bunny | 100% Vegan |
| Becca | Estee Lauder* | PETA | Some Vegan Options |
| Bella Marie | Global Beauty International | Leaping Bunny | 100% Vegan |
| BellaPierre | None | Leaping Bunny | Some Vegan Options |
| Ben Nye | None | None | Some Vegan Options |
| Besamé Cosmetics | None | PETA | Offers Vegan Items |
| BH Cosmetics | Revolution Beauty | Leaping Bunny, PETA | Some Vegan Items |
| Bili Beauty | None | Leaping Bunny | 100% Vegan |
| Bite Beauty (Discontinued) | – | – | – |
| Black Moon Cosmetics | None | Leaping Bunny, PETA | 100% Vegan |
| Blinc | None | PETA | Not 100% Vegan |
| Bossy Cosmetics | None | Leaping Bunny, PETA | Not Entirely Vegan |
| Burt's Bees | Clorox* | Leaping Bunny, PETA | Has Vegan Products |
| Buxom Cosmetics | Orveon | PETA | Some Vegan Options |
| By Beauty Bay | Beauty Bay | PETA | Not Entirely Vegan |
C
| | | | |
| --- | --- | --- | --- |
| Cailyn Cosmetics | Independent | Leaping Bunny | Offers Vegan |
| Caley Cosmetics | None | Leaping Bunny | Offers Vegan |
| Caroline's Dream | None | None | Available |
| Cate McNabb | Independent | Leaping Bunny | Offers Vegan |
| Catrice | Cosnova | PETA | Available |
| Charlotte Tilbury | Puig | Leaping Bunny | Some |
| Chella Beauty | None | None | Offers Vegan |
| Chi Chi Cosmetics | None | PETA | Offers Vegan |
| Ciaté London | Brand Agency | PETA | Available |
| Clarria Cosmetics | None | None | Some |
| CLOVE + HALLOW (Discontinued) | – | – | – |
| Clover by Clove | None | PETA | 100% Vegan |
| Colorevolution | None | PETA | Offers Vegan |
| ColourPop | Seed Beauty | PETA | Offers Vegan |
| Coloured Raine Cosmetics | None | PETA | Offers Vegan |
| Concrete Minerals | None | Leaping Bunny, PETA | 100% Vegan |
| CORE Cosmetics | None | Leaping Bunny | Offers Vegan |
| Cover FX | AS Beauty | PETA | 100% Vegan |
| COVERGIRL | Coty | Leaping Bunny | Offers Vegan |
| Crazy Rumors | None | Leaping Bunny, PETA | 100% Vegan |
| Creature Cosmetics | Independent | None | 100% Vegan |
D
| | | | |
| --- | --- | --- | --- |
| Dear Dahlia | None | PETA | 100% Vegan |
| Dehiya | Independent | None | 100% Vegan |
| Delight Beauty | None | None | 100% Vegan |
| DIME Beauty | None | None | Some |
| Dose of Colors | Independent | Leaping Bunny, PETA | Available |
| DuWop Cosmetics | Independent | PETA | Some |
E
| | | | |
| --- | --- | --- | --- |
| Ecco Bella | None | PETA | 100% Vegan |
| ECO Minerals | None | PETA | 100% Vegan |
| Elate Beauty | None | Leaping Bunny | All Vegan |
| ELF Cosmetics | TPG Growth | PETA | Purely Vegan |
| Elizabeth Mott | Independent | PETA | Available |
| Elixery | None | Leaping Bunny | All Vegan |
| Ellis Faas | None | PETA | Available |
| EmJ | None | None | All Vegan |
| Essence | Cosnova | PETA | Available |
| Everyday Minerals | None | PETA | 100% Vegan |
| Exa Beauty | Credo | None | 100% Vegan |
| Eye of Horus | None | None | Available |
| Eyeko | THG plc* | PETA | Available |
F
| | | | |
| --- | --- | --- | --- |
| Face Atelier | None | Leaping Bunny, PETA | Some |
| Faces Canada | Purplle | PETA | Some |
| Fairypants | None | None | Some |
| Fairy Girl Cosmetics | Independent | None | 100% Vegan |
| Fenty Beauty | Fenty Corp., Kendo Holdings, LVMH* | None | Somewhat |
| Feral Cosmetics | Independent | PETA | 100% Vegan |
| FiOR Minerals | Independent | PETA | 100% Vegan |
| Flesh Beauty | Revlon* | None | Some |
| Flower Beauty | Independent | PETA | Some |
| Freck Beauty | None | Leaping Bunny | 100% Vegan |
| Fyrinnae | None | None | Some |
G
| | | | |
| --- | --- | --- | --- |
| Gabriel Cosmetics | None | Leaping Bunny, PETA | Some |
| Garnier | L'Oreal* | Leaping Bunny | Available |
| Gerard Cosmetics | None | None | Available |
| Giovanni | Independent | Leaping Bunny, PETA | Some |
| Glamlite | None | PETA | Available |
| Glossier | None | Leaping Bunny | Available |
| Gosh Cosmetics | Tjellesen | PETA | Some |
| Green People | None | None | Some |
| Gressa | None | Leaping Bunny | Available |
| GXVE Beauty | Independent | Leaping Bunny | 100% Vegan |
H
| | | | |
| --- | --- | --- | --- |
| Half Magic Beauty | A24 | None | Vegan |
| HAN Skincare Cosmetics | None | None | Some |
| Haus Labs by Lady Gaga | Coty* | None | All Vegan |
| High Endurance Cosmetics | None | PETA | Some |
| Honest Beauty | None | None | Some |
| Hourglass | Unilever* | PETA | Some |
| Huda Beauty | None | None | Some |
| Hurraw! | None | Leaping Bunny, PETA | Vegan |
| Hynt Beauty | None | Leaping Bunny, PETA | Some |
I
| | | | |
| --- | --- | --- | --- |
| INIKA | None | PETA | Vegan |
| Illamasqua | None | PETA | Some |
| ILIA | Famille C Venture | Leaping Bunny | Many Vegan Options |
| Illuminare Cosmetics | THG plc (The Hut Group) | PETA | Vegan |
| Isadora | None | PETA | Some |
| IT Cosmetics | L'Oreal* | PETA | Some |
J
Jane Iredale
San Francisco Equity Partners
PETA
Some
Jecca Blac
None
PETA
Vegan
Jeffree Star Cosmetics
(PS – Owns Ranch Meat Business)
None
PETA
Vegan
Johnny Concert
None
PETA
All Vegan
Jordana Cosmetics
None
PETA
Some
Josie Maran Cosmetics
None
PETA
Some
Jouer
Independent
Leaping Bunny
Some
Julep
AS Beauty
PETA
Some
Juvia's Place
None
PETA
Some
K
| | | | |
| --- | --- | --- | --- |
| Katherine Cosmetics | None | PETA | Some |
| Kester Black | None | Leaping Bunny, PETA | 100% Vegan |
| Kett Cosmetics | Muse Beauty | PETA | Some |
| Kiko Milano | None | None | Some |
| Kitaka of London | None | Leaping Bunny, PETA | Some |
| KKW Beauty | Coty* | None | Offers Vegan Products |
| Klarity Kosmetics | None | None | Some |
| Koh Gen Do | None | None | Some |
| Korres | None | PETA | Offers Vegan Products |
| Kosas | None | Leaping Bunny | Offers Vegan Products |
| KVD Beauty | Kendo (LVMH)* | PETA | 100% Vegan |
| Kylie Cosmetics | Coty* | None | Offers Vegan Products |
L
| | | | |
| --- | --- | --- | --- |
| L.A. Girl | Beauty 21 Cosmetics | PETA | Some |
| Lamain Beauty | None | None | Some |
| Lamik Beauty | None | None | Offers Vegan Products |
| Lakme | Hindustan Unilever* | PETA | Some |
| Lauren Brooke Cosmetiques | None | Leaping Bunny, PETA | Offers Vegan Products |
| Lawless Beauty | None | None | Some |
| Lethal Cosmetics | None | PETA | Vegan |
| LH Cosmetics | None | None | Some Options |
| Lily Lolo | None | PETA | Offers Vegan Products |
| Lime Crime | Tengram Capital Partners | Leaping Bunny | Vegan |
| Lip Lab | Kendo* | None | Some Vegan Options |
| Live Tinted | Independent | Leaping Bunny | Vegan |
| Loola Cosmetics | Hybrid Beauty Labs | None | Offers Vegan Products |
| Lord & Berry | None | None | Some |
| Lunar Beauty | None | PETA | Some |
| Luscious Cosmetics | Independent | PETA | Vegan |
| LunatiCK Cosmetic Labs | None | PETA | All Vegan |
| Lush | Independent | PETA | Some |
| Lust Minerals | None | None | Has Options |
| LYS Beauty | Independent | PETA | Entirely Vegan |
M
| | | | |
| --- | --- | --- | --- |
| Mai Couture | Independent | None | Some |
| Makeup Addiction Cosmetics | Independent | None | Some |
| Makeup by Mario | None | PETA | Some |
| Makeup Geek (Discontinued) | – | – | – |
| Makeup Revolution | Independent | PETA | Some |
| Mally Beauty | AS Beauty | None | Some |
| Marc Jacobs Beauty | LVMH | PETA | Some Vegan Products |
| Maréna Beauté | None | None | Some |
| Marie Hunter Beauty | None | PETA | Some |
| Marie Natie Cosmetics | None | None | Some |
| Mellow Cosmetics | None | None | Vegan |
| Melt Cosmetics | Independent | Leaping Bunny | Some |
| Mented Cosmetics | None | None | Vegan |
| MERIT | None | Leaping Bunny | Vegan |
| Milani | Gryphon Investor | Leaping Bunny, PETA | Some |
| Milk Makeup | Waldencast | Leaping Bunny | Vegan |
| Mineral Fusion | BWX | Leaping Bunny | Some |
| Mineral Hygienics | None | None | Some |
| Mirenesse | None | None | Some |
| ModelCo | Independent | PETA | Some |
| Mo Mi Beauty | None | None | Vegan |
| MOMMA (Ministry of Mineral Makeup Australia) | None | PETA | All Vegan |
| MOTD Cosmetics | Independent | None | Vegan |
| My Pretty Zombie Cosmetics | None | None | Has Vegan Options |
N
| | | | |
| --- | --- | --- | --- |
| Nabla Cosmetics | None | PETA | Offers Some Vegan |
| Napoleon Perdis Cosmetics | None | None | Offers Some Vegan |
| Necromancy Cosmetica | None | None | Vegan |
| No7 | Boots | None | Offers Some Vegan |
| Nomad Cosmetics | None | PETA | Offers Some Vegan |
| Nu*e & Noir Cosmetics | Independent | None | Vegan |
| Nui Cosmetics | None | None | Offers Some Vegan |
| NVEY Eco | None | None | Has Some Vegan |
| NYX Cosmetics | L'Oréal* | PETA | Offers Vegan Picks |
O
| | | | |
| --- | --- | --- | --- |
| Odylique | None | PETA | Offers Some Vegan |
| OFRA Cosmetics | Independent | Leaping Bunny, PETA | Vegan |
| Omolewa Cosmetics | None | None | Offers Some Vegan |
| OPV Beauty | Independent | PETA | Offers Some Vegan |
P
| | | | |
| --- | --- | --- | --- |
| Pacifica | None | PETA | Entirely Vegan |
| Peony Cosmetics | None | None | Offers Some Vegan |
| Perfekt Beauty | Synergy CHC | None | Has Vegan Options |
| Pixi | Independent | None | Has Vegan Options |
| Pop Beauty | Independent | None | Offers Some Vegan |
| Profusion Cosmetics | None | PETA | Has Vegan Options |
| PUR Cosmetics | Astral Health & Beauty | PETA | Some |
| PYT Beauty | Independent | Leaping Bunny | Some |
R
| | | | |
| --- | --- | --- | --- |
| Rare Beauty | Independent | PETA | Offers Some Vegan |
| RCMA Makeup | None | PETA | Some |
| Real Purity | None | PETA | Some |
| Red Apple Lipstick | None | Leaping Bunny | Vegan |
| Revolution Beauty | None | PETA | Offers Some Vegan |
| Rimmel | Coty* | Leaping Bunny | Some |
| Rituel de Fille | None | Leaping Bunny | Has Vegan Options |
| RMS Beauty | Highlander Partners | PETA | Offers Vegan |
| Root (Root Pretty) | None | None | All Vegan |
| Rouge Bunny Rouge | None | None | Offers Some Vegan |
| Ruba Beauty | None | None | Offers Some Vegan |
S
| | | | |
| --- | --- | --- | --- |
| Sabreen Cosmetics (On Pause) | None | PETA | Vegan |
| Saie | None | Leaping Bunny | Offers Vegan Options |
| Saturated Colour | None | PETA | Some |
| Shanel Cosmetics | Independent | None | Some |
| Sigma Beauty | None | PETA | Has Vegan Options |
| Silk Naturals | None | PETA | Some |
| Smashbox | Estee Lauder* | PETA | Offers Vegan Options |
| Sonia Kashuk | Target | None | Offers Vegan Options |
| Spectrum Collections | None | PETA | Vegan |
| Starlooks | None | None | Offers Vegan Options |
| Stila | Estée Lauder* | PETA | Some |
| SugarPill Cosmetics | None | PETA | Offers Vegan Options |
| Superdrug | A. S. Watson Group | Leaping Bunny | Some |
| Suva Beauty | None | PETA | Some |
| Sweat Cosmetics | None | None | Vegan |
T
| | | | |
| --- | --- | --- | --- |
| Terre Mere Cosmetics | None | PETA | Vegan |
| The Balm | None | None | Some Vegan |
| The Body Shop | Natura & Co | Leaping Bunny, PETA | Some |
| Thrive Causemetics | None | Leaping Bunny, PETA | All Vegan |
| ToN Cosmetics | None | Leaping Bunny | Vegan |
| Too Faced | Estée Lauder* | PETA | Offers Vegan |
| Topshop Makeup (Discontinued) | – | – | – |
| Tower 28 | None | PETA | Vegan |
U
| | | | |
| --- | --- | --- | --- |
| Ulta Beauty | Ulta | PETA | Offers Vegan Options |
| Uoga Uoga | None | None | Some |
| Uoma Beauty | None | None | Some |
| Urban Decay | L'Oreal* | PETA | Has Vegan Options |
V
| | | | |
| --- | --- | --- | --- |
| Vapour Organic Beauty (Out of Business) | – | – | – |
| Velvet 59 | None | None | Vegan |
W
| | | | |
| --- | --- | --- | --- |
| W3ll People | ELF Cosmetics | PETA | Offers Vegan Options |
| Wander Beauty | None | Leaping Bunny | Some |
| WildMint Cosmetics | None | PETA | Vegan |
Y
| | | | |
| --- | --- | --- | --- |
| Yaby Cosmetics | None | Leaping Bunny | Offers Some Vegan |
| Youngblood Mineral Cosmetics | Luxury Brands LLC | PETA | Some |
Z
| | | | |
| --- | --- | --- | --- |
| Zoella Beauty (Discontinued) | – | – | – |
| Zoeva | None | None | Some |
| Zoya Cosmetics | None | None | Some |
| ZuZu Luxe | Gabriel Cosmetics | Leaping Bunny, PETA | Some |
| Zyderma HS | None | PETA | Vegan |