Last Updated on 02/08/2023
Makeup testing on animals is a bitter truth. Another one is that not many are aware of it. So today, let's check out the list of makeup companies that are not cruelty free.
This list includes some of the popular brands that appear to be animal-friendly, but that's far from the truth. Next time you shop, you know which brands to avoid!
Makeup Brands that Test on Animals *2023*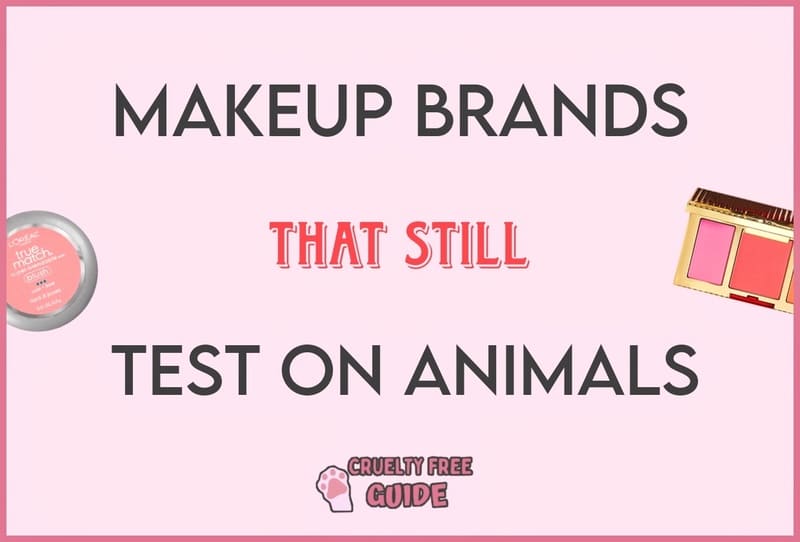 Animal Testing for Cosmetics
Makeup brands test their new cosmetics on animals. This cruel practice is masked as a 'safety' measure. Animal experimentation is nothing new in the cosmetic industry.
Mostly, vertebrate animals such as rats, cats, dogs, and monkeys, among others. are used. The question of concern is how the animals are treated during and after the procedure.
Why are we against testing?
Experimental testing often causes severe harm, extreme pain, suffering, and fatal damage to defenceless animals. At times, these damages go beyond the recovery threshold.
Hence, they are often euthanized. Interestingly enough, cosmetic animal testing is not very conclusive. This means that the test performances can't simulate any cosmetic effect on human skin. Why you may ask. Because of the differences between the skin of humans and test animals.
Thus, animal testing in cosmetics is not a reasonable or ethical practice when it comes to beauty testing.
Is Testing Still Occurring in 2023?
Yes, testing in cosmetics is a reality that most people are not aware of. While some have heard about it, they don't know how gruesome it actually is.
Some countries have completely banned animal testing. Kudos to them!
Meanwhile, other countries still rely on animal testing. Certain countries use animal testing as standardization. Mostly, beauty companies perform laboratory testing procedures involving animals.
Here is a list of Luxury Brands and Skincare Brands that support testing currently. We also have a brand directory of Cruelty-Free Makeup Brands, Black Owned Companies and Skincare Brands.
How to use this list?
The list is in alphabetical order. Use the index below to jump to a particular section.
Parent/owned brands field marked as none implies the brand is not owned by any other MNC or corporation.
You can click on the brand's name and learn its history, origin story and current testing policy in detail.
More companies will be added after vetting. The list is regularly updated.
Let's start with the list of not cruelty-free companies.
Makeup Brands
Owner Company

A

Almay
Revlon
Amway
Alticor
Armani Beauty
None
Avon
Natura & Co

B

Benefit Cosmetics
LVMH
Bobbi Brown
Estee Lauder
Bourjois
Coty
Burberry
Coty
By Terry
None

C

Calvin Klein
PVH Corp.
Chanel
Chanel Limited
Clarins
L'Oreal
Clinique
Estee Lauder
Coty
None

D

DHC
None
Dior
LVMH
Dolce & Gabbana
None

E

Elizabeth Arden
Revlon
Estee Lauder
None
Etude House
Amorepacific

F

Filorga
Colgate Palmolive

G

Giorgio Armani
None
Givenchy
LVMH
Gucci Beauty
Coty
Guerlain
LVMH

H

Helena Rubinstein
L'Oréal

I

Innisfree
Amorepacific

J

Jimmy Choo
Capri Holdings

K

Kose
None
Kocostar
None

L

La Mer
Estee Lauder
Lancome
L'Oreal
Laneige
Amorepacific
La Prairie
Beiersdorf
Laura Mercier
Shiseido
L'Occitane
L'Occitane Groupe
L'Oreal
Gesparal & Nestle

M

MAC Cosmetics
Estee Lauder
Makeup Forever
LVMH
Marc Jacobs Beauty (Discontinued)
LVMH
Mary Kay
None
Max Factor
Coty
Maybelline
L'Oreal
Menard Cosmetics
None
Michael Kors
Capri Holdings
Missha
Able C&C
Muji
None

N

NARS
Shiseido
Neutrogena
Johnson & Johnson
New York Color (NYC)
Closed Permanently

O

Ojon
Estee Luder
Olay
Procter & Gamble
Oriflame
None
Origins
Estee Lauder

P

Pat McGrath Labs
L'Oreal
Philosophy
Coty
Pola
None
Pond's
Unilever

R

Revlon
MacAndrews & Forbes

S

Sephora Collection
Loreal
Shiseido
None
Shu Uemura
L'Oreal
Sisley Paris
None
Skinfood
None

T

Tom Ford Beauty
Estee Lauder
Too Cool For School
None

V

Versace Makeup (Discontinued)
Capri Holdings
Victoria's Secret & Co. Makeup (Discontinued)
Bath & Body Works

Y

Yves Rocher
Groupe Rocher
Yves Saint Laurent (YSL)
Kering

#

3CE Makeup(Unclear)
Stylenanda
Often, these brands portray themselves as cruelty-free. Instead, they are responsible for testing on animals in some way. So, share this article & spread the word!
If you think we missed a company that should be here as it supports animal testing, reach out to us via email on the contact page.