Last Updated on 01/23/2023
Makeup testing on animals is a bitter truth. Another one for a matter of fact is that not many are aware of it. These are some of the popular makeup brands that are STILL testing on animals. Often confused to be cruelty-free companies, but that's far from the truth. Today's article is all about the Makeup Brands that test on animals in 2023.
PS – This article is currently being updated to reflect the testing policy of China as of 2023. We update our lists often. Will be done shortly.
Makeup brands use animals to test their new cosmetics. Regardless of being cruel, it is considered to be one of the 'safety' measures. The practice is commonly known as animal testing or animal experimentation. It is not a new thing in the cosmetic industry. Most commonly, vertebrate animals such as rats, cats, dogs, monkeys, etc. are used. The question of concern is how the animals are treated during or after the procedure.
Why are we against testing?
Experimental testing often causes severe harm, extreme pain, suffering, and fatal damage to defenceless animals. At times, these damages go beyond the recovery threshold. Hence, they are often euthanized. Interestingly enough, cosmetic animal testing is not very conclusive. This means that the test performances can't simulate any cosmetic effect on human skin. Why you may ask. Because of the differences between the skin of humans and test animals.
Thus, animal testing in cosmetics is not a very reasonable or ethical practice when it comes to beauty testing.
Is Testing Still Occurring in 2023?
Yes, testing in cosmetics is a reality that most people are not aware of. While some have heard about it, they don't know how gruesome it actually is.
Some countries have completely banned animal testing. Kudos to them!
Cruelty Free Brands List
List of Cruelty Free Makeup Brands – Drugstore
Best Vegan Makeup Brands That Are Also Cruelty Free!
List of Cruelty Free Skincare Drugstore Brands
Makeup Brands that Test on Animals *2023*
Meanwhile, other countries still rely on animal testing. Certain countries use animal testing as standardization. Mostly, beauty companies perform laboratory testing procedures involving animals.
New to the whole Cruelty Free stuff'? Check out this 3 part basic cruelty free guide. A simple guide explaining cruelty-free in layman's language.
Let's have a look at these popular makeup companies which still test on animals in 2023. This is a list of non cruelty free makeup brands. Next time you shop, you know which brands to avoid! You can click on the brand's name and read the story in detail.
A
Aveeno is owned by Johnson & Johnson. It promoted their products as 'good enough'. But there are reasons to ask if  Aveeno's animal testing policy is good enough!
Aveeno supports alternatives to animal testing. This initiative is quite appreciative. Still, they are not a cruelty free brand as they do follow mandatory animal testing. Also, they do sell in China.
B
Benefit Cosmetics
Brow tints anyone? People go gaga over their amazing brow tints. Thanks to the thick brow trend!
Often confused to be cruelty free, unfortunately they are not! This brand mentions their detest on animal testing. However, you'll find its products at every Sephora store in China. Yes, Benefit also goes through the notorious animal testing procedures.
Bobbi Brown
Bobbi Brown is the next on the animal cruelty brands list. It was established by the famous makeup artist Bobbi Brown. This one is a 'prestige' beauty brand that talks about women's empowerment and consists of a 'praiseworthy' makeup collection. Currently owned by Estee Lauder, Bobbi Brown follows the standard volunteer-based testing in general cases.
List of Skincare Brands STILL Testing on Animals
Luxury Makeup Brands List that Test on Animals
C
Clean & Clear
Almost all of us had our own share of acne-prone life! Clean & Clear was our best friend in those days. This brand is popular for its teen-friendly products. But, are you aware of their testing policy?
It follows the owner brand Johnson & Johnson's footsteps. Hence, Clean & Clear also refrain from animal testing until the law says so.
Clinique is a US based brand. It is among the first beauty brands to make people believe in science behind beauty. They also popularized skin-type specific skincare regimens.
Established by Evelyn Lauder, the daughter-in-law of Estee Lauder, this brand says they are completely against animal testing. They don't conduct animal testing on their own or by means of any other agencies. Instead, they opt for volunteer panels for testing. So far, so good. But, the products from Clinique has a provision to be animal-tested where it's needed by the law.
E
Estee Lauder
Estee Lauder is a multinational beauty company which came into existence in 1946. It was introduced by entrepreneur Estee Lauder & Joseph Lauder. This beauty brand eliminated animal testing 30 years ago. But, they agree to animal testing when required by the country's laws.
Estee Lauder is a huge umbrella company. Some of their subsidiaries are:
Aveda
Becca Cosmetics
Bumble and Bumble
Smashbox
The Ordinary
Too Faced
The above-mentioned brands are PETA certified cruelty-free. While some of their owned brands do test on animals till date. Notable mention:
Bobbi Brown
MAC
Tom Ford
La Mer
Origins, etc.
G
Breaking News: Garnier is now100%  cruelty free. Check the list of complete Cruelty free brands here. Vegan + Cruelty Free Brands here.
Garnier
Being a subsidiary of L'Oreal group, Garnier holds no grudge against animal testing where ever needed by the law. To gain the market shares of China & other countries Garnier products get tested on animals. Although, it must be noted that the brand does not perform animal testing in-house. But Garnier is available in countries that still mandate on cruel testing processes.
GlamGlow
This Estee Lauder Owned brand is one of the hottest face mask makers that has been able to grab 50+ prestigious awards. Nonetheless, they support animal testing passively. It is done by provisioning animal testing for China. I do need to mention that they do not animal-test on their own.
L
LaRoche Posay
This French brand uses revolutionary skin care researches. It produces problem-specific skin care essentials. They speak against animal testing by all means. However, their products do go through testing to enter into Chinese market.
L'Oreal
L'Oreal is one of the biggest beauty giants around the globe. In 1909, they came into existence with French hair-color. L'Oreal has evolved the makeup, skin & hair care trend through its 100+ years of lifetime.
It is another umbrella company that currently owns several of the well-renowned beauty brands.
Some of them being:
Essie
Garnier
Georgio Armani
IT Cosmetics
Lancome
La Roche-Posay
NYX
Urban Decay
Yves Saint Launrent & many more
Their testing policy has undergone changes. Originally, this brand used to test the cosmetics as well as their ingredients. 1979 onward, they developed an alternative for testing, the infamous 'Episkin' technology. Fortunately, it led to cease of ingredient testing on animals.
But sadly, L'Oreal still invests in animal testing. They sell in Mainland China where animal testing is mandatory for cosmetics.
M
MAC
MAC aka Makeup Art Cosmetics is another USA based brand. It was established by Toskan & Angelo, 1984. MAC introduced TV & camera-friendly makeup that pertained to makeup artists.
During the initial years, there was a serious buzz regarding the animal testing policies of MAC. In answer, they stated MAC does not test on animals on their own. Also, they do not have any animal-testing establishments. They invest into researches conducted by Institute for In Vitro Sciences to find better alternatives for animal testing.
However, their products get tested in countries where animal testing is mandatory for imported brands. In conclusion, it's safe to say – they're involved in animal cruelty in one way or another.
Maybelline
Maybelline New York was invented by Thomas Lyle Williams, 19. It is a USA-based makeup brand that came into existence in 1915. Maybelline began with the revolutionary cake-mascara.
Now acquired by L'Oreal, they apply L'Oreal group's standard animal testing policies. They don't perform animal testing on their own any longer. But their exported products undergo test in some countries. This is mostly done where animal testing is a compulsion.
N
NARS
Found by French makeup artist Francois Nars, the makeup brand NARS gained quick popularity. One of their masterpiece is the Radiant creamy concealer. This beauty brand used to be completely cruelty free! But in the recent years, NARS changed their policy. Currently, their products have a provision to do animal test if required by law.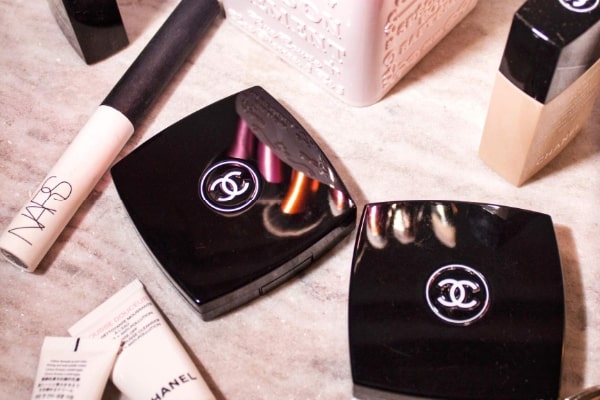 R
Revlon
Revlon is a house-owned makeup brand. Launched during 1930's. This brand has stopped testing on animals by themselves. But they still export their products to China; where the harsh animal testing measures are applied.
V
Victoria's Secret
Are you a fan of their scented lotions and body mists? Well, time to switch your brand. Similar to NARS, they used to be cruelty free. But decided to drop their cruelty-free tag. Simply done to generate more revenue by selling their products in China.
These are some of the popular makeup companies that test on animals. They are non cruelty free beauty brands.
Oftentimes, they appear to be cruelty-free. Instead, they are responsible for makeup testing on animals. So, share this article & spread the word!