*contains affiliate link(s)
Last Updated on 06/30/2021
Wondering how to start your own blog? You're at the right place! This is a beginners' guide on how to start a lifestyle blog that makes you money. It is a step by step walkthrough where you don't require any technical skill or coding. So no worries!
*contains affiliate link(s)
How to start a Lifestyle Blog? *Beginner's Guide*
I'm so excited for you to start your own blog. If you are anything like me, you must be heck confused, cause boy, I so was!
In this post, you'll learn:
Why do you need a blog?
 Reasons why you shouldn't opt for a "free" blog
 Blog vocabulary – basic blogging words
 Setting up your blog – step by step instructions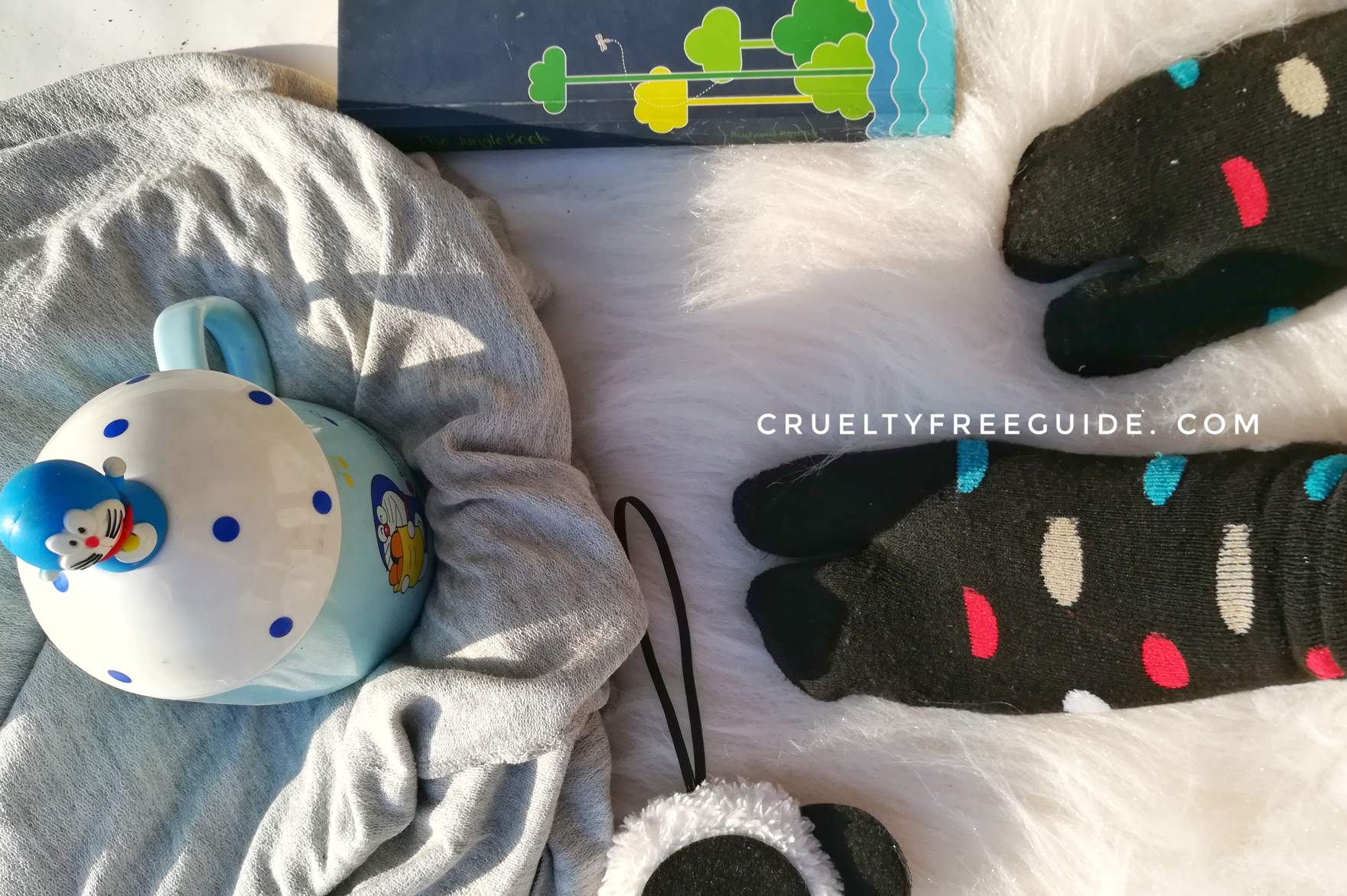 Why do you need a blog?
Everyone has different reason to start a blog. For some, it may be financial independence, while for others, a creative outlet or a passion.
Blogging can be one of the smartest ways to make money at home (notice I didn't say easy, but smart). Even if you're in freelancing, designing or direct selling business, having your own website/blog can do wonders for you.
You appear as established individual and also, you're more accessible to your potential clients.
Some basic reasons:
Work from home
Financial Independence
Freedom from 9 to 5 job
Creative outlet
To gain reach, sales or clients alongside credibility
Why can't I just go for the "free" site?
There is an option of starting a free blog but here is exactly why the successful bloggers don't go down that route and why you shouldn't either!
You don't want to go for the free website because:
There are restrictions on putting advertisements AND monetizing it
You don't get many features such as plugins & complete customization
Almost no customer service and requires more manual work
Long, unprofessional and ugly URL aka link ( Example: YourAwesomeName.FreeServiceProviderName.com)
Your free blog can be closed anytime without any prior notice (yes!)
I highly recommend to start a self hosted blog. It's better to save money and get started (something which I did!)
Are you a newbie?
Considering you're a non-techie like I was while starting out, you should be aware of few basic terms regarding blogging:
1. Niche – It's just what you decide to write about. It can be any topic and category. You can discuss what you have a keen interest in.
You can decide upon starting a lifestyle blog as you can cover multiple subtopics easily.
So pick up a niche and you're good to move to next step. If you're wanting to start a beauty blog, your niche is gonna be Beauty.
Examples –
Home Decor In Budget, Organization Tips For Small House, etc.
Or a little broad – Home Organization, Home Decor, Home Cleaning
Or you can go for an even broader niche – Home and then categorize it accordingly.
If you're wanting to start a lifestyle blog, you can cover many topics or just one of the many. This list includes mom blog, beauty blog, general wellness, home, kitchen, etc.
2. Domain – What is a domain? A domain is just the name of your website. It is what you decide to call your blog.
Decide upon a good blog name as you cannot change it later on without a bit of trouble. But it's recommended not to change later.
I always recommend going with dot com (.com) extension. So your domain goes something like TheNameYouChoose.com.
Few tips for selecting a name –
• Should be easy to remember for your audience. It should click to them.
• Make sure the name somewhat can make it clear to the audience what your blog is about.
• You can also use your own name. At the end, it's your personal choice.
• Don't go for misspelled words if your desired names are not available to book. It becomes difficult to remember.
• Chose about 2 to 3 words only. It looks clean, professional and yeah, easy to remember.
3. URL – It's the link if your blog. It's also called URL (uniform resource locator) in technical language.
Example – CrueltyFreeGuide is the domain name where as CrueltyFreeGuide.com is the URL.
4. Platform – Platform is what your blog will run on. Few examples are: WordPress, Weebly, Blogger, Squarespace, etc.
Out of all, the best pick has to be WordPress.
It's user friendly, good for SEO, doesn't involve heck load of coding, offers plugins, & is regularly updated. All of my blogs (yep, I've multiple) are on WordPress.
Since I personally use WordPress and love it so far, I always recommend it to everyone.
5. Hosting – In simple words, it is just a little space where your site lives online. And you need to pay rent for it.
There are many options to choose from. But as an existing customer, I will suggest you  to go with Bluehost. I use Bluehost to host my blog and it has been nothing but a great experience. They have 24/7 live chat, great customer service as well. They also offer freebies at times if you're lucky!! Free SSL, Free CDN and Free Domain for the first year!
Why Bluehost?
This is exactly what I pondered while starting.
Here are a few reasons why you should choose Bluehost as your hosting partner and why I did too.
I recommend Bluehost as I personally use it.

FREE SSL Certification

Free CDN incuded

You get a free domain, otherwise which will cost you around $12-15 or more depending on your domain name popularity.

Bluehost has an amazing customer service which is 24*7 active and helpful. They also have a mail chat system where you can chat and solve your problem if you have any.

It is a very great option for beginner bloggers as it is quite cheap and affordable.

One-click WordPress installation which is hassle-free and quite easy to do.

Great refundable policy and if you wanna go back, there you go! They have a 30 days money back guarantee. But there won't be any need to use that!!

Bluehost currently hosts more than 2 million websites around the web. It's trusted and being used by heck lot of people.
Start a Money Making Lifestyle Blog – Step by Step Tutorial
Now let's begin with how to start a lifestyle blog on WordPress. This is going to be a step-by-step guide which will help you set up your own lifestyle blog in less than 15 minutes or so.
Click here to head to Bluehost and follow the step by step instructions below to start your own blog. (The link opens in a new tab, so you can follow alongside!)
1. Head to crueltyfreeguide.com/bluehost and you'll get a welcome page, something like the image below. Click on the "Get Started" blue box.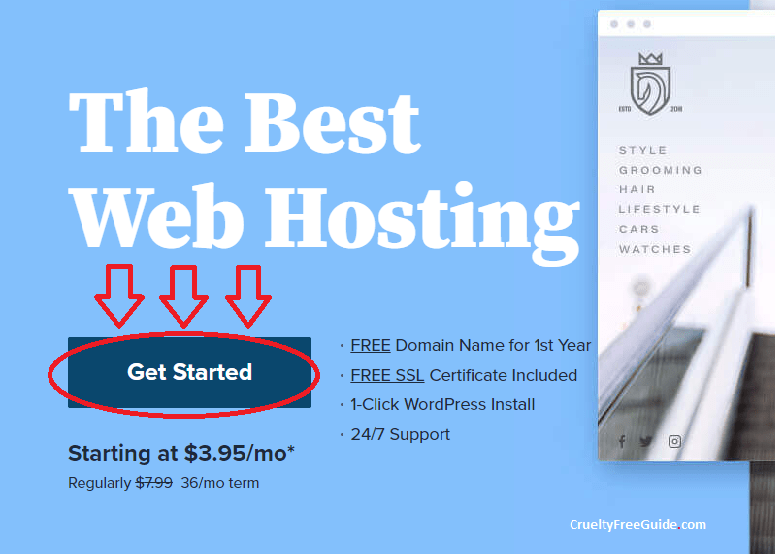 2. Next, you need to select a plan. You should go the first one, the leftmost side. You don't need others as a newbie, for now.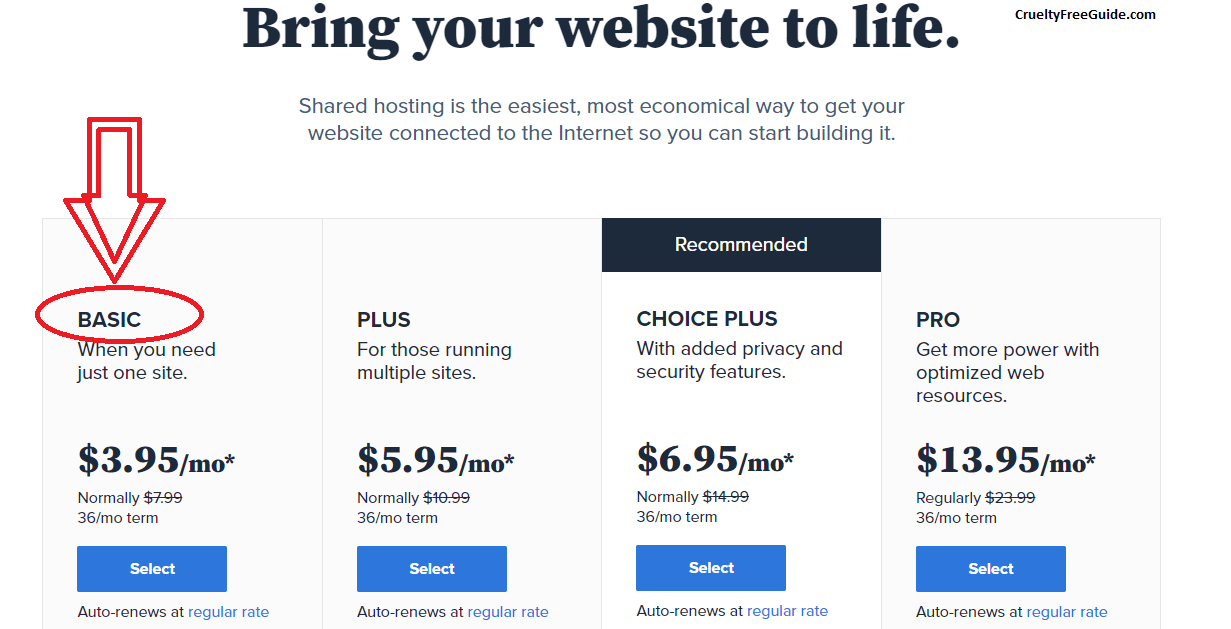 So your selected plan will look something like this (the image below).
3. Your screen will be something like one below. Choose the left box that says 'new domain' and fill in your desired domain (website's name). Click 'next'. (Domain provided here is free of cost and I'm assuming you don't have a domain yet.)
You can check below if your desired Domain name is available or not:
4. This is the information page. Here you need to fill in your details. Make sure to fill correctly. Start with the 'account section' and add your personal details and then fill in the package section.
5. Now there are other services, but you don't need them at the start (unless you want to!).
So proceed to last section, payment information. Fill in your card details and submit your details.
Next is some additional services boxes. Again you don't need these now, so just hit 'Submit'. You can opt for some such as Domain Privacy if you want to. Don't forget to accept their terms and conditions.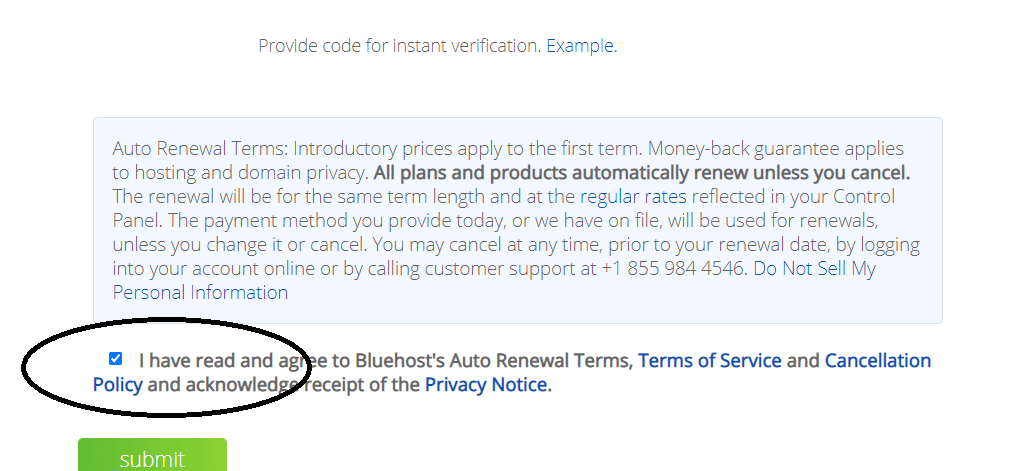 Now your registration is complete! Congrats!! You're almost there!!!!
A congratulations page will be displayed mentioning that a confirmation email was sent. Head to your inbox and click the confirmation link. This is the same email you used to sign up for Bluehost.
Click on 'Create Password' button. Select a good password to begin with.
WordPress Installation
1. Voila! You're all done with hosting and domain. All you need now is WordPress which is just 1 click installation with Bluehost, literally.
2. You'll find "Install WordPress" button. Click on that and you'll come across WordPress installation window.
Next, you'll want to click on the advanced option and fill in your site name, username (used to login to WordPress account) and password. Check both the boxes (agreement to T&C and automatic database creation) and hit Install.
Meanwhile, you're asked to pick a theme. You don't need to pick one just yet. We can do this later on.
3. That's it. Your WordPress is finally installed. You'll be getting an email containing all the confidential information such as your website name, URL (the link to access your site), username, password and Admin URL.
4. Click Start Building button to head to your WordPress Dashboard.
5. Click 'Admin URL' and you'll come across login tab. Enter your username and password to access your WordPress dashboard.
Congratulations! You're done with all the steps and have your own lifestyle website. Easy!
What's Next?
Next you can go on to get a theme. I'll suggest you to go for a free theme while starting out and not to overspend on your blog in the very beginning.
You can get started by creating 'About Page', writing your 'first post' and getting familiar to your WordPress dashboard.
If you start your own lifestyle blog, LMK in the comments below or via contact. I would LOVE to checkout your blog and share some love over there!
I really hope you found this guide helpful and starting a lifestyle blog is easier for you now. If you have any questions, don't be shy and just ask away! I was at your place just a while back. Would be glad to be of any service!
x