*may contain affiliate link(s)
Last Updated on 03/10/2022
Most of the popular makeup removers are not cruelty-free and contain animal byproducts. So here is an ultimate cruelty-free makeup remover guide that covers micellar water, cleansing balms, oil, reusable wipes among others. This article covers the best micellar water that are animal-friendly.
Checkout other types of Makeup Removers:
9 Top-Rated Makeup Cleansing Balms
Best Vegan Makeup Remover, Oil, and Wipes
If you prefer shopping on Amazon like me, then make sure you're signed up for Amazon Prime. It has amazing deals and free shipping alongside fast delivery. Sign up for a FREE trial here!
If you're a visitor from the UK, you can head to Cult Beauty or Beauty Bay or Boots and shop there!
Best Vegan Micellar Water!
Let's get started!
Pacifica Coconut Micellar Tonic
Pacifica tonic gently removes your makeup, oil residue, dirt, and impurities without over-drying. It is suitable for all skin types. This tonic has coconut, calendula, and grapefruit water. A truly vegan and cruelty-free micellar water that is formulated without the bad guys such as parabens, phthalates, and petroleum.
It smells like coconut, which is refreshing and appealing to the buds! A naturally moisturizing tonic that is long-lasting and makes your skin appear healthy.
Pacifica also has another variant, the Rose Water wipes (if you want to check out reusable wipes, I've linked it towards the beginning). It is rose-based wipes that do the same job but with the refreshing floral scent! It contains ingredients such as coconut water, rose flower water, and calendula extract.
Pros:
Vegan
Drugstore
Hydrating
Coconut based fragrance
Cons:
Not for sensitive skin
Scent might be strong for sensitive nose
Drunk Elephant Milki Micellar Water
Drunk Elephant E-Rase is one of the best cruelty-free micellar water out there in the market currently. It's multi-purpose water that you can also use as a primer, toner, or general refresher spray. It feels cool and refreshing on the skin. This one is highly recommended if you're in the mood for self-pampering!
It cleanses off dirt & waterproof makeup, providing you a smooth soft skin. There is a wonderful scent to it as well.
Pros:
Perfect for sensitive skin
Removes waterproof makeup
Cons:
Tarte Micellar Magic
I love Tarte and always shop on their official website because of the deals. So naturally, I had to try this Magic Micellar Water! The container is cute, the bottle is easy to use.
Coming to the product, this micellar water is great. It removes my waterproof mascara. Mostly, I use it alongside other makeup removers. It is hydrating and nourishing. and best suited for oily to combination skin. Personally, I didn't like it much (maybe due to over-expectation) but nonetheless, it's a decent buy.
Pros:
Removes waterproof makeup
Cool packaging; pump bottle
Gentle cleanser
Works well for oily to combination skin
Paraben, SLS, pthalate, gluten, mineral oil free
Cons:
Yes to Coconut Micellar Water
Yes to Micellar Water is a drugstore micellar water that is not tested on animals. It comes in a pump bottle that makes it convenient to use. As the name suggests, it has a tropical coconut scent to it which you'll surely love.
Apart from removing the makeup efficiently, it also hydrates your skin without any greasiness or dryness. It is best suitable for dry skin.  Yes to Micellar Water contains coconut extract, aloe leaf juice, and witch hazel. It is free of paraben, SLS, and silicone.
Pros:
Really moisturizes
95% Natural
Pleasant coconut fragrance
Free of paraben, SLS & silicone
Affordable
Cons:
Sukin Micellar Cleansing Water
Looking for micellar water that works great and is natural yet affordable? Sukin to your rescue.
It cleanses thoroughly but without stripping oil off your skin. Oily and combination skin people will love this. So will sensitive skin people. The fragrance is wonderful. It is available in aromas such as honey, aloe vera, etc. Overall, the fragrance is great but if you're someone with a sensitive nose, it may bother you slightly.
It has aloe gel which has soothing & moisturizing properties. So is this micellar water! It is hydrating and soothing, feels good during application.
Pros:
Vegan
Drugstore
Natural
Moisturizing & Soothing
Lovely fragrance
Cons:
Fragrance may be bothersome
Eminence 3 in 1 Rice Water
This Eminence product is an amazing 3 in 1! You can use it as a cleanser, toner, and makeup remover. It is cruelty-free, vegan, natural, and organic. There are some great ingredients such as rice milk, pomelo juice, and witch hazel.
This micellar water makes your skin feel smooth and clean. You can also wear it under your makeup as a primer. The only downside is that it is costly. But the ingredients are clean, and they can be used in various ways too.
Pros:
Vegan & Organic
Free of parabens, SLS, gluten, pthalates
Natural & sustainable
Cons:
Nyx Stripped Off Micellar Water
Nyx Micellar Water acts as a gentle makeup remover that is suitable for sensitive skin. It doesn't dry out your skin and easily removes waterproof makeup. You'll only need a little of the product, but obviously, that depends on the amount of makeup you're wearing. Overall, a nice, affordable drugstore buy if you're looking for one.
Pros:
Affordable
Removes waterproof makeup
Lasts long
Cons:
Garnier 
Waterproof 
Micellar Water
Garnier is now cruelty-free! It is certified by Cruelty Free International. However, it is still owned by L'Oreal that is not a cruelty-free brand.
The micellar water works great for waterproof makeup. It removes all the makeup. including eye makeup, easily. All you need to do is hold it gently for a few seconds, then wipe it off. It does contain oil though. Also, do shake well before using.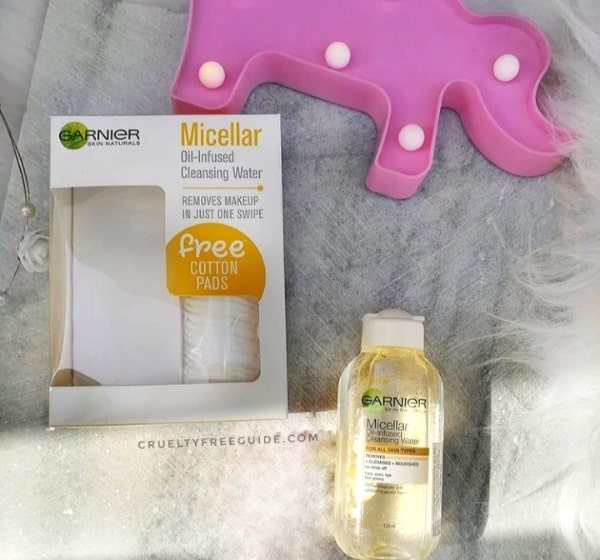 Pros:
Drugstore & affordable
Removes waterproof makeup easily
Removes eye makeup too
Cons:
What is your favorite micellar water? Share in the comments below.