*may contain affiliate link(s)
Last Updated on 03/29/2022
Winter & desert-dry skin goes hand in hand. You cover yourself with heavy body butter and moisturizer. But let's not forget the hands. So here is a little something you might find helpful! I'm talking about the best cruelty free hand cream that work absolutely amazing! It is just the right time to add some great hand and foot cream to your cruelty free skincare regime.
Why should you use a hand and foot cream? 
Would you like greasy hands that leave fingerprints on everything you touch? Yikes! I bet you don't. Neither do I. But, hand cream is still important for soft and supple hands.
A good hand cream protects the sensitive palm skin from the environmental extremities and daily physical activities. Be it winter dryness, summer sweat, greasiness, and whatnot. Not just climatic conditions, washing your hands a dozen times a day is also there.
Your palm skin has fewer sebum glands. This means hand skin can't produce much oil to protect itself. On top of that, there are hand sanitizers. Sulfates and antimicrobial chemicals are the base ingredients for hand washes and sanitizers. They not only dry out your hand skin but also damages the skin's epidermal barrier.
10 Best Cruelty Free & Vegan Hand Cream
Don't want to end up with flaky wrinkled hand skin? Check out our top favorite cruelty free hand moisturizing cream!
1. Jack Black Industrial Strength Hand Healer (V)
Jack Black Hand Healer is a heavy duty hand salve for severely dry hands. If you want to heal your flaky or damaged hand skin quickly, this is the best option. It works effectively and you'll love it once you use it.
This cult-favorite hand cream is enriched with eucalyptus oil, vitamins, macadamia nut oil & glycerin. It is also fragrance-free and is suitable for eczema-prone skin. Also, a vegan-friendly formula.
Skip it if you're into fragrance-based feminine kinda hand cream. I use it to do the real healing job alongside others for a pleasant aroma. I have one in the pocket, the other in the bag, car.. you get it. Obsessed with them just like lip balms.
Pros:
1. Rich hand cream with botanical actives
2. Fragrance-free and vegan
3. Heal severely chapped skin, calluses
4. Perfect for winter dryness
Cons:
1. Might feel greasy in summer
2. The Body Shop Almond Milk & Honey Hand Cream
This dermatologically tested cruelty-free and vegetarian hand cream is specially designed for extra dry & rough hands. The main ingredients of this soothing cream are pure Ethiopian honey and almond milk from Spain.
It is a soft cream with decent moisturizing power. You'll love the calming smell of almonds and honey. It is a quite good hand cream and personally, I like it just because of the smell. It is good for summers, not winter though.
Pros:
1. Smells delicious
2. Quick absorbing light formula
3. No sweat
4. Reduces dryness, softens calluses
Cons:
1. Might need a little extra in case you have super dry hand skin
3. Bliss Lemon & Sage Hand Cream (V)
Don't like greasy hands? Try Bliss Lemon & Sage Hand Cream. This PETA-certified cruelty-free hand cream comes with the goodness of hyaluronic acid, macadamia, and shea butter.
It is super gentle to the skin. A hand hydrator without nasty chemicals like parabens, phthalates, and sulfate. Enjoy the quirky aroma of lemon and sage with this vegan-friendly hand cream!
Pros:
1. Aromatherapy hand cream for dry hands
2. Fruity smell
3. Light non-oily formula
4. Free from bad chemicals
Cons:
1. Contains added fragrance (Might not be the best cream for sensitive skin)
4. Yes To Coconut Ultra Hydrating Cream (V)
Yes To hand cream is a super hydrating one. It is a clever combination of essential fatty acids of coconut, oils of shea butter, banana, and avocado.
This environment-friendly hand moisturizer is Leaping Bunny certified cruelty-free. It is also free from triclosan, BPA, and parabens. A vegan hand moisturizer gets absorbed into the skin quickly and heals chapped bleeding palms and cuticles.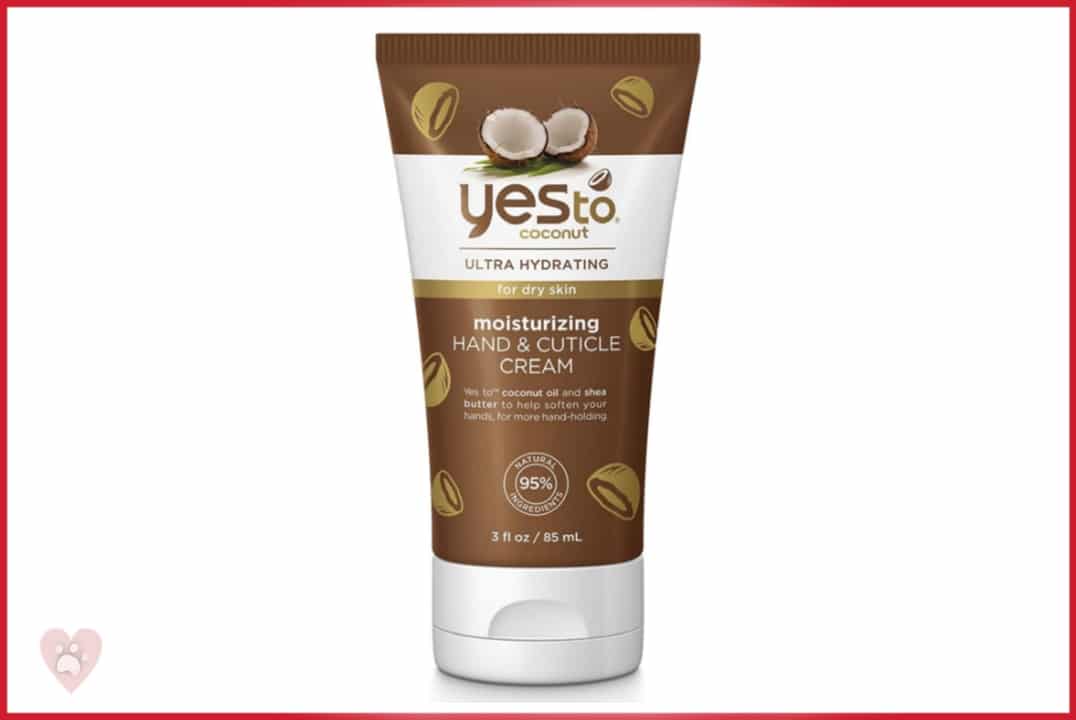 Pros:
1. Hand cream with 97% natural ingredients
2. Non-greasy, fast-absorbing
3. Takes care of severely dry hands and also cuticles
4. Vegan
Cons:
1. Not for oily hands
5. Hempz Milk & Honey Herbal Hand & Foot Cream
If you need a gentle hand and foot moisturizer that works for your dry skin, then you can consider Hempz. It heals and rejuvenates cracked and chapped skin. Hempz contains natural ingredients that nourishes; like 100% pure hemp seed oil, cocoa butter and vitamin E rich shea butter. Presence of rice water calms down the irritation caused by dryness. The formula is free from paraben and gluten.
Pros:
1. Hemp seed oil based hand and foot moisturizer
2. Ultra rich formula
3. Heals and soothes dehydrated irritated skin
Cons:
1. If you don't like aroma therapeutic skin care; this is not for you
6. The Body Shop Hemp Hand Protector (V)
This is a cult favorite hand cream among dry to severely dry hand people. The ultra rich formula is dermatologically tested to work on dry chapped and irritation prone hand skin.
The main ingredient of this vegan and cruelty free hand cream is ethically produced hemp seed oil. It instantly replenishes moisture needs of your dry hands. The moisture level remains intact even after a couple of hours. This is the best cream for those who wash their hands frequently.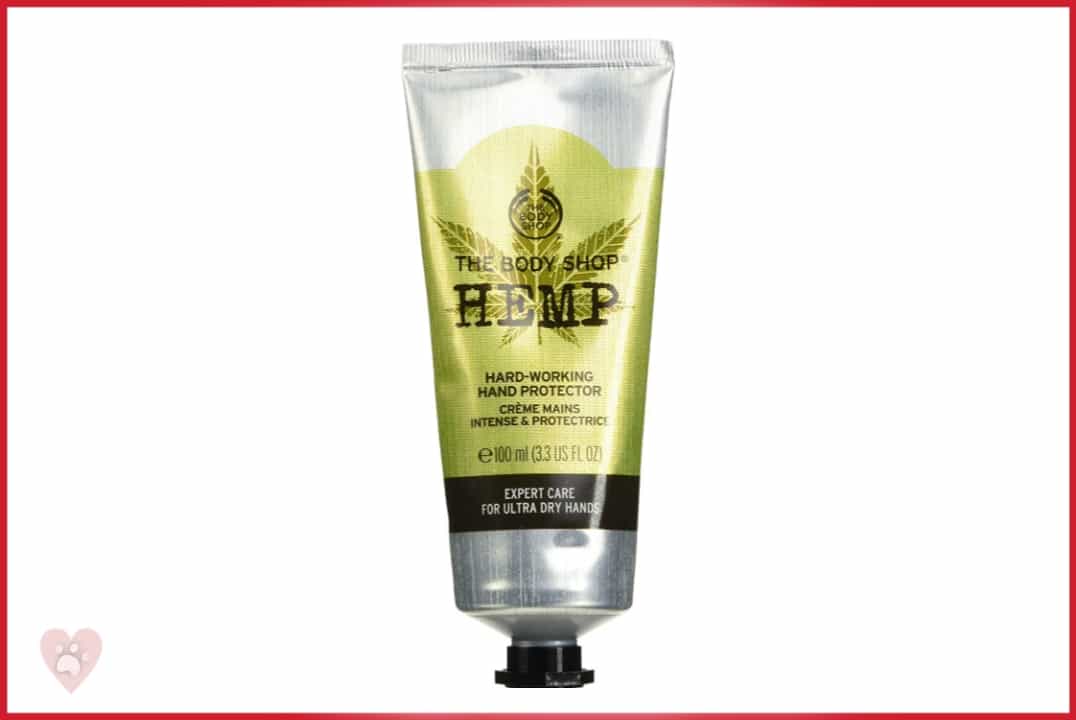 Pros:
1. Deep moisturizing cream for seriously dry hands
2. Increases skin's moisture level by 50% or more
3. Best for using after hand sanitization
4. Vegan, ethical, environment friendly and cruelty free
Cons:
Could not find any!
7. Supergoop Handscreen SPF 40 (V)
Hand cream and sunscreen… what if they come together? Ta da.. Presenting the super effective combination – Supergoop Handscreen. You apply sunscreen to your entire body. Hands are often forgotten.
Unlike some sunscreens, Handscreen does not feel sticky or gooey. Its broad spectrum protects your skin from harmful sun rays. It also provides moisturization and keeps your hands baby soft.
Pros:
1. Mix of sunscreen and hand cream
2. Provides broad spectrum sun protection with SPF 40
3. Gently nourishes hand skin and prevents chaps
4. Made from clean ingredients
5. Used to contain bovine milk; became vegan after reformulation
Cons:
1. Not waterproof
8. Glossier Hand Cream
A hand cream manufactured for the need of the hour. It is a specially designed hand cream for frequent hand washing using harsh antibacterial soaps. You can easily get away with dry hands after every hand wash if this tiny baby is there in your vanity!
It is a rich nourishing formula with zero tackiness. The meadowfoam seed oil, , rosemary and coconut extract-based formula feel light on the skin. The formula is free from allergens like gluten, nut oils, and dairy products.
Pros:
1. Rich moisturization yet non-sticky
2. Smells awesome
3. Cruelty free
4. Cute packaging
Cons:
1. Quantity is less
9. Lano Everywhere Multi-Cream
As the name suggests, it is a multipurpose cream. It can be your face moisturizer, body moisturizer, day cream, night cream, or even a baby cream. It is hydrating and offers natural formula. A lanolin-based light formula protects from winter dryness. Calling out every sensitive skin dry hand person for this!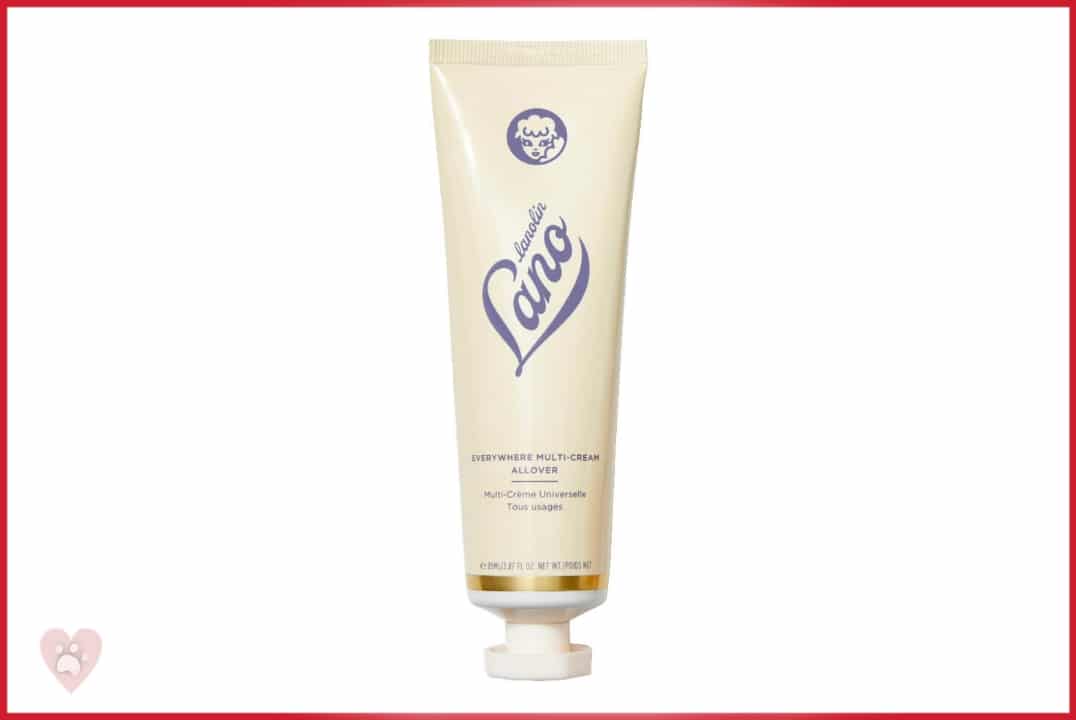 Pros:
1. Lanolin based lightweight cream
2. Made from ethically produced merino wool
3. Multipurpose product; can be applied anywhere
4. Free from petrolatum, paraben and artificial colorant
Cons:
1. Not vegan
10. Trader Joe's Moisturizing Hand Cream (V)
This tried and tested hand cream is among the all-time favorite drugstore picks. A paraben and cruelty-free hand cream not only protects and moisturizes; but also prevents premature wrinkles on the hands.
The formula contains 20% pure shea butter from Africa, hemp seed oil and coconut oil. Though this one gives you deep moisturizing effects, it doesn't leave a greasy residue on your palms. Highly recommended!
Pros:
1. Lightweight hand cream
2. Replenishes dehydrated skin
3. Does not leave a greasy cast
4. Vegan
Cons:
Could not find any!
---
So these are some of the awesome hand creams for you to try! Which is your pick?
Further Read:
10 Best Cruelty Free and Vegan Deodorants to Tackle Body Odor!
Share on Pinterest!