*includes affiliate link(s)
Last Updated on 10/20/2023
A face wash and moisturizer is the simplest skincare routine ever. So here is a list of some of our favorite cruelty free face wash and cleanser. These include non-drying and hydrating ones. Vegan picks are included too. Here is how to get started with a simple cruelty free skincare routine.
How can I know if a cleanser is cruelty free?
A cruelty-free product is mostly labeled and easy to recognize. Look for the official Leaping Bunny and PETA logo. Don't fall for gimmick labels. You can rely on us. We verify the brands if needed reach out to them. The brands mentioned here are all cruelty-free – free of animal testing on the final product and sourced ingredients by the brand, supplier, or any other party.
Is animal friendly, not tested on animals, and cruelty-free the same?
No, animal-friendly or free of animal testing are coverups for the cruelty-free label. 'Animal friendly' indicates that animals weren't harmed but did undergo testing. 'No animal testing by the brand' is another popular statement that means the brand didn't test itself but funded the testing.
Which face wash brands are cruelty free?
Garnier
Pacifica
Acure
Vanicream
Elf
Glossier
Andalou Naturals
Boscia
PUR Beauty
Mario Badescu
The Body Shop
Drunk Elephant
Which cleanser brands test on animals?
These body and face wash brands are involved in testing –
Dove
Olay
Cerave
Cetaphil
Neutrogena
Nivea
Tips
There are a few anti-aging face wash here. But to actually get the benefit of anti-aging, I recommend using serums and good night cream. Cleansers do get washed off eventually. Don't skip sunscreen. Go for a good SPF one and your skin will thank you for years to come.
Don't forget the neck while washing your face.
Some face wash remove makeup as well. But it is better to double cleanse whenever you're wearing makeup. It ensures that no makeup residue is left and your skin is also cleansed. Here is a list of some cruelty free makeup remover balm that melts makeup without any hassle.
Readers' Favorites
Some of you shared your favorites with us. Thank you, the most popular are –
Inkey List Acne + Pore Cleanser
Best Vegan & Cruelty Free Face Wash
Let's get started!
1. Murad Resurgence Renewing Cleanser
This Murad anti-aging cleanser is amazing because it is a cleanser and gentle exfoliator. It cleanses thoroughly and didn't cause any breakouts. Not foamy though. Although it exfoliates your skin, it is suitable for daily usage. If you don't like the idea of everyday exfoliation, use a mild face wash alongside.
You will like this if you are into hydrating and moisturizing creamy cleansers. It leaves your skin feeling soft and moisturized, no kidding. That is the total opposite of what most of the other products do, they strip off natural skin oil. Totally why we love this one by Murad.
Pros:
Hydrating
Suitable for dry skin
Free of baddies such as parabens, phthalates & gluten
Makes skin smooth, soft
Cons:
2. Jack Black Daily Facial Cleanser
Jack Black Pure Clean is one of my go-to face wash because it cleans the skin deeply. It feels fresh after use, not drying. Although it is a 2-in-1 product that also works as a toner, I still like to spray some facial mist. The 2-in-1 'toner' thingy doesn't make my skin feel dry. Anyhow, it's a great facial wash that's suitable for all skin types.
Jack Black Deep Dive Glycolic Cleanser is another variant that works as a cleanser, exfoliant, and face mask. A nice multi-purpose product that contains glycolic acid. It is fragrance-free and that is why it is not a personal favorite.
If you're someone who doesn't like complicated skincare regimes, Jack Black is something you should not miss. I love their hand cream and deodorant.
Pros:
Light fragrance
Sulfate-free
Suitable for all skin types
Great for daily use
Won't dry out your skin
Cons:
3. Dermalogica Acne Clearing Wash
This vegan face wash clears my acne and calms the breakouts. It is perfect for oily, combination skin that deals with visible pores, oiliness, blackheads, and blemishes. However, I do use a salicylic acid serum.
Dermalogica anti-aging skin wash is a gentle, foaming cleanser that helps with acne-prone skin. It has soothing ingredients including menthol, camphor, and tea tree. Not a big fan of the fragrance though. But love how it works.
Also provides fresh, bright, and smooth skin. Removes excess oil and cleanses nicely. You don't need much, a little goes a long way. It contains salicylic acid which helps to clear clogged pores, and also acts as an exfoliant.
Pros:
Vegan
Helps to clear acne
Deals with breakout & irritable skin
Gluten-free
Free of all nasty ingredients – parabens, phthalates, mineral oil, oxybenzone
Recyclable packaging
Good for oily skin type
Cons:
4. Juice Beauty Blemish Clearing
The fragrance is light, almost negligible. It won't only clean your skin but also work on blemishes. Perfect face wash for oily to combinational skin, it detoxifies and hydrates. A little is good to go and will last long. It is non-drying and contains organic ingredients. It works on adult acne and I saw visible blemish reduction.
Pros:
Hydrating
Reduces blemishes & breakouts
Suitable for blemish-prone skin
Works effectively on bumpy irregular skin
Cleanses well
Cons:
5. Mario Badescu Enzyme Cleansing Gel
It is a gel cleanser that cleans dirt and impurities on the skin's surface. Removes excess oil and makes your skin feel fresh as ever. You will like it if you are into a gentle daily cleanser that smells pleasant and removes grime well. It doesn't lather as it is gel-based. Doesn't strip off natural oil so daily usage-friendly. The consistency is perfect and does its job good.
Pros:
Removes oil, dirt, and grime
Doesn't strip off natural oil
Free of phthalate, gluten, sulfate
Suitable for sensitive skin
Daily use mild wash
Cons:
6. IT Cosmetics Confidence in a Cleanser Gentle Face Wash
Got the travel size just for trial after loving the moisturizer in the same range. It is a regular usage wash that removes oil and dirt. Also works as a makeup remover. I used it for double cleansing. It made my skin feel hydrating and refreshing.
You gotta apply it to dry skin after rubbing it between your fingers. Moreover, it is non-comedogenic and soap-free.
Pros
Vegan
Free of soap, alcohol, and sulfate
Contains collagen, ceramides, and hyaluronic acid
Dry and sensitive skin suitable
Gentle cleanser
Removes makeup
Cons:
7. Paula's Choice Resist Foaming Cleanser
A wonderful foaming cleanser that feels great on the skin. It is unscented and lightweight. Foams up well and you get healthy and clean skin. It has hyaluronic acid so it feels nice while using. Amazing face wash to add to your anti-aging regime as it will work well alongside other great products.
Another great thing is that it acts as a great makeup remover. Removes your everyday makeup without any irritation! However, I do recommend cruelty-free micellar water or makeup remover.
Pros:
Fragrance-free
Leaves skin soft
Contains hyaluronic acid
Cleans the skin thoroughly
Paraben free
Removes makeup
Cons:
8. Perricone MD Vitamin C Brightening Cleanser
A brightening face wash that is recommended to anyone who is struggling with dull skin! It adds a healthy after-glow. Suitable for sensitive skin, it has a calming effect and didn't cause any irritation. My skin feels supple and brighter after using it.
This face wash deep cleanses your skin and is packed with good ingredients such as lactic and salicylic acid. It is also a great exfoliator and a foaming face wash. You need only a little bit of the product, so it would surely last long. On the flip side, if you're dry skin, you may find it to be a tad drying. It didn't irritate my skin and caused no breakouts.
Pros:
Non-drying
Soft and supple skin
Adds a healthy glow
Cons:
9. Drunk Elephant Beste Jelly Cleanser
This clean beauty jelly cleanser keeps my acne in check and also cleans the skin well. It removes dirt, pollution, and makeup, but not as effective. Love how my skin feels afterward. It did remind me of Elf Jelly cleanser but it is different.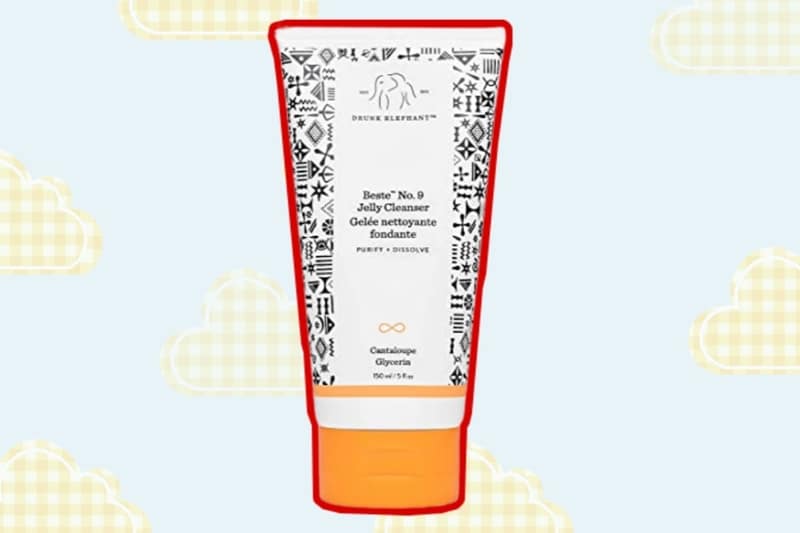 Pros:
Vegan
Fragrance-free
Clean beauty
Free of sulfates, SLS and SLES
Cons:
Didn't remove makeup well
10. StriVectin Anti-Wrinkle Comforting Cleanser
If you've sensitive or dry skin, then StriVectin daily cleanser is something you absolutely need. It is a gentle wash that provides bright skin. My skin feels plump and clean after usage. There are no dry patches either. It is perfect for harsh winter cold and removes makeup too. The texture is creamy, on the thicker side.
Pros:
Removes makeup
Dry and sensitive skin friendly
Gentle everyday wash
Plumps skin
Makes skin glow
Cons:
11. Pacifica Sea Foam Complete Face Wash
A great drugstore, and vegan foaming face wash that smells awesome! It is suitable for all skin types. Great for removing makeup. It is affordable and clears oil and dirt. This Pacifica face wash is gel-based and turns to foam later on. It's also long-lasting.
It is free from animal-based ingredients such as carmine, beeswax, and lanolin. It is also formulated from mineral oil, parabens, phthalates, SLS, and gluten.
Pros:
Vegan
Amazing for regular use
Doesn't have nasty ingredients
Makes skin squeaky clean
Good for oily skin type
Cons
Might leave your skin feeling dry.
FAQ
What's the difference between a face wash and a cleanser?

Both are used to clean the face but there is a difference in their formulation. The texture and how they work are also different. A cleanser is creamy and doesn't foam. They remove makeup better than a regular face wash. The face wash is gentle and made to clean the face and pores.
Does face wash exfoliate?

Some face wash have chemical exfoliant and acts as an exfoliator. The presence of AHAs and BHAs removes the dead cells from the surface and reveals smooth supple skin.
Does face wash expire?

A face wash does expire even if left unopened. You must check the date of expiry on the package. There is a tub symbol as well that tells how long it lasts once opened.
---
Do try these face washes out and see what works best for you!
If you've your favorites, share them with us so that we can try them out too. Not at all required but here is something silly – I remember while doing a lotion trial recently, had to sniff my arms time and again to check if the scent is there or dissipated as we were covering both fragranced and unscented. It must have looked funny to others as I was outside running chores.