*may contain affiliate link(s)
Last Updated on 01/09/2023
Deodorant is essential throughout the year. But we find ourselves reaching out to it more during summer. Same case with sunscreen. Do you know that sunscreen is a must throughout the year? Back to our topic, here is a list of cruelty free and vegan deodorant available in the market currently in 2023!
We've been searching and experimenting with various deodorants. So here are some of our favorites wanting to be added to your cruelty-free skincare regime.
Thankfully, there are some brands that still abide by the rules of humanity. They make effective clean, eco-friendly, and vegan deodorant with zero cruelty.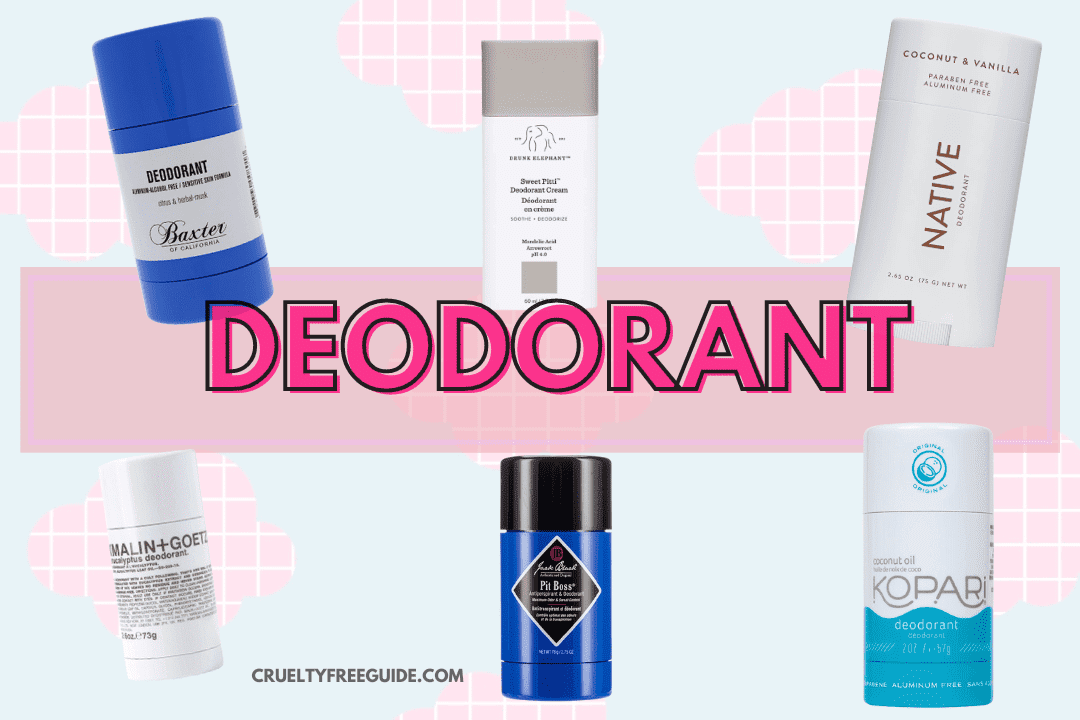 Detox Armpits
When you switch to a natural deodorant, give it some time to adjust. Moving on from chemical deo may take some time. I've also tried homemade deodorant but it wasn't much effective. You can look into it if needed.
Use an antibacterial soap alongside the deodorant. This has helped a ton and made the deodorant so much more effective.
Do not apply on broken skin.
Don't use it on freshly shaved skin.
Deodorant vs Antiperspirant
Antiperspirant and deodorant are often tagged together. But they are different from each other. How are they different though?
Deodorants' main job is to control body odor. It covers the unpleasant smell. Meanwhile, antiperspirant works on sweating. It reduces sweating and henceforth prevents BO. No sweat = no bad odor.
Basically, deodorant mask odor whereas antiperspirant controls sweats by blocking sweat pores. Simple.
Which is better – deodorant or antiperspirant?
Which one should you use? Depends on your requirements. If you want to smell fresh, deodorant is what you need. Otherwise, you can go for an antiperspirant to control sweating. Deodorant is the general pick usually.
Roll On vs Stick vs Spray Deodorant
Stick deodorant is solid in its form whereas roll-on is liquid or has a gel consistency. Spray deodorant dries down quickly comparatively. Stick and roll-on are travel-friendly. So which one should you go for is more of a personal preference and what suits your need.
Vegan Deodorant Brands
Some of the popular cruelty-free and vegan deodorant brands are as follows. It also includes clean and sustainable brands. These are in addition to the detailed list below.
Keep in mind
Do a patch test before trying any new deodorant.
You should not apply deodorants to freshly shaved or waxed skin. Your skin requires at least 24 hours to calm down after a hair removal session.
Apply when freshly out of the shower, especially natural deodorant. This helps to increase their lasting power.
(V) marks the vegan products.
Best Cruelty-Free, Sustainable & Vegan Deodorant
Let's begin.
Jack Black Pit Boss (V)
Pit Boss is a 2-in-1 Antiperspirant & Deodorant. It actually works and works amazingly well. Great for summer, workouts, and any other physical activity-friendly. It comes as a roll-up stick and has zero wetness or sensitivity. Jack Black is vitamin E, aloe vera and Aluminum Zirconium based.
This vegan antiperspirant controls sweat production. It provides better protection against sweat too. It is a combination of deo + antiperspirant. Another good thing is the long-lasting power of this one. Highly recommended! The smell is nice too.
It is a fragrant deodorant stick. One of the best deodorants for gym goers. If you have a strong BO, and other products have failed you, give this a try.
Pros:
Vegan
Sensitive skin-friendly
Long-lasting
Has vitamin E, and aloe
Paraben-free
Cons:
Native Deodorant (V)
Native is one of the most popular natural deodorants that needs no introduction. It contains ingredients such as baking soda, coconut oil, tapioca starch, shea butter, and probiotics. Native provides effective odor protection alongside a pleasant, light scent. It is available in both scented and unscented versions.
Comes in a roll-on stick format and works well for sensitive skin. It doesn't feel sticky and goes on smoothly.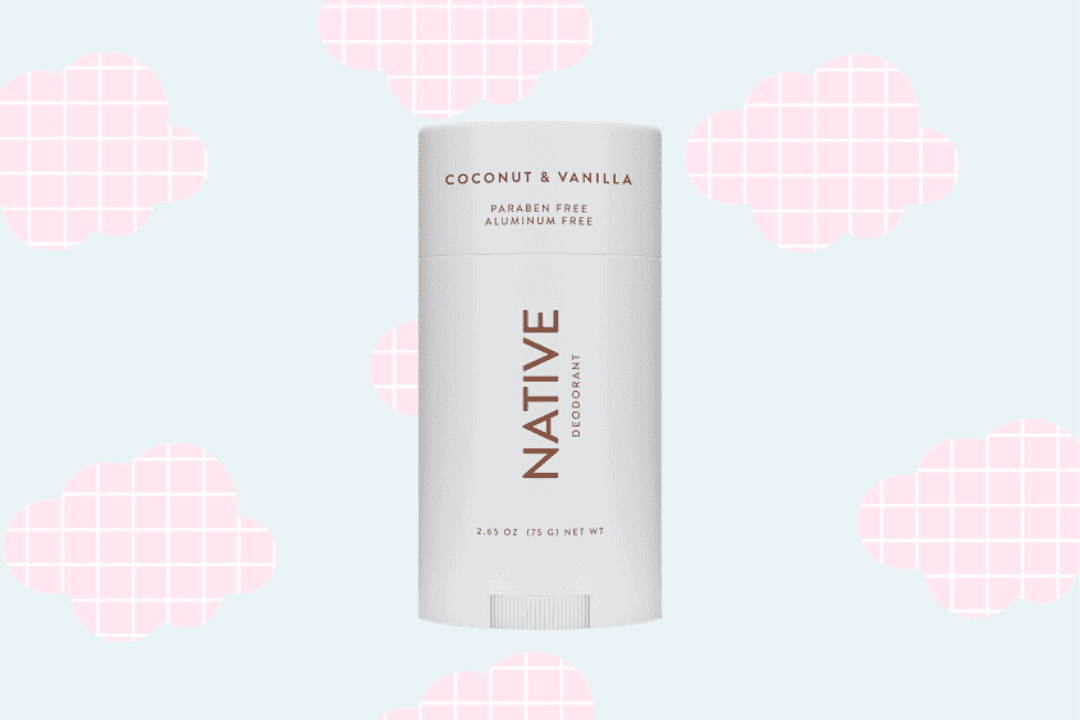 Pros:
Natural
Vegan
Comes in multiple fragrances (including unscented)
Does not stain clothes; no greasy residue
Plastic-free eco-friendly packaging
Lasts long
Cons:
Malin + Goetz Eucalyptus Deodorant
The Eucalyptus deodorant is natural without any artificial fragrance. Suitable for sensitive skin people It has a light refreshing scent of eucalyptus. This deo is free of a lot of harsh ingredients. The good part is no stains on your clothes, no yellowing. It works effectively.
Go for it if you want a good natural deo perfect for regular usage. On the flip side, it won't be your savior if you sweat a lot. You will need something stronger.
Pros:
Free of aluminum, alcohol, and paraben
Doesn't leave stain
No baking soda
Natural deodorant
Refreshing scent
Cons:
Drunk Elephant Sweet Deodorant Cream
Did you try multiple natural deos but nothing worked? Then Drunk Elephant deodorant cream is something you should look into. It is a fragrance-free clean vegan deodorant that is safe for sensitive skin. It works very well. Sweet Pitti prevents body odor despite sweating. The deo is of creamy texture and should be used on dry skin.
Pros:
Vegan
Fragrance-free
Clean beauty
Recyclable packaging
Free of sulfates, silicones, dyes, and alcohols
Has mandelic acid, arrowroot powder, and shea butter
Cons:
Baxter of California Deodorant
Baxter of California deodorant is a citrus-scented deodorant for men. You can use it as a female. More on this in our FAQ section towards the end of the article. Back to the product, it is a good non-aluminum deodorant that has a minty smell. It works impressively and fights body odor. Has tea tree oil and witch hazel extracts to deal with BO.
Pros:
No alcohol and aluminum
Sensitive skin friendly
Won't stain your clothes
Body odorAlcohol and Aluminum-Free
Cons:
Salt & Stone Natural Deodorant (V)
This deodorant has a lovely scent and it works throughout the day. Sensitive skin-friendly and free of aluminum and paraben. It prevented any body odor. No more sweaty underarms with this one.
Pros:
Contains probiotics & shea butter
24H odor protection
Aluminum and paraben Free
Vegan
Cons:
Kopari Natural Deodorant (V)
Kopari Natural deodorant is plant-based and contains coconut oil. It is non-toxic without baking soda, parabens, aluminum, etc. It is a lightweight non-greasy deodorant that keeps your BO at bay. This Kopari deo doesn't cause any irritation. Works well and smells great too.
Pros:
Non-toxic
Paraben and gluten-free
Aluminum-free
Contains coconut oil
Vegan
Cons:
Mario Badescu Deodorant
If you want a baking soda-free deodorant that lasts long, this Mario Badescu one is for you. No irritation or over-drying and suitable for sensitive skin. Contains ingredients like cucumber, ginger oil, and cleansing sage. It neutralizes odor and soothes the underarm skin.
Pros:
Non-greasy or overdrying
Soothes skin and tackles BO
Cons:
That is a wrap. Which is your favorite cruelty-free deodorant? Share in the comments below.
FAQ
Can women use men's deodorant?

Women can use men's deodorant. It is proven to be scientifically safe. The major difference is in packaging and fragrance. There are other differences but negligible.
Is Dove deodorant vegan?

Dove deodorant is not vegan. The brand itself isn't vegan or animal-friendly.
Is spray deo bad for the environment?

Spray deodorant is bad for the environment. Aerosol deodorant is not environmentally friendly. It causes air pollution and isn't climate-friendly. If possible, try to avoid it.
Share on Pinterest!