*may contain affiliate link(s)
Last Updated on 03/29/2022
Relaxing and unwinding is the favorite part of my day. I look forward to it, more than I should! But that's not the topic of discussion. Today's article is all about the best cruelty free body wash to try in 2022.
I've added loads of vegan options marked as (V) and sensitive skin suitable products. There is also fragrance-free body wash here. Personally, I enjoy nicely fragranced wash. So there are plenty of those too on this list! I've added affordable drugstore buys as well as mid-range shower oil. You can pick one or more to add to your cruelty free skincare routine.
10 Best Vegan & Cruelty Free Body Wash *2022*
Are you from the UK? I listen to you! UK people can head to Cult Beauty and Beauty Bay to shop for their favorite body wash.
Let's get started!
1. Jack Black All Over Wash (V)
A multi-purpose wash that can be used as a facial cleanser, body wash, and shampoo. It is a mild cleanser that gently cleanses thoroughly. It's also pH balanced. All Over Wash lathers easily. It also has a light fresh scent.
This vegan body wash contains the goodness of Jojoba and Shea Butter. It is targeted at male consumers. However, you can use it as a female too, or regardless of whatever your gender is.
Jack Black All Wash comes in a squeeze tube that is travel-friendly and a giant bottle, suitable for your bathroom shelf. It seriously lasts long, so it is not necessarily expensive if you look at this aspect.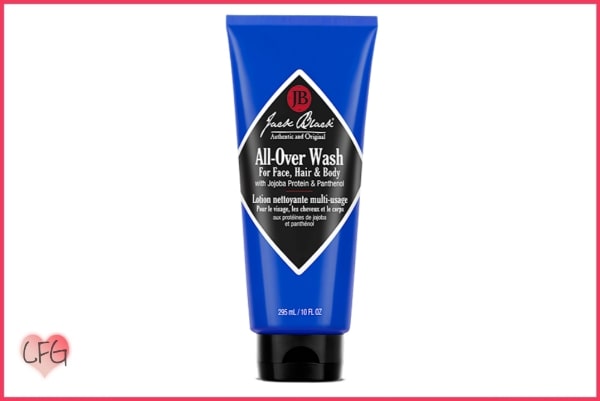 Pros:
Vegan
Great smell
Multi-purpose (3 in 1)
Cleans thoroughly
Lathers Well
Long-lasting
Gentle cleanser
Dermatologist tested
Free of alcohol, colorant, paraben & sulfate
Cons:
2. Ethique Body Wash (V)
Another great, comparatively affordable, cruelty-free & vegan body wash suitable for sensitive skin is Ethnique Body Bar. It's available in different variants, such as Lavender, Lime, Orange, and Charcoal.
It's a body wash in a bar form. So if you're seeking to ditch your liquid shower gel for something more ethical, here you go! These bars are sustainable, natural, and plant-based. They're also plastic-free, 100% Compostable & zero waste. Also, certified palm oil-free.
Ethnique bars are soap-free formulated with a pH balance of 5.5. They offer a light lather that is immensely hydrating. They have a light fragrance that smells amazing. The scent lingers around, which is gentle but still there.
Pros:
Soap, palm oil-free
Plant-based
Natural & Sustainable
Vegan
pH of 5.5
Cons:
3. The Body Shop British Rose Shower Gel (V)
If you like shower gel that lathers richly and smells equally divine, this one is here for your rescue! The Body Shop offers a great range of shower gel in many variants.
Some of them are Tea Tree, British Rose, Shea, Moringa, etc. It has a floral scent of roses, which is quite feminine and feels refreshing. The fragrance stays put for a long duration. This shower gel is non-drying and vegan. It is free of gluten, paraben, and silicone.
Pros:
Vegan
Non-drying & moisturizing
Gluten, paraben & Silicone-free
Wonderful rose fragrance
Cons:
4. Kopari Hydrating Body Wash (V)
Kopari Body Wash is vegan and cruelty-free. It is hydrating and makes your skin soft and supple. There is a fresh coconut scent to it, which is quite tropical. It has ingredients such as coconut oil, aloe vera, coconut water, and sea kelp. Kopari Wash also cleans and moisturizes your skin. It works great for sensitive skin too. Also, lasts long!
Pros:
Non-toxic
Paraben & Gluten-free
Vegan
Cons:
5. Murad Acne Body Wash
Need a body wash that works for your acne? Yep! Murad Body Wash is a great pick for people with moderate acne. It helps to reduce Bacne, but helps to control them to a great extent!
You would like this if you're oily, combination, or normal skin that is acne-prone. This body wash actually helps with back acne and shoulder acne. It contains 1% salicylic acid and Glycolic acid. This one has a light tea tree scent to it.
PS: I recommend you to not try this on your face. There are plenty of other products for the same.
Pros:
Effectively reduces bacne
Contains salicylic acid & glycolic acid
Suitable for oily, combination & acne-prone skin
Provides soft hydrated skin
Cons:
6. Pacifica Strawberry Peach Wash (V)
If you're into cruelty-free ways of living, coupled with veganism, Pacifica isn't a new name for you. An amazing drugstore brand that has a great array of affordable skincare products.
Their Strawberry Body Wash smells delicious (fruity) and is suitable for all skin types. It has ingredients such as aloe vera, strawberry, peach, Vitamin C! Pacifica Body Wash is free of sulfates, parabens, phthalates, SLS, or mineral oil. It lathers easily and the fragrance makes it an even better experience.
Pros:
Made in the USA
Sulfate, paraben, phthalates, SLS free
Vegan
Affordable
Smells delicious (fruity)
Cons:
7. SheaMoisture African Black Soap
A body wash with the goodness of aloe, African soap, and oats. This baby is great for breakouts as it has antibacterial properties. It gently cleanses, nourishes, and hydrates. Not only that, but this body wash also helps with itchy and irritable skin.
The Sheamoisture wash is suitable for sensitive skin too, including other skin types. It cleanses without drying you out. A nice pick for glowing, healthy skin. The smell is wonderful too and lingers on.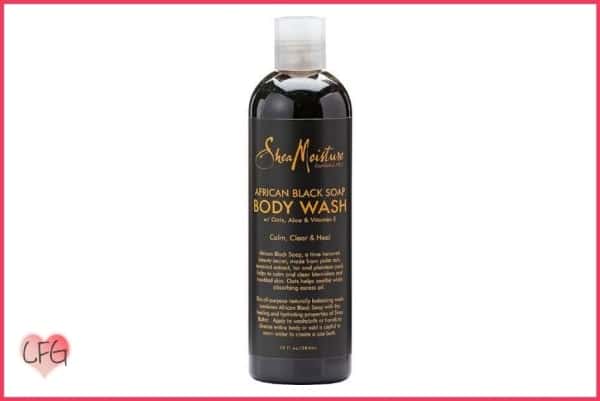 Pros:
Great for sensitive skin
Contains aloe, oats & the Black African soap
Cleanses gently, works great
Helps with breakouts
Cons:
8. Hempz Triple Moisture Herbal (V)
Another favorite vegan and cruelty-free shower gel is the Hempz one. Available in Grapefruit and Peach fragrance. It is best suited for dry and sensitive skin. It is paraben, sulfate, and gluten-free. A highly moisturizing body wash that has Yangu Oil, won't dry out your skin. Hempz says that it contains an anti-aging serum that helps your skin to stay young.
If you love nicely scented shower gel that makes your skin smooth and soft, this is a great choice. It does not feel icky later on. A little goes a long way is true for this one.
Pros:
Vegan
Smells yum
Hydrates skin immensely
Paraben-Free
Anti-Aging
Cons:
9. Mario Badescu AHA Botanical Body Soap
Amazing vegan body wash for sensitive skin that works well on acne too. It is suitable for all skin types and has an amazing fragrance. This botanical soap is an effective AHA-based body wash that also treats breakouts and acne. It leaves your skin feeling soft! Also, free of paraben and gluten.
Pros:
Vegan
Paraben & Gluten-free
Works well on acne
Great AHA solution at an affordable price
Cons:
---
These are some of the best cruelty free and vegan body wash, shower gels, and oil! Which is your favorite? Share in the comments below!
Read Further!
The Best Cruelty-Free Hand Cream Worth a Try
11 Top Cruelty Free and Vegan Face Wash to UP Your Skincare Game 
Share on Pinterest!