*may contain affiliate link(s)
Last Updated on 06/15/2023
Looking for a good body wash that does more than just clean? After going through many, we have some hits and misses. So here is the curated list of some of the best cruelty-free and vegan body wash to try.
You can pick one or more to add to your cruelty free skincare routine.
What makes a body wash vegan?
We consider a product to be vegan if it is free of all animal ingredients. The product should not contain any animal-sourced ingredients. A few examples of animal ingredients are milk, honey, tallow, etc.
Additionally, it must not be tested on animals. Being cruelty-free is mandatory.
Which ingredients to look for while getting a body wash?
Depends on what you're looking for. If you are looking for an exfoliant or acne cleanser, salicylic acid, AHA, and BHA should be present. These ingredients help to deal with issues like blemishes, redness, KP, acne, etc.
If you want something hydrating, look for glycolic, hyaluronic acid, shea butter, etc.
Tips
Don't over-exfoliate. Oftentimes exfoliation is promoted which is essential. But exfoliating daily is not good for your skin.
Don't apply body wash on your face. It can clog pores and dry out your skin. The skin of your body and face differs very much. So it is best to use a good face wash.
If your skin is dry, go for a creamy cleanser. It is non-drying and even moisturizing.
Look for specific ingredients. For example, go for tea tree oil and salicylic acid if you're facing bumps, itchiness, and redness. Don't forget to top it off with a nice hydrating vegan body lotion. Recommend Paula's Choice Weightless lotion for smooth and soft skin.
Best Cruelty-Free & Vegan Body Wash
Summary
Let's get started!
Native Natural Body Wash (V)
I remember starting off with Native for its vegan deodorant. But Native is more than just a deo brand. Native's clean and natural body wash can be used by men too. It is free of toxic ingredients. Lathers nicely and doesn't strip off natural moisture. The scent is nice and light for the eucalyptus one.
There are so many fragrances to choose from. Go for it if you're looking for a natural body wash free of harsh ingredients. Nothing to point out other than it is not hydrating. But that is not an issue as it cleans well.
Pros:
Vegan
Clean and natural
Clean ingredients
Cons:
Dial Body Wash
A regular body wash that is a great value for money. It is here for its pleasant lavender scent. Cleans nicely and the fragrance lingers somewhat. It is not hydrating. So dry skin people will find it drying. The pump is convenient to use in the shower or bathtub. There are no bad ingredients like silicones and phthalates.
Tip – Want a clean and fresh armpit? Use Dial antibacterial soap alongside your deodorant for a better result.
Pros:
Cons:
Drunk Elephant Body Cleanser (V)
Kamili body cleanser works for sensitive skin and skin issues such as acne, and KP. Not a miracle product but it deals with skin issues nicely. It has an almond scent and foams nicely. Skin feels soft and fresh after usage. It works impressively well as a shaving cream too.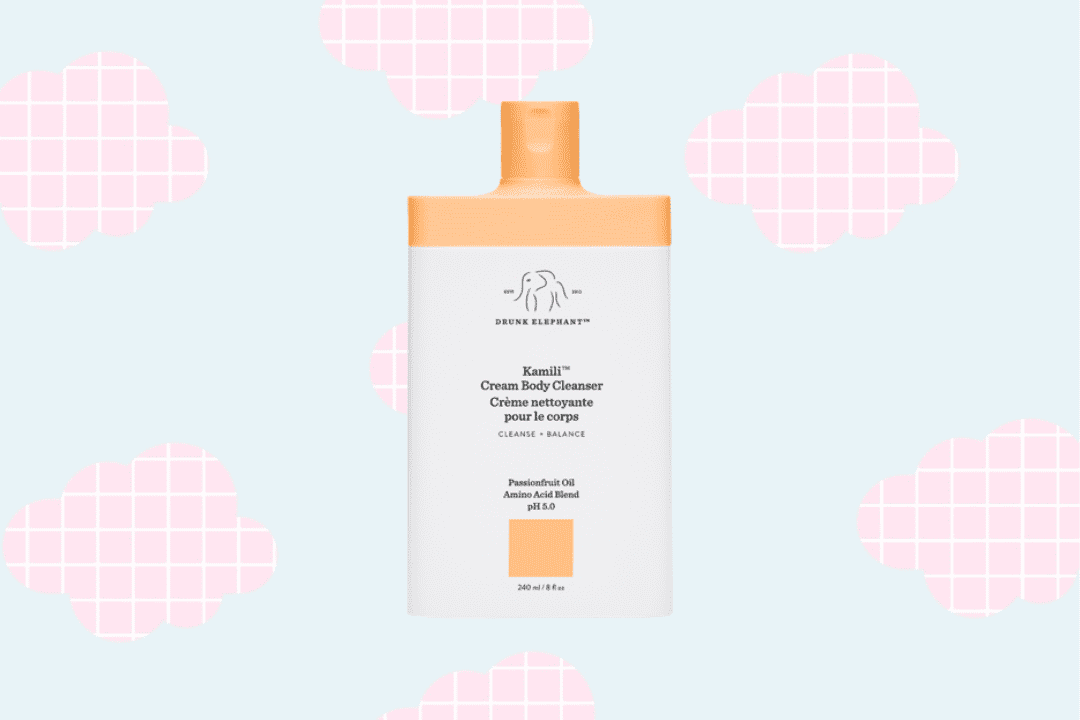 Pros:
Vegan
Moisturizing
Clean
Manages skin issues
Cons:
Mario Badescu AHA Body Soap
I like it more than Drunk Elephant. Why compare both? Because both of them are sensitive skin friendly and tackle body issues like bacne (back acne), KP, redness, itchiness, etc. The only difference is the almond scent of DE is better. Mario Badescu soap has a light scent. It lathers well and provides smooth skin.
Pros:
Light scent
Deals with skin issues effectively
Sensitive skin suitable
Cons:
Sol de Janeiro 4 Play Moisturizing Shower Cream
This amazing scented shower cream is here because of our obsession with smelling good. There are only 2 reasons you should consider it. In short, the fragrance and moisturization.
It smells so good that the shower experience feels more relaxing! The fragrance lingers on after use too which is impressive. The consistency is creamy and lathers so well. Great for the price and you will notice the difference, more so for dry skin.
Pros:
Cute packaging
Nourishing and creamy
Lathers good
Refill available
Fragrance is the best
Cons:
Sensitive nose, not for you
Skinfix Eczema+ Foaming Body Wash (V)
Looking for something to help with irritation and itchiness? Skinfix body wash is just what you need. Dry and super dry skin people will love this body wash. It is soothing and helps with the eczema flare.
Go for it because it is clean and unscented wash that lathers beautifully for an amazing experience. Will leave you with hydrated soft skin. Highly recommended as it works and does what it claims. A little amount is all you need. So yeah value for money is there which we love to see.
Pros:
Helps with eczema and dry cracked skin
Dry skin friendly
Vegan
Moisturizing
Fragrance-free
Clean beauty
Environment friendly
Cons:
Murad Acne Body Wash
It is an acne body wash that really works. There is visible improvement. It helps to deal with adult acne. Another good thing is that it won't dry out your skin like regular acne body washes. If you've tried many of those, you know what I mean exactly.
There is lathering and the tube lasts long. But if you find it pricy, know that you're not alone cause I'm with you. Here is a little tip. Use the cleanser only on the affected areas instead of going all in. Couple it with another drugstore purchase.
Pros:
Great for sensitive skin
Helps with bacne, breakouts, and blemishes
Contains Salicylic Acid & Green Tree
Nice fragrance
Cons:
Andalou Naturals 1000 Roses Shower Gel
It is a pleasant light scented body wash. Doesn't smell like a bouquet of roses though. But there is a nice, not overpowering fragrance. We love it because it is affordable and moisturizes the skin. Makes skin feel fresh and soft. Cleans nicely and foams up well. It is sensitive skin friendly.
Pros:
Light smell, not bothersome
Foams well
Drugstore
Won't make the skin feel dry or tight
Cons:
---
FAQ
These are some of the best cruelty free and vegan body wash and shower gels! Which is your favorite? Share in the comments below!
Share on Pinterest!