Last Updated on 03/28/2022
Moisturizing is an essential part of your skincare regime. So today's article is all about popular body butter and lotion. You're at the right place if you're looking for a vegan, affordable, and cruelty-free body cream. Listed below are some of the most amazing fragranced lotion that is super nourishing. Also includes clean and natural options.
Tip: I love using lotion on fresh wet skin, right after the shower.  It gets absorbed faster and the skin's natural moisture remains locked!
Best Vegan Body Lotion Picks
Let's get started!
1. Pacifica Island Vanilla Butter (V)
Pacifica Body Butter is available in different variants, all of which smell delicious! Island Vanilla body lotion is vegan and contains the goodness of shea butter, vitamin E, almond oil, among others. Pacifica Body Butter has a thick and creamy texture but is lightweight. It gets absorbed easily and moisturizes well.
This cruelty-free body lotion does two jobs. Firstly, hydrates deeply and nourishes your skin well. Also, it makes you smell pleasant. The scent is a mix of fruity and floral notes scent that lingers throughout the day.
Pros:
Vegan body lotion
Smells amazing
Antioxidants rich
Tube packaging
Free of phthalates, parabens & sulfates
Cons:
Fragrance may be strong for some
2. Maui Moisture Extra Hydrating Butter
Maui Moisture body lotion is a super hydrating lotion that has coconut water, shea butter, and aloe vera juice. It is specifically made for dry & super dry skin. This moisturizer actually nourishes your dry skin. Shea Butter soothes and hydrates deeply, providing supple, soft skin.
It is free of paraben, phthalates, and silicone. This lotion has a great fragrance. It smells amazing but not strong. The only downside is that it takes time to absorb!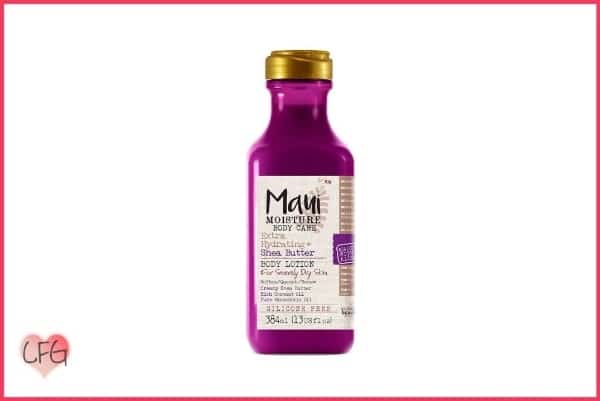 Pros:
Smells great
Hydrating & nourishing
Free of paraben, phthalates & silicone
Suitable for dry skin
Cons:
3. Shea Hibiscus Illuminating Lotion
A reasonably priced body lotion for dull and dry skin is SheaMoisture lotion. It has hibiscus, shea butter and coconut oil. This lotion provides smooth, soft skin. Not only hydration, but this lotion also helps to brighten your skin, as it is an "illuminating" lotion. SheaMoisture lotion is not greasy and won't feel icky. It is free of sulfates, parabens, and phthalates. Also, the fragrance is pretty awesome.
Pros:
Affordable
Non-greasy
Paraben, phthalate free
Provides healthy radiant skin
Long-lasting
Cons:
Doesn't get absorbed quickly
4. Jack Black Cool Moisture Lotion
If you don't know already, I'm Jack Black obsessed. Their hand cream, moisturizer, lip balm, everything is fire!
Coming back to the lotion, unlike the last two, it has a quick absorbance formula. It seeps into your skin quickly and hydrates. There is a slight cooling effect due to the presence of menthol. But it's not much! Also, a lightweight body lotion that's not oily or greasy.
The fragrance is clean, fresh, and not overpowering. A soft scent lingers around. Noticeable ingredients are vitamin E, menthol, jojoba. This one is suitable for all skin types.
However, if you're sensitive skin or extra dry skin, you may want to try their Extra Rich Body Hydrator. It has a different fragrance than the Cool Moisture. The ingredients worth a mention are Cupuacu butter, green tea, and coffee seed oil.
Pros:
Long-lasting
Fresh, clean smell
Quick absorbance
Deeply hydrates
Cons:
5. Love Beauty and Planet Sandalwood Lotion
This one by Love Beauty And Planet is a gentle hydrating body lotion. The presence of shea butter makes it quite moisturizing. It has a sandalwood fragrance that isn't too strong or just like straight-out sandalwood. It's a decent smell which you'll most probably like!
It takes some time to get absorbed. Otherwise, it is a great affordable cruelty-free body lotion that is moisturizing and smells good. Moreover, the scent lasts forever, without being overpowering.
Pros:
Affordable
Nourishing
Long-lasting fragrance
Cons:
6. The Body Shop Body Butter
If you've dry skin that feels dry even after applying a lotion, then The Body Shop body butter is here for your rescue.
The fun part is the wide range of fragrances! Some of these are shea, strawberry, mango, vitamin E, almond milk and honey, olive, cocoa, etc. Go for Shea if you're dry skin, or opt for mango to experience summer fruity vibes! Cocoa is classic. Choices! You can always pick a new variant the next time!
The body butter offers long-lasting hydration, up to 48 hours! For me, it lasted throughout the day. They do provide silky, smooth, and supple skin. Talking about the fragrance, it's refreshing, gentle, and pleasant.
They've summery and winter scents. The texture is similar to the butter, neither too thick nor runny, creamy, and smooth.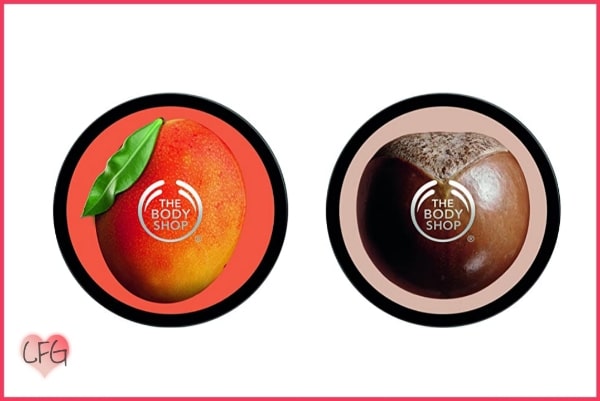 Pros:
Suitable for very dry skin
Gluten-free
Smells great
Hydrating
Cons:
7. Sukin Hydrating Body Lotion (V)
A natural cruelty-free body lotion that has a natural scent, free of artificial fragrance is this Sukin lotion. It is hydrating and absorbs into the skin quickly. Sukin lotion is lightweight and non-greasy. If you've extra dry or sensitive skin, Sukin has another variant that is extra hydrating and gentle. It won't cause you irritation or breakouts.
Pros:
Free of paraben, sulfate, phthalates
Vegan
Drugstore cruelty-free vegan body lotion
Affordable & natural
Artificial fragrance-free
Cons:
Not for sensitive & super dry skin
8. EO Everyone Coconut and Lemon Lotion
3 in 1 lotion? Yes, EO says you can use it as a body lotion, face moisturizer, and hand & foot cream. Personally, I don't like using it on my face, but to each their own!
This has a nice tropical coconut & lemon scent. It's refreshing and pleasant. The lotion is non-sticky, won't feel greasy, and still hydrate perfectly. The texture is runny and more on the liquid side. Quite light and soaks-in fine too. It provides soft and smooth skin.
Pros:
Non greasy
Light and gentle
Synthetic fragrance free
Paraben, gluten free
Cons:
9. Trader Joe's Coconut Body Butter
An excellent body butter that is super affordable and has a refreshing coconut fragrance that smells amazing. It contains coconut oil, Shea butter, and vitamin E. Suitable for sensitive skin. This body butter is hydrating and won't make you feel greasy. The scent is an added bonus that lingers on.
Pros:
Affordable
Amazing scent
Hydrating
Cons:
10. Hempz Milk & Honey Herbal Lotion
Want to smell delicious? Um, like cookies and cake?! Literally delicious! Then do yourself a favor and get this Hempz body lotion. This lotion smells divine and does its job equally well. So no we're not compromising anywhere.
It hydrates nicely and has a quick-absorbing non-greasy formula. It has jojoba seed, cocoa butter. Additionally, it is suitable for sensitive and dry skin.
Pros: 
Smells delicious
Nourishes well
Quick absorbing
Cons:
---
These are some of the best body butter and lotion that are cruelty-free and vegan in 2022. Have you tried any of these? Which is your favorite? Share in the comments!
Share on Pinterest!