Last Updated on 06/12/2023
Moisturizing is an essential part of your skincare regime. You need a good nourishing moisturizer, be it a body moisturizer, face cream, night cream, or hand lotion. Today, it is all about the best cruelty-free body lotion and butter.
*Some links may be affiliated.
You'll find many popular lotion brands in the market. Nivea, Aveeno, Vaseline, and Olay to name a few on top of my head. None of these are cruelty-free. Recently, one of our readers commented that cruelty-free brands should advertise more. Makes sense, can't agree more.
Cruelty-Free Body Lotion & Butter
Save your time. Use the index to navigate easily.
Category Winners
Hopefully, you'll find your future favorite somewhere here. Here are our favorite lotions, winners in these categories.
How is cruelty-free body lotion different from a regular one?
A cruelty-free lotion is not tested on animals. To make it authentic, neither the product nor its ingredients are tested by the brand, supplier, or any other third party. No animals are harmed, tortured, experimented up on and killed when you choose cruelty-free.
How to know whether a lotion is cruelty-free?
There are various ways to check whether a product is cruelty-free. But here is a quickie.
If it is free of animal testing, you'll probably find the Cruelty Free logo on the products. You should look for Leaping Bunny and PETA logos. Remember, no logo doesn't equate to animal testing for sure.
Check where the brand stands in regard to its cruelty-free status.

We reach out to brands if we have questions about their testing policies.
Check our Guide resource to learn more about the topic.
Why should you choose cruelty-free?
Just because it is ethical and kind. Many animals get hurt while others are euthanized. Statistically speaking, more than 50 million animals are experimented upon (read tortured) each year in the United States alone. Choosing cruelty-free would also encourages non-cruelty-free brands to take steps toward changing for the better.
Are cruelty-free products affordable?
A common misconception is that cruelty-free products are not pocket friendly. As you scroll further, you'll find affordable drugstore suggestions too. We all love affordable stuff.
What are some cruelty-free body lotion brands?
Some of the Cruelty free brands that offer wide array of skincare products including lotion are as follows.
Alba Botanica
Bliss
Drunk Elephant
Garnier
Maui
Pacifica
Paula's Choice
SheaMoisture
Skinfix
Sukin
Sol de Janeiro
The Body Shop
Which brands test on animals?
Sadly, there are plenty.
Aveeno
Cerave
Cetaphil
Dove
Lancome
Nivea
Olay
Vaseline
What ingredients cause dry skin?
SLS
Harsh chemicals such as parabens
Salicylic Acid
Which ingredient is suitable for dry skin?
Glycerin
Hyaluronic Acid
Glycolic acid
Tips
Apply in the shower – Use lotion on fresh wet skin, right after the shower. It gets absorbed faster and the skin's natural moisture remains locked!

You may need to re-apply depending on your skin type. I prefer reapplying at times.

Don't skip SPF even when it's cloudy. The sun is still the same. (Note to self)

Try to apply overnight and wake up to supple skin.
Clean Beauty
Here are our editor's tried and tested picks. Let's get started!
Clean beauty is the talk of the town and is loved by many of you. The picked products are free of any toxic ingredients and henceforth considered 'clean' beauty.
Clean makeup and skincare products are free of toxicity, allergens, and irritants, making them a safe space for people with sensitive skin and any skin issues. No redness, breakout, irritation, or allergies-causing ingredients are there. So here are some recommendations that we adore.
Skinfix Resurface+ AHA Renewing Cream (V)
Bumpy, irregular, and rough skin? You will love this Skinfix Body cream that actually resurfaces your skin to get the smoothness and softness back. It hydrates deeply and soaks in well. The hydration is long-lasting. You won't feel the moisturization running off. A little goes a long way is true for this cream. Surely a well-deserving Allue award winner.
What makes it special is that it's not a regular cream but alpha hydroxy acid (AHA) and beta hydroxy acids (BHA) exfoliant with good and clean ingredients. AHA and BHA are chemical exfoliants that remove dead skin cells. (Source)
Pros:
Good for bumpy skin
Deals with dark spots
Vegan
Gluten-free
Clean Beauty
Fragrance-free
Cons
Drunk Elephant's Sili Body Lotion
(V)
Sili Lotion is something worth checking out if you have dry or sensitive skin. It is unscented and clean beauty. There ain't toxic ingredients and irritants that generally cause breakouts. No sulfates, fragrances, dyes, alcohols, or essential oils.
Although fragrance-free, there is a warm almond hint to it which dissipates. So nothing to worry about. Another good thing is the quick absorption and no residue. The Drunk Elephant lotion is moisturizing and nourishes well. But I won't say it lasts forever. You may need to reapply if you're on the dry-dry side.
Pros
Vegan
Recyclable
Free of toxins and irritants
Soft nourished skin
Fragrance-free
Cons
For Dry Skin
Dry skin and summer sweat, a perfect combination… not. Harsh summer days make dry skin feel more desert-dry. You need a hydrating and nourishing moisturizer that moisturizes from within.
Key ingredients to look out for are hyaluronic acid, glycolic acid, shea butter, ceramides, plant-based milk, etc. Ingredients to avoid – Sodium lauryl sulfate (SLS), parabens, and salicylic acid among others. Here are some dermatologists' tips to relieve dry skin during the hot months.
Mario Badescu Olive Body Lotion
The Mario Badescu Olive body lotion delivers what it claims. So good that I repurchased it. Rich nourishing creamy lotion with a thick texture but rubs in easily. Feels light and non-greasy after usage. Goes on to make skin soft and silky. There is a very light lovely fragrance that doesn't linger. Suitable for dry and scaly skin. Mario Badescu has other lotion variants that I would be getting next.
Pros:
Fresh light scent
Lasts long, throughout the day
Creamy yet non-greasy
Suitable for dry skin and cold weather
Cons
Maui Moisture Detoxifying Volcanic Ash
A nice regular lotion for dry skin with the goodness of aloe vera and coconut water. It keeps your skin moisturized and soft. It is a natural body lotion with a clean ingredient list. It is free of paraben, phthalates, and silicone. This lotion has a great fragrance. It smells amazing but not strong. The only downside is that it takes time to absorb!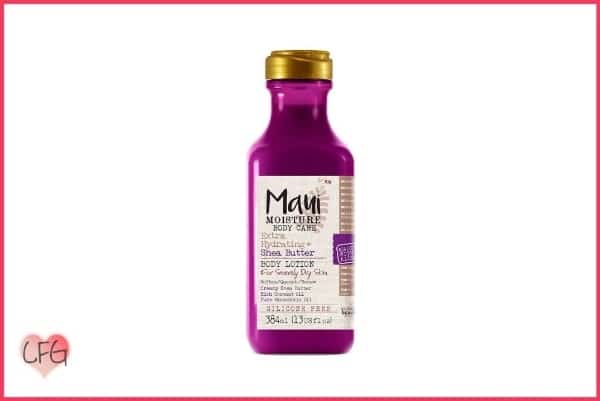 Pros:
Hydrating & nourishing natural lotion
Free of paraben, phthalates & silicone
Suitable for dry skin
Cons:
Summer Fridays Silk Nourishing Body Lotion
A vegan, clean and non-toxic lotion that consists of hyaluronic acid for hydration. The texture isn't lotion-like, it's more creamy. But still absorbs quickly and leaves no residue. Has a summery coconut fragrance to it. The fragrance is sweet, fresh, and strong.
This tube is made for summer but you can use it during chilly days as hyaluronic acid does its job of hydrating amazingly well. It is also easy to carry around.
Pros:
Vegan and clean
Contains hyaluronic acid
Works nicely for dry skin

Deeply hydrates

Travel-friendly tube
Cons:
Fragrance can be an issue
Drugstore
We believe in going all in for skincare. You shouldn't compromise with yourself cause you deserve the best. We all love splurging on our skincare. But we also love affordable drugstore picks. If both my pocket and skin love a product, it is a match made in heaven. So here are some choices for the dry weather.
Andalou Naturals 1000 Roses Body Lotion

The Andalou lotion comes in different fragrances. I got my hands on the rose one because finding an authentic rose scent is always fun..pun intended. I liked the rose fragrance. It is decent, not overpowering. I would have preferred it to be slightly stronger and more lingering.
Keep in mind, if you have a sensitive nose or you ain't obsessed with smelling delicious, you may find the fragrance to be okay-ish. There is no artificial rose scent, that's a good part.
The lotion is lightweight and nourishing. But not so moisturizing for dry skin, as it needs reapplying. If you want to get a clean and non-toxic lotion at a drugstore price, it is a great bet.
Pros
Pleasant smell
Clean and non-toxic – sulfate paraben & gluten-free
Renews skin cells
Affordable
Suitable for sensitive skin
Cons
Fragrance doesn't last long
Not for dry skin
Garnier Hydrating
Aloe Vera
Lotion
The super affordable drugstore brand, Garnier is cruelty-free now. Garnier Aloe Vera lotion is a nice option for summer. It has a subtle fresh aloe scent, not overpowering. The texture is liquid, more on the runny side. A lightweight lotion that you need to massage into your skin. Absorbs and hydrates pretty well. The best part is that it ain't sticky. You may need to reapply though. The aloe scent is refreshing.
Pros
Easy-to-use squeeze bottle
Drugstore
Light aloe scent
Cons
Love Beauty and Planet Delicious Glow Lotion
(V)
If you like lavender, do consider this Love Beauty and Planet Glow body lotion. Psst..there is also a rose-scented one. Winner of Allure Readers' Choice Awards for the last two years, this argan oil-based lavender lotion is a mass favorite.
A gentle nourishing drugstore body lotion suitable for everyday use. It is on the thick side but non-sticky. If over-applied, it felt greasy. It nourishes nicely and smells great. Free of many bad ingredients, it is a great affordable vegan lotion for daily use that smells fresh!
On the flip side, it takes time to get absorbed. For a sensitive nose, the fragrance can be bothersome.
Pros
Lasts long
Free of paraben, silicone phthalate, and dye
Vegan
Eco-friendly packaging
Drugstore
Cons
Vegan Lotion
These are free of animal testing and animal-derived ingredients. Totally cruelty-free and vegan.
100% PURE Nourishing Coconut Lotion
(V)
The 100% Pure lotion is an amazing choice if you're looking for a 'natural' plant-based lotion. The ingredients are clean and toxin-free. It is a light moisturizer that does a decent job. Hydrating but not that deep. So I often couple it with something. I was expecting more of a coconut smell but that isn't the case. It has a fresh scent that does not last long but no coconut. Go for it if you're into clean beauty and expect nothing fancy.
Pros
Vegan
Clean – toxin & gluten-free
For both men & women
Cons
No coconut fragrance
Needs to be reapplied
Cake Beauty Body Cream
(V)
It smells like a bakery with a warm scent, somewhat like cake. Although it smells good, it isn't placed in the fragranced lotion but vegan section. The consistency is creamy and shea butter makes it nicely moisturizing. The tube is pretty too. A great nourishing body cream that isn't sticky or tacky with a pleasant fragrance. The smell is strong so do keep that in mind.
Pros
Vegan
Sulfate & Paraben Free
Cute packaging
Cons
Sukin Hydrating Body Lotion (V)
An affordable natural and vegan lotion sums up this Sukin lotion. It is light and absorbs real quick. But it isn't immensely hydrating if you're on the dry side. It's all good for regular skin. The natural scent of vanilla and lavender notes is present.
If you've extra dry or sensitive skin, Sukin has another variant that is extra hydrating and gentle. It won't cause you irritation or breakouts.
Pros:
Vegan
Affordable & natural lotion
Free of paraben, sulfate & phthalates
Artificial fragrance-free
Cons:
Not for sensitive & super dry skin
Fragrance-Free Lotion
If you are someone who likes their products to not interfere with the perfume or have a sensitive nose, we got you. Some of the unscented lotion that ain't overpowering or strong, and won't flare up your allergies.
Everyone Unscented Body Lotion

3 in 1 lotion? Yes, EO says you can use it as a body lotion, face moisturizer, and hand & foot cream. Personally, don't like using it on my face, but to each their own!
It is synthetic fragrance-free but there is a light scent that is almost negligible. This lotion is suitable for sensitive and dry skin as it is EWG verified. So no irritants or toxins. The lotion is non-sticky, won't feel greasy, and still hydrate perfectly. The texture is runny and more on the liquid side. Quite light and soaks-in fine too. It provides soft and smooth skin.
Pros:
Non-greasy
Synthetic fragrance-free
Paraben and gluten-free

EWG verified
Cons:
Not cent percent unscented but nothing bothersome
Alba Botanica
Unscented
Emollient
Ideal plant-based daily lotion for sensitive and rough dry skin. It is free of harsh ingredients and non-greasy. Keeps your skin soft and nourished for long hours. The bigger bottle is a value-for-money pack. Nice pick for a fragrance-free lotion that nourishes and doesn't irritate the skin.
Pros:
Vegetarian

Free of parabens and phthalates

No synthetic fragrances

Suitable for sensitive skin
Cons:
Body Butter
For an extra boost, you gotta add some body butter to your regime. So where are the recommendations?
Trader Joe's Coconut Body Butter
An excellent body butter that is super affordable and has a refreshing coconut fragrance that smells amazing. It contains coconut oil, Shea butter, and vitamin E. Suitable for sensitive skin. This body butter is hydrating and won't make you feel greasy. The scent is an added bonus that lingers on.
Pros:
Affordable
Amazing scent
Hydrating
Cons:
The Body Shop Body Butter
If you've dry skin that feels dry even after applying a lotion, then The Body Shop body butter is here for your rescue. The fun part is the wide range of fragrances! Some of these are shea, strawberry, mango, vitamin E, almond milk and honey, olive, cocoa, etc. Go for Shea if you're dry skin, or opt for mango to experience summer fruity vibes! Cocoa is classic. Choices! You can always pick a new variant the next time!
The body butter offers long-lasting hydration. For me, it lasted throughout the day, didn't need to apply again. It provides silky, smooth, and supple skin. Talking about the fragrance, it's refreshing, gentle, and pleasant. They've summery and winter scents. The texture is similar to the butter, neither too thick nor runny, creamy, and smooth.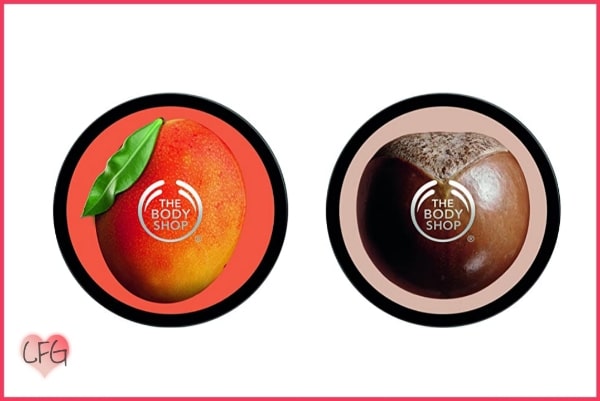 Pros:
Suitable for very dry skin
Gluten-free
Smells great
Hydrating
Cons:
Kopari Restore Ultra Restore Butter (V)
It has hyaluronic acid that makes it super moisturizing! Consists of vegan and clean ingredients. The texture is creamy but lightweight. Gets absorbed easily and nourishes. It has a strong smell that is perfect for summer. Makes skin smooth and supple. Hydrates nicely and is suitable for dull skin. You won't like it if you are not a fan of fragrances.
Pros:
Vegan body butter
Smells amazing
Hyaluronic acid
Clean
Cons:
Fragrance may be strong for some
Scented Body Lotion
I love to smell good, particularly delicious. Then who doesn't? Summer is all about awesome fragrances that make me feel lightweight as if I'm floating on clouds.
If I'm spending my money, I want that feeling of comfort and that 'IT girl'. So do you. Let's see which body creams made the cut in the best fragrance department.
Sol de Janeiro Brazilian Bum Bum Body Cream
You saw it coming, didn't you? Bum Bum cream is perfect to add some summer delight. It is my top pick if you're looking for the best-scented body lotion. This cruelty-free body cream smells delicious with hints of pistachio and vanilla. The fragrance is long-lasting, seriously long.
It moisturizes deeply and leaves no greasiness or residue. The consistency is just right for me, goes on easily and absorbs deeply. Skin feels silky soft and smooth and smells great.
I noticed immense hydration and a heavenly smell but no firmness or lift. This is why Bum Bum cream is #1 in fragranced lotion but didn't find a place in our anti-aging and firmness section. Highly recommend the cream, definitely worth the splurge.
Pros
Great staying power
Nourished deeply
Long-lasting
Absorbs quick
Recyclable
Smells divine
Cons
Glow Recipe Watermelon Pink Dream
A vegan body cream that is lightweight and has a watermelon fragrance. Due to hyaluronic acid, the cream lasts long and doesn't need reapplication. It absorbs quickly too. This Allure beauty award winner has a creamy texture but is not too thick.
Pros
Vegan
Clean & non-toxic cream
Fresh & sweet watermelon scent
Gluten & silicone-free
Recyclable packaging and aesthetical
Cons
Hempz Milk & Honey Herbal Lotion
Want to smell delicious? Um, like cookies and milk?! Then do yourself a favor and get this Hempz body lotion. The last pick for the fragranced lotion is this Hempz body lotion.
It has a sweet vanilla scent that lasts for a couple of hours. It does its job pretty well and hydrates nicely. Nice consistency and good moisturization, even for dry skin. Contains jojoba seed and cocoa butter.
Pros:
Vegan
Smells like milk and honey
Nourishes well
No parabens, gluten or THC
Cons:
---
These are some of the best body butter and lotion that are cruelty-free and vegan in 2023. Have you tried any of these? Which is your favorite? Share in the comments!
FAQ
Answering some of the commonly asked questions.
Can I use body lotion on my face?
We don't recommend using body lotion or body cream on your face. You can use lotion on your hands or feet, but not your face. Your body skin is thicker than your facial skin. So the body products are formulated to address that. It can potentially damage your tender face skin.
Does body lotion expire?
It sure does expire. There is an expiry date mentioned on the package. A product expires even if unopened. Once opened, it should be used within a couple of months. Look for the open jar symbol and the text alongside that says 6M, 12M, etc where M indicates months.
What is the difference between body cream and lotion?
The visible difference is in appearance, namely texture. A lotion is on the runny side as it has more water comparatively. A body cream has a rich thick creamy texture that provides deeper hydration. These are perfect for dry skin.
Should I go for body lotion or body butter?
It depends on your skin type and preference. Are you comfortable using a tub? Is your skin super-dry or has dry patches? Know your requirement and you'll know exactly what you need.
Share on Pinterest!