Last Updated on 02/13/2023
There has been a lot of commotion regarding the animal testing policy in China. We dig deep and here is what we found. Let's see what is really happening in China regarding the testing laws.
What changed in China's Animal Testing Policy?
Pre Marketing & Post Marketing Testing Still a Reality in 2023
Key Takeaways
Post and pre-market animal testing still exists in 2023
Leaping Bunny's Solution – New program to vet the brands that sell in China
What does it mean? Explained in Simple Words
Indeed, Pre-Market and Post Market testing is still a part of Chinese testing policy. Leaping Bunny shared how post-market testing can occur if any consumer complains of allergic reactions. Even in the case to ensure the authenticity of products, post-market testing can come into play.
Note – Do note that animals are not necessarily used for post-market testing of finished imported and domestically produced cosmetics as per the announcement of China's National Medical Association, Gansu Province National Medical Products Association in 2019. (Source) Alternative methods of testing are used. However, there is not a 100% guarantee that no animals are used for the post-market testing of products sourced via various means.
Similarly, Pre-Marketing testing is also happening in 2023. Here is what Leaping Bunny said on this topic.
If the company's ingredients are not properly screened before registration, they may set off a trigger warning for pre-market testing on animals.

Source
To counterattack any ambiguity, Leaping Bunny launched its New Program in October 2022 for companies to enroll in – NEW China Qualification Program (Source). All the brands that are proud members of the existing campaign can now apply for enrollment. Under this new program, they are qualified to sell in China if they meet the set standards and qualifications.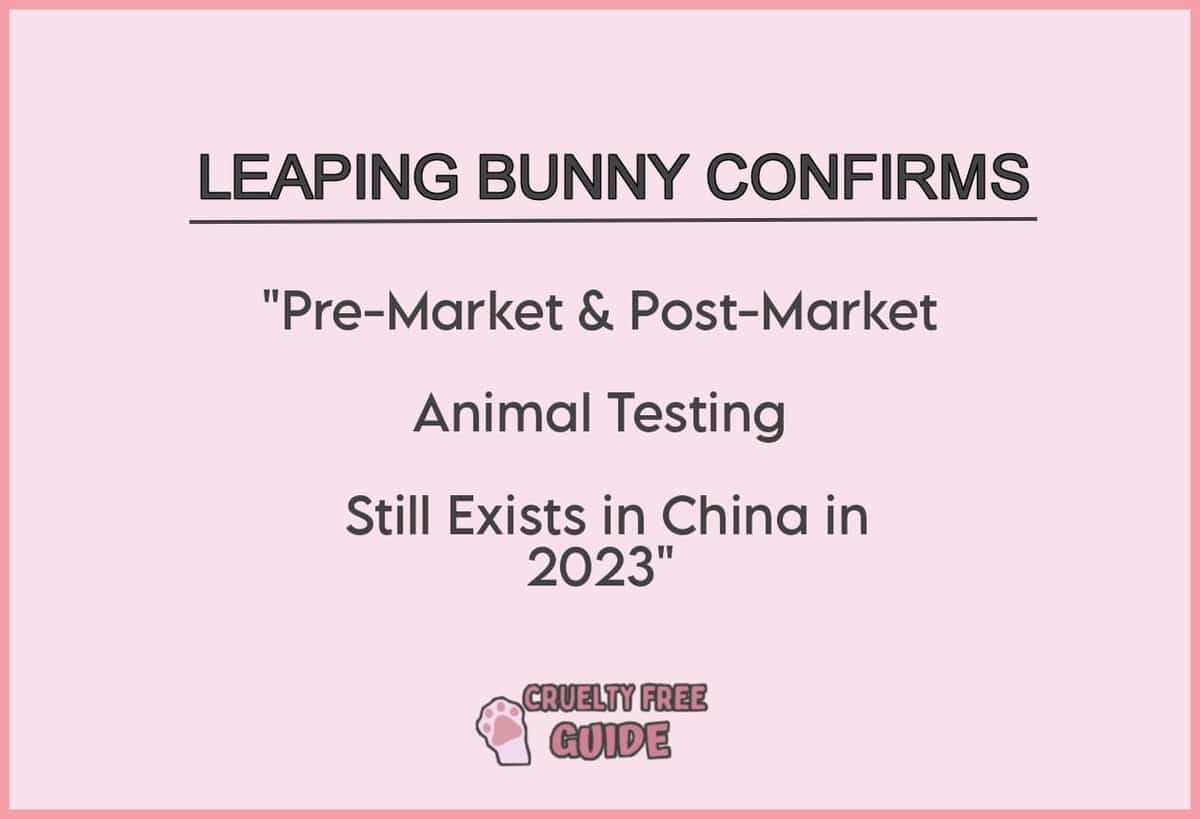 What does it mean in simple words?
Cruelty Free Guide got you covered. Simply put, pre and post-market testing is still a harsh reality. Post-market testing although less, still does occur in 2023. Pre-market testing is also a bitter truth in China.
These have been confirmed by the Leaping Bunny and they have launched their new program in the last quarter of 2022 as a breakthrough solution. It is interesting to see how things progress. We'll keep you updated.
Sharing is Caring
Spread the word.