Valentine Day is here and that's just another excuse to flaunt the perfect claws. Valentine's Day should be celebrated regardless of your relationship status. If not romantic love with your partner, great day to celebrate self-love.
Of course, love should be celebrated all year long. So take inspiration from these beautiful nail art ideas and wear them whenever you want to rock these manicures!
14 Valentine's Day Nail Art that are Trendy
Different shades of pink sprinkled with hearts and xo make for gorgeous Valentine's Day nails. It suits short nails and the detailing is pretty.
I love this muted base and popping heart nails. It looks elegant, classy, and is simple to do. Hearts are easy to draw, all you need is a dotting tool. Or you can even use a DIY dotting tool. Just draw three dots in the shape of a triangle and connect them all.
I purple you! Heart flowers with a royal purple base are a refreshing break from the red and pink tones. Love the little detailing to complete the look.
If you still love pond and red, this is the ideal valentine's day nail for you. Easy to do, all you need is tape to create this monochromatic nail art.
These are so pretty plaid nails. The stripes make it look more attractive. With the right brush, stripes are easy to do or you can use tapes to DIY. The base color can be altered for various finishes.
25 Trendy Summer Nail Art Ideas
22 Popping & Fun Nail Art Ideas
White heart paradise! Thus gorgeous nail art can be recreated with multiple colors. All you need is a heart-shaped tape. Stick it on the nail bed and apply coats of nail polish. Once dry, peel off the tape. Secure with a top coat and you're done.
Ying Yang nail design is perfect for Valentine's Day. Ying represents feminity while Yang represents masculinity. Love how this turned out!
If any nail art screams Valentine's Day, it is this one for sure. It looks super cute with all the little hearts floating around. Red French manicure tips are added bonus.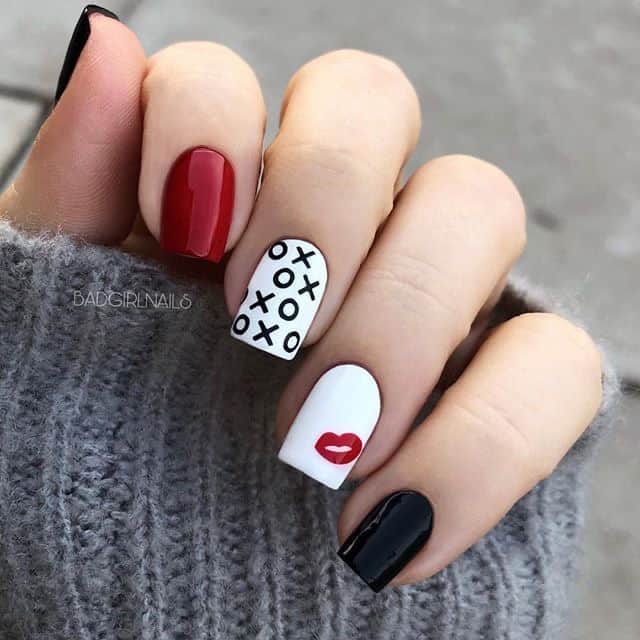 Spread some xo in the air with this manicure. All you need is basic colors such as black, red and white. The detailing takes this nail design to another level.
Unknowm
Love how simple yet beautiful it looks. Matte nude base with black hearts! Gorgeous.
Unknowm
Hearts, stripes, and everything nice. Another chic nail art design for the day.
I love the purple heart and lips. It looks cute and a fun look to rock even on other days.
These black heart tips nails look gorgeous and classy. Easy and quick to do if you are looking for time-saving ideas.
Chocolate plays somewhat importance in celebrating Valentine's day. So how about sweet-loaded nails? It looks extra but oh so sweet! Will you wear this? It needs the courage to sport this one for sure.