Fall is here finally. Summer is gone and so is the sun, sand, and beaches. You are at the perfect spot if you're looking for some fall nail art ideas and inspiration. Here is a list of some Popping Fall Nail Art Ideas for you to be inspired by. Pumpkin, mushroom, Halloween everything fall is here. I have my Halloween set up already. Halloween is one of my favorite holidays and let's say I love it a little more than normal! So grab your pumpkin spice latte and check out these amazing nails inspirations.
22 POPPING FALL & HALLOWEEN NAIL ART
MONOCHROME FALL NAILS
Pretty to look at and easy to do. This gorgeous manicure needs your favorite fall colors combined. You can play around with the shades of brown, burgundy, or caramel. Mix them as you like and there you have perfect fall nails.
PUMPKIN PATCH
Fall is synonymous with pumpkin. A great nail art manicure with pumpkins, moon, and stars. It's called being Halloween ready! Orange and black plays the perfect canvas.
By: _mbnailz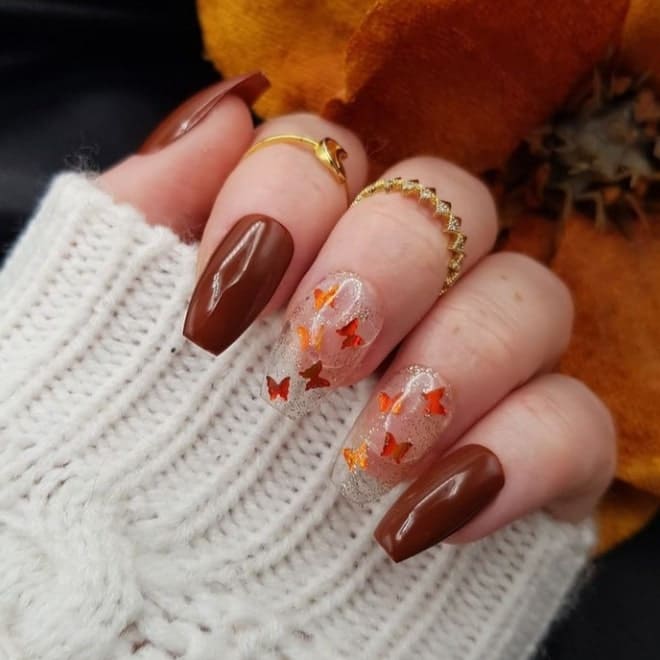 BROWN BUTTERFLY NAILS 
Butterfly in the stomach? Not sure about that but definitely on your nails. Dark brown nails paired with some butterflies is the way to go. It looks pretty, delicate and fallzy
By: nail_prophecy
FALL LEAVES
Flaunt your love of fall with some fall leaves on beautiful brown nails. Add some plaids and matte to go with it. For some jazz, add the embellishments and top it off with the top coat.
By: clawsbynina

ANIMAL PRINT NAIL ART
These are perfect autumn nails with cow prints. Easy to do yet sets you apart from the crowd. Play with mauve, shades of brown to get your perfect claws.
WITCHY NAILS
These are perfect nails for Halloween that give the ultimate witchy vibes. Mushroom, crescent moon, and potions. The classic orange and black color combination are ideal for this manicure.
By: nailss.by.gracie
FALL IS HERE
An earthy colored tones with fall leaves. It paints the perfect fall nail art picture. It is classy, easy, and looks elegant. You can also add studs or embellishments for some jazz.
By: nailsbymiabv
MARBLE PRINT NAILS
Fall or no Fall, this one is a simple, cute marble print nail art.  I love the nail polish colors here which sets the ideal vibe for this design.
By: sarinamarie_83
AUTUMN TREE PLAID NAILS
Maroon and mauve tones. Add the evergreen plaid design and classic golden glitter. It won't fail you for the Holidays. This nail art is ideal for Fall with the tree in the middle.
By: sr.beauty