Last Updated on 05/29/2023
Lipstick is one such product that can 'make or break' your whole look. Choosing the right one can be difficult since there are a plethora of shades & ranges. Even when my makeup vanity is full of lipsticks, I cannot refrain from buying more! When I came across Huda Demi Matte Lipstick, instantly purchased it. Wanna know my thought on this Huda liquid lip product, continue reading to know how I like it after using it for a long while!
Huda Demi Matte Cream Lipstick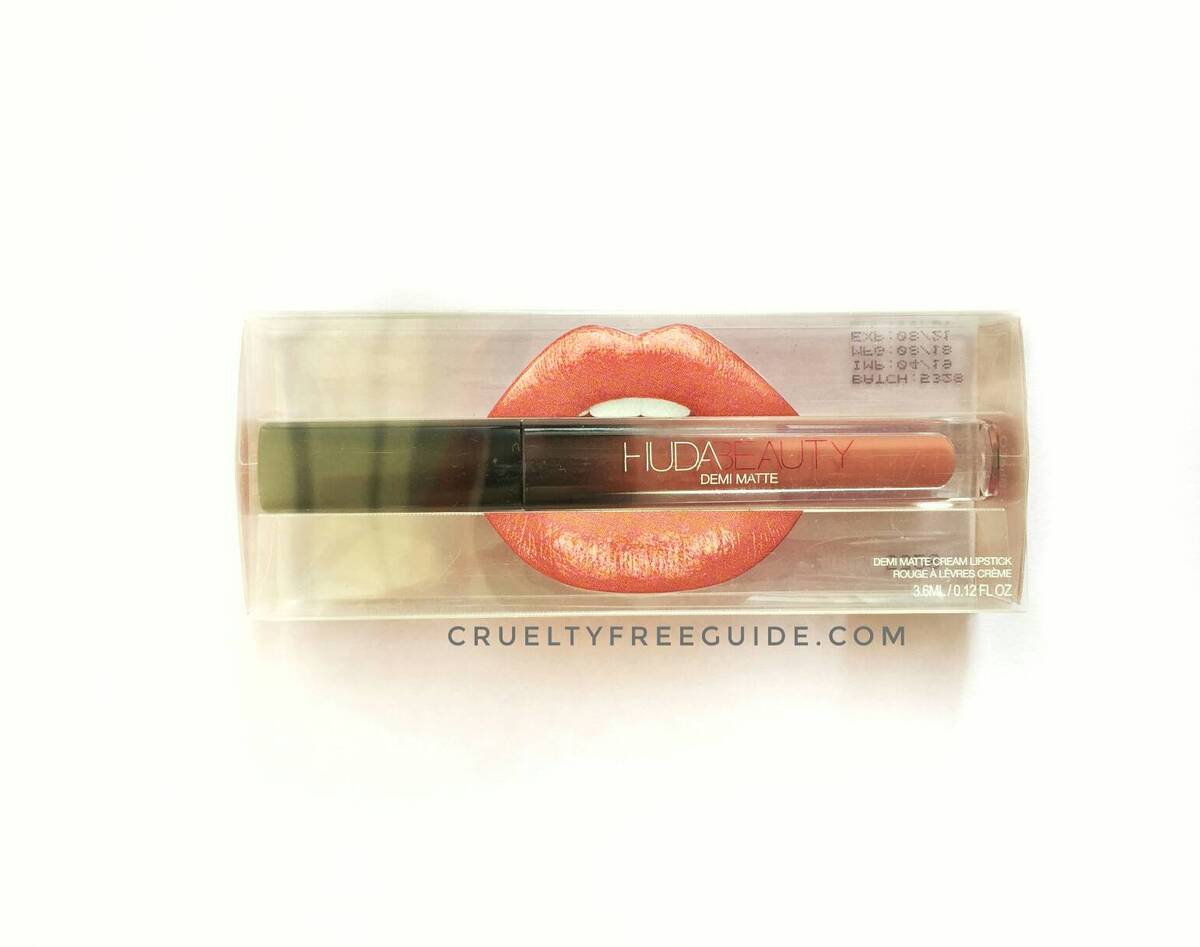 Product Name: Huda Beauty Demi Matte Cream Lipstick
Price & Quantity: $18 for 3.6ml
Shelf Life: 3 years from manufacturing date
Availability: It is available online. You can buy here.
Ingredients: In the image below.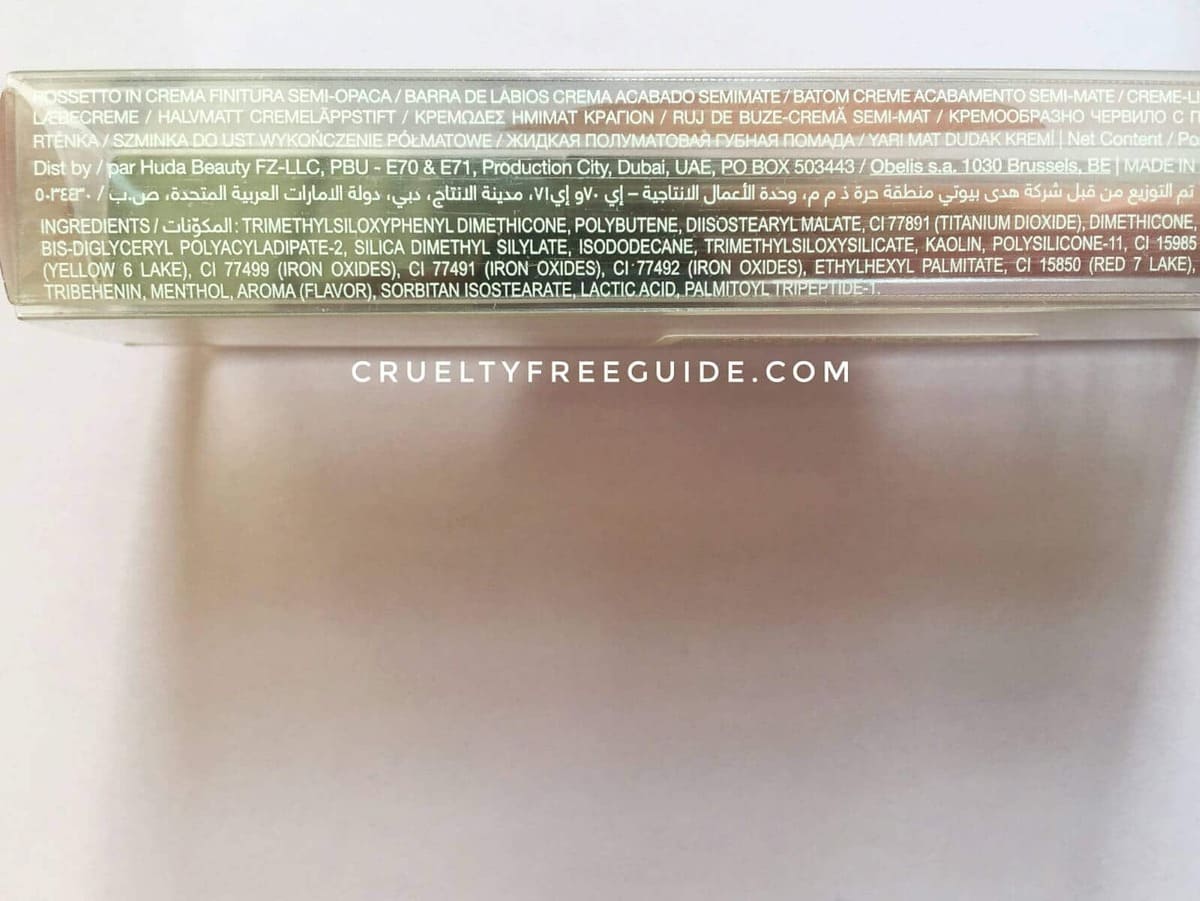 Packaging & Appearance: The lipstick comes in a plastic cover which has a lip graphic & it is color coded. The actual lipstick comes in a glass tube, which is of good quality & has a black cap. The body has a black ombre effect as well. The applicator is an angled doe-foot applicator which is flexible; so it is convenient in application.
Variants: It also comes in a matte variant.
Texture: The texture of the lipstick is quite creamy and glides on smoothly.
Shade: The shade that I have is SheEO Pretty nice shade which is a mix of brown, slight pink and mauve.
Staying Power: It lasts for a decent good chunk of time i.e. about 7-8 hours straight. No kidding!
Pigmentation: The pigmentation is beautiful. Just a swipe is enough to give you the maximum coverage.
Finish: The lipstick gives a hi-shine to the lips and makes it look kinda glossy. It is actually a satin finish. The shine is something which even comes out in the photos. I like it since I'm a fan of glossy lips, these days.
Smell: The smell of the lipstick is nice. It doesn't has a chemical fragrance. Also, doesn't last too long which is good.
Swatch: In the image below.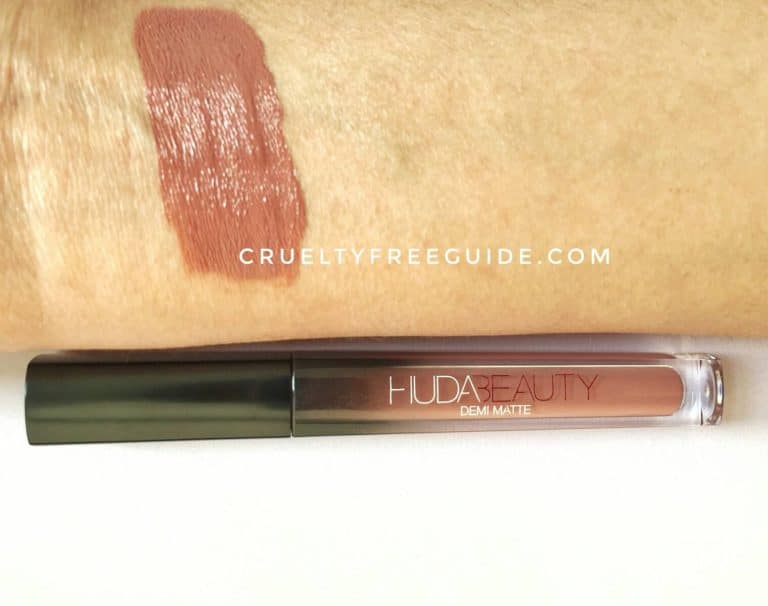 NYX Strictly Vinyl Eyeliner Review, Swatch & EOTD
My Experience: I got this lipstick as a gift. When I first applied, didn't really like the shade nor the finish… haha! But later on, I ended up loving this baby, it complemented the full face of makeup. Moreover, I love the glass tube; it is really sturdy and of good quality. Also, it looks really chic and simple.
Coming to the texture, it is very creamy and while applying the lipstick a lot of the product comes out on the applicator. So, make sure to remove the excess product from the applicator by swirling it around the rim of the tube.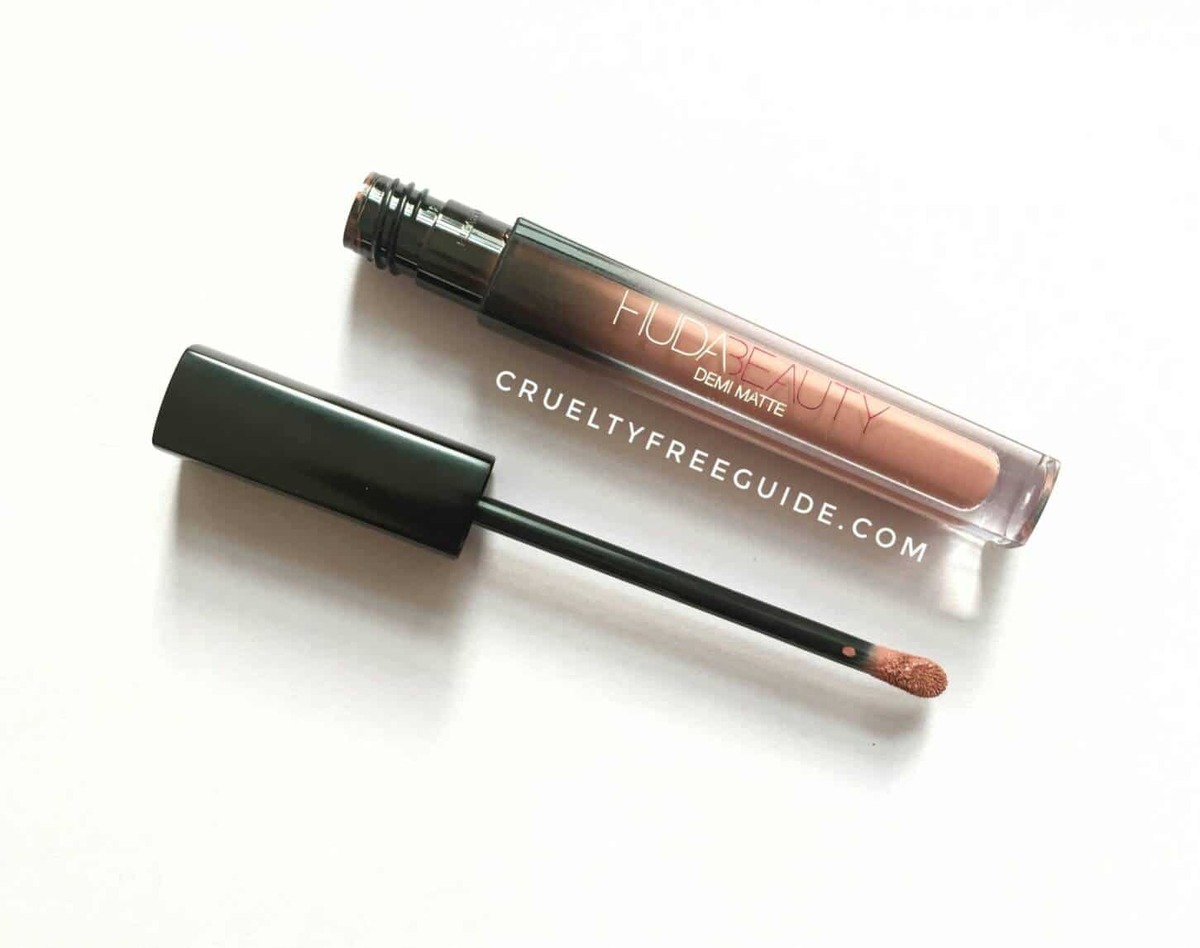 It also tingles and gives a cooling sensation when you first apply. Huda Demi Matte make your lips look plump. The staying power of the lipstick is amazing.
I wore this for my brother's cocktail party & it stayed throughout the whole evening. If I remember correctly, applied it around 5 in the evening & it lasted till one-ishh.
The demi matte shine of the lipstick does fade away but the lipstick stays put. Also coming to the shine of the lipstick, it looks really good. It doesn't look like a normal gloss shine at all.
Pros:
1. Cruelty free
2. Amazing staying power
3. Makes the lips appear plump
4. Provides a hi-shine to the lips
5. Nicely pigmented
6. Flexible applicator
7. Nice packaging
Cons:
1. Not vegan
CFG Rating: 4/5
Will I Repurchase?
Yes, for sure! I will buy this in different shades. It is an amazing lipstick and has a very unique shade range which I'll love to try out. The formula is also something I'm in love with as it is so creamy & glides on smoothly. Didn't budge at all.
Do I Recommend?
Yes, I do recommend this to everyone, even if you are a matte lover. Because even I was one before I tried it out & since then there's no going back.
If you're confused you can always go to store and try it out before buying which will also help you in selecting the perfect shade.
Overall Summary: I really feel Huda has done an amazing job by creating this formula and how well it works. Because honestly it's hard to formulate a lipstick which is so creamy & smooth. And at the same time, gives a hi-shine gloss look but still isn't sticky and doesn't feels tacky, you'll know what I mean if you're a lipstick lover lol!
Even the packaging does feel high-end and isn't flimsy at all as a lot of times even high-end brands offer bad quality plastic packaging which just doesn't feel luxurious. The price of the lipstick is for sure on the expensive side but I feel the product has done a justice to it and it is really worth buying.
Don't forget to share on Pinterest!