*may contain affiliate link(s)
Last Updated on 03/19/2022
Foundation is an essential part of the makeup routine. Definitely, a must-have in the vanity! Like many people, I also love drugstore makeup. They're affordable and work equally well. If you're into cruelty free makeup, here is a list of the 14 best drugstore foundation that is super affordable! I have also included vegan options.
Some of the brands offer shade finders which are quite helpful. For example, Colourpop Cosmetics. So do give them a go if you're confused about your exact match. I've included a variety of affordable foundations. No matter what your preference is, you'll most likely be able to find the right pick for you.
14 Top Rated Vegan Foundation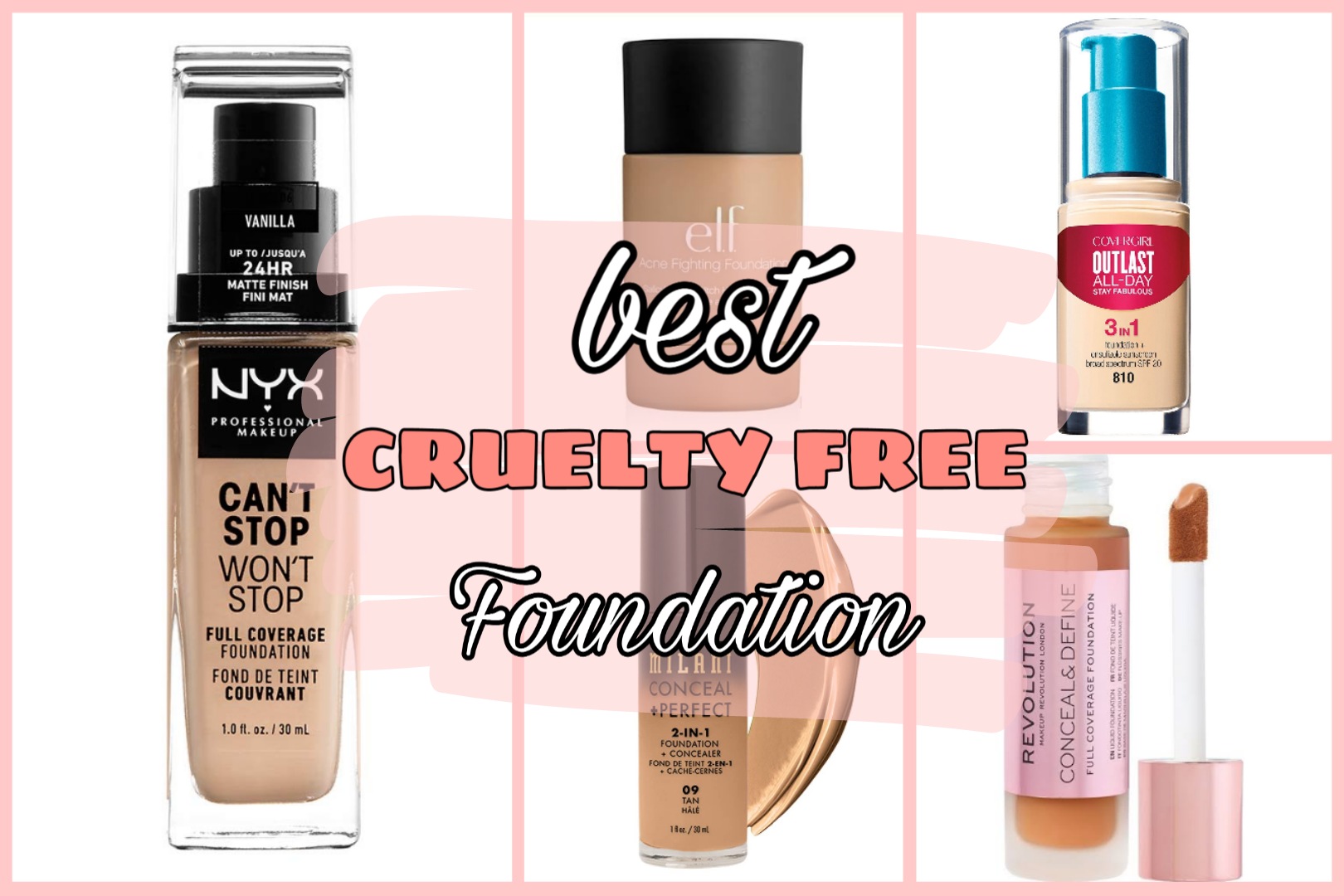 Let's get started!
Covergirl Outlast Foundation
It is a good OG that is available in 13 shades. Covergirl has changed its packaging but it is still your old buddy in a new look. As the name suggests, it is a 3 in 1 product working as a foundation, primer & concealer. It has SPF 20, so that's an added bonus.
The foundation is buildable & gives good coverage, mostly light to medium. It blends well and has good pigmentation. I like that it provides a matte finish. If you're looking for a daily usage foundation, this one is a nice pick. You can wear it on a regular basis as it won't feel heavy. Appears 'natural' after being worn, so doesn't look like you have a mask on.
Covergirl has an alternative, Outlast Active Foundation which is waterproof (sweat & humidity-proof) and comes in 16 shades.
Pros:
Looks natural
SPF 20
Good for regular usage
Cons:
Makeup Revolution Conceal & Define Foundation
MUR launched their foundation in whopping 42 shades! A drugstore brand offering such a great shade range is remarkable & impressive. This foundation was introduced after their popular Conceal and Define Concealer. I remember grabbing the concealer during the initial launch, although I was puzzled selecting the right match for me! If you're wondering, loved it totally.
Back to the topic, the foundation surely made a lot of buzz during its launch. It is also a vegan foundation at the drugstore price which provides effing FULL coverage. It is buildable, but you may appear cakey if over-applied. So do look out for that! You can use a sponge while applying, that keeps a check and blends beautifully.
Other than that, a lightweight foundation that won't crease and last well is this baby. It settles to a matte finish.
Pros:
42 shades
Vegan
Lightweight
Demi matte finish
High pigmentation
Cons:
Milani Conceal & Perfect 2 in 1 Foundation
Available in 45 shades, this Milani foundation can also be used as a concealer. It has a convenient pump bottle that makes it easy to use. Offers medium buildable coverage, you can achieve the full coverage without appearing cakey.
If you've visible pores, go for a good primer prior to this foundation. And if you've a combination to oily skin, set it with a translucent powder and it'll last well and good. As a result, it won't crease too. It is a lightweight foundation.
However, on the flip side, it dries down quickly. So keep it in mind during application. Also, this Milani foundation does somewhat oxidize.
Pros:
Lightweight
Affordable
Pump Bottle; convenient to use
45 shades
Great coverage
Cons:
Oxidizes
Dries down quickly
Covergirl TruBlend Foundation
It is a great go-to foundation that is buildable. The coverage is medium, though buildable. This is a matte foundation suitable for oily skin and even acne-prone skin.
Comes in 33 shades, this drugstore foundation is transfer-proof, meaning it won't get everywhere! It blends easily and provides a nice finish. However, it doesn't last up to 12H as per its claim; 6 to 7H at max. However, it is still a good foundation at an affordable price, especially if you are able to find the right match.
Covergirl has another variation of this foundation, TruBlend Liquid Makeup, which is suitable for you if you ain't into the matte foundation.
Pros:
Suitable for oily skin & acne prone skin
Transfer proof
Matte finish
Lasts a couple of hours
Cons:  
L.A Pro Illuminating Foundation
I love the Instagram popular dewy look! It looks beautiful, well at least in the pictures. If you're also into those looks, this Illuminating foundation is an affordable bet for you.
Perfect for the soft & dewy finish, this LA Pro foundation comes in 16 shades (including a white shade). It has a lightweight formula that provides full coverage. Also, it blends easily and settles to a healthy radiant finish.
This is a foundation for normal to dry skin as it is hydrating. Oily to combination skin people may find it makes their skin more oily. They do have a matte variant if you're interested.
Pros:
Paraben free
Pump dispenser
No flashback
Buildable full coverage
Radiant, dewy finish
Cons:
Elf Flawless Finish
Currently available in 40 shades, this is a great pick for a drugstore foundation that is cruelty-free and vegan. As the name suggests, it gives a flawless finish & blends beautifully. With oil-free formula, you get kind of a dewy finish. Oily to combo skin people can skip this as the shine may peep through after some time or try it with the elf Putty Primer.
The coverage is medium and the formula is lightweight. Elf Flawless Finish has a thicker yet smooth consistency. So it does blend but with a bit of work. Looks beautiful and also lasts long. Great buy at just 6 bucks!
Pros:
Cheap
40 shades
Vegan
Nice medium buildable coverage
Pump bottle
Cons:
Colourpop No Filter Foundation
The Colourpop No Filter Foundation is available in 42 shades. If you're on oily to combination skin type, you would love this. It blends perfectly and provides a beautiful natural finish. It is a lightweight foundation that is great for everyday usage. The coverage is buildable. It is smooth and well pigmented. Won't look cakey!
Comes in a pump bottle, 1 to 2 pump is good to go. Give this a try, if you're looking for a new matte foundation with a natural finish!
Pros:
Vegan
Suitable for all skin types
42 shades
Lightweight
Buildable coverage
Natural finish
Good for everyday usage
Cons:
Catrice HD Coverage
Just like the Colourpop foundation, it offers a skin like natural finish which we all crave for. I know healthy body standard it is, but I would love an even toned, spot free, radiant healthy looking skin. Won't you too? That reminds me to remind you to keep yourself hydrated!
Coming back to the Catrice foundation, it is a great lightweight foundation for regular usage. Long lasting and feels comfortable. It settles to a semi matte soft finish and comes in 26 shades, offering light to medium coverage.
Pros:
Dropper bottle
Vegan
Paraben, oil & alcohol free
Natural finish (skin like)
Stays put
Cons:
NYX Total Control Drop Foundation
Easy to use due to the dropper applicator, this NYX foundation is light and comes in 30 shades. It is a blendable foundation with a natural matte finish. This NYX foundation provides a sheer to medium coverage and is buildable. This means you can layer to build better coverage. It is nicely pigmented and lasts couple of hours. Also a best selling product by NYX. A little goes a long way is indeed true for this beauty. So a bottle would last you through.
Pros:
Dropper applicator
Vegan
30 shades
Light
Cons:
Makeup Revolution Stick
Looking for a convenient to use foundation? Got you covered! This one is a light stick foundation by Revolution Beauty which provides a fresh, dewy look. It is a decent coverage foundation that comes in 18 shades. Blends well and goes on smooth.
Also, lasts long and easy to work with due to the stick. Yeah, saves your time too! You can use it as a contour and for highlighting. The stick makes it hassle-free. Go for it if you're dry or normal skin type as it hydrates your skin. Talking about the finish, it is quite natural. You can build up the coverage too.
Pros:
Vegan
Dewy finish
Stick foundation; convenient to use
Affordable
Medium buildable coverage
Good for newbie
Can be used for contour
Cons:
LA Girl PRO Matte
A matte foundation which has a slightly thick texture and offers a pretty good coverage, mostly medium to full, which lasts long. It comes in 16 colors and is best suited for oily to combination skin. This is a buildable foundation that has great pigmentation. However, if you're super oily, use an amazing primer and you're good to go!
Pros:
Matte finish
Cheap foundation
Medium to full coverage
Light weight
Cons:
Elf Acne Fighting Foundation
This is one of the best selling Elf foundation. With a limiting shade range, this foundation's pro is that it actually helps with acne scars. An amazing lightweight foundation that won't clog your pores. It offers good pigmentation that is long lasting. The pricing point is pretty cool too. The coverage is great and the finish is decent.
The only concern with this foundation is the limited shade range. Hopefully, they'll add more.
Pros:
Affordable
Vegan
Long lasting
Helps with acne marks
Suitable for acne prone skin
Cons:
NYX Can't Stop Won't Stop
NYX has a shade finder on their website which you can use if you're unsure of your shade as it's launched in 45 shades!! Can't Stop Won't Stop foundation offers full coverage and matte finish, all with a lightweight formula. It has a creamy texture and this foundation won't clog your pores. This blends easily and lasts well throughout the day.
Pros:
45 shades
Waterproof
Lightweight
Noncomedogenic
Blends easily
Cons:
The Ordinary Serum Foundation
This is a serum foundation. So it is actually quite light and perfect for regular use. The coverage is decent with a high matte finish. It comes in a pump bottle with 21 shades to choose from. You'll find it effortless to blend. All in all an affordable drugstore foundation for 6 bucks or so.
Pros:
Vegan
Quite light
Decent coverage
Pump dispenser
Blends good
Cons:
Summary Table:
| | | | | |
| --- | --- | --- | --- | --- |
| | | | | |
| | | Buildable (Medium to High) | | |
| | | | | |
| | | | | |
| | | | | |
| | | | | |
| | | | | |
| | | | | |
| | | | | |
| | | | | |
| | | | | |
| | | | | |
| | | | | |
| | | | | |
| | | | | |
---
There you go! These are some of the best performing cruelty free drugstore foundations currently. They're affordable and do their job pretty well. Which is your pick? Did you find your favorite on the list?
x
Share on Pinterest!