*may contain affiliate link(s)
Last Updated on 01/09/2023
Do you know how much animal based ingredients are you consuming via your daily makeup? The red lippy you love the most, the glossy tint you adore or even the keratin rich shampoo in your shower… All these are likely to contain something or other linked to animals. So here you are looking for quality vegan makeup in drugstore or mid-to-high end? Do check out this best vegan makeup brands list!
Veganism is not just limited to food. Once you commit to it, you may adopt it in every aspect of your life. Vegan brands consist of products which do not contain animal byproducts. These include honey, beeswax, caramine, etc. The brands should use ZERO animal-derived ingredients in their products.
Since you're on Cruelty Free Guide, all the below mentioned vegan brands are also cruelty-free.
10 Best Vegan Makeup Brands *2021*
Drugstore:
elf Cosmetics
Maybe you saw this coming, the first one is the elf Cosmetics. It is like a birthplace of budding beauty fanatics. This 2004 introduced beauty brand offers an array of vegan makeup products at an amazing price range. Wide availability and ethical practice makes elf eligible for a high five!
Popular Products:
This is an amazing satin finish concealer that provides lasting finish, comfortable feel and creaseless makeup. The coverage is great and you know what? This is a perfect dupe for Tarte Shape Tape!
Price- $6
It is one of the best primers in the vegan drugstore makeup category. Available in matte and luminous, this will give you the exact same effect as Tatcha's The Silk Canvas Primer in just a fraction of price.
Price- $8
Keeping up with the new highlighting trends elf has recently come up with their own Jelly Highlighters in three shades: Cloud, Dew and Bubbly. These wet-dry multipurpose highlighters complements every undertone. Try these for a luminous and healthy looking skin.
Price- $6
This is yet another stunning product from elf to make your scanty brows gorgeously filled. In just $2 you are getting something that shapes, defines, sets and fills the brows. The six shade wide range provides natural and flawless finish.
Price- $2
Looking for a pain-free plumping gloss and that too in the vegan category? elf has that for you! The high-shine formula makes lips look nicely hydrated and supple. Neutral tints transform your pale lips to a flushed fresh pout in no time!
Price-$6
Pacifica
Brooke Harvey-Taylor's brain-child Pacifica offers eco-friendly and 100% vegan makeup & personal care products. Focusing on sustainable and natural beauty care, this brand puts a ban on harmful chemicals in their products. Use of various natural ingredients and crystals like rose quartz is the USP of their makeup and beauty line.
Popular Products:
It is one amazing combination of vegan beauty and water-resistant makeup. The staying power is stunning and so is the quality. This is a wonderful mineral mascara that gives natural looking lashes without crumpling.
Price-$14
Coconut, cherry, vitamin C based finishing powder sets the base makeup and increases the stay time by preventing melting. The finish is mostly matte but you get a healthy glow.
Price-$12
A medium coverage tinted foundation with the benefit of SPF 17. The color correcting minerals of the formula adapts to your skin tone. The coconut, ginseng and kelp based foundation gives dewy illuminated look to the skin.
Price-$18
It is a coconut oil and avocado based lip tint that packs your lips with moisture and makes your lips naturally flushed. This carmine free lip tint is available in five shades.
Price-$5
This is a all-neutral, mineral powder eyeshadow palette that houses 10 everyday wear shades. You will get matte pinks, warm nudes, browns and also stunning highlight shadows to create a variety of gradient and smokey eye looks.
Price-$18
Mid-range:
Milk Makeup
Milk makeup presents a perfect combination of minimalism & vegan beauty. This comparatively new beauty brand has gained lots of attention due to its high-tech products that are user-friendly, eco-friendly, multipurpose and most importantly superb quality.
Popular Products:
Aided with hemp-derived cannabis seed extract and blue agave extract, this silicone-free primer water provides a boost of moisturization to the skin and long-lasting hold on your base makeup. This Allure Beauty Awards 2019 winner primer blurs textures and creates a flawless base for the foundation.
Price-$40
The unique heart shaped fibers of the KUSH mascara clings to your lashes for a long lasting curl, length and volume. It is a great one if you want 'clump free definition' to your natural lashes.
Price-$32
An ultra-weightless matte finish foundation acts like a breather to your skin. This full coverage foundation is for those who love oxidation-free heavier coverage along with blurred pores and skin like finish.
Price-$50
It is a mango butter, peach nectar and avocado oil based two-in-one sheer tint that doubles up as cream blush and moisturizing lip salve. The 5 shade wide range comes with quick-build formula. As you start layering the intensity grows.
Price-$28
This is a pressed highlight powder comes with added benefit of hyaluronic acid. It contain blue lotus and chamomile to calm the skin. The fine particles of this moisturizing pressed highlighter provide silky glow to your skin.
Price-$28
Kat Von D Vegan Beauty
Coming from the famous tattoo artist, model-musician and animal activist Kat Von D, the makeup brand Kat Von D offers great products. It is a feast of highly pigmented and performance-oriented makeup. Initially, the brand was not completely vegan, i.e. during the beginning days. Kat Von D showed courage to reformulate her entire makeup line in 2016 to make it vegan-friendly.
Popular Products:
An Allure Reader's Choice award 2018 winner, fine tip pen eyeliner for those precise and high-voltage cat-liner looks. The super pigmented, water proof and long-lasting liner comes in black and grey-brown shades.
Price-$21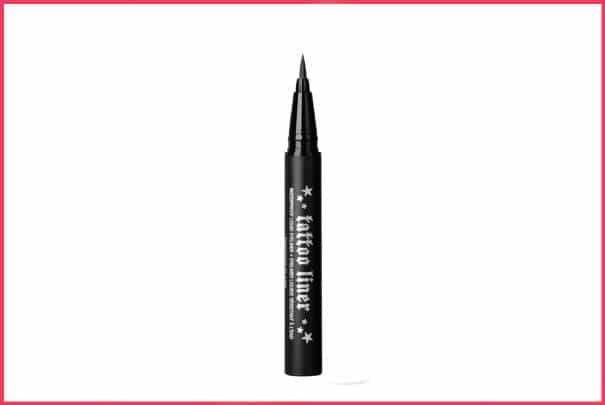 Enriched with plant derived fats Go Big or Go Home Volumizing Mascara. It promises extreme volume and no-clump finish. The fluffy finish of this stays intact until you wash it off with a heavy duty makeup remover.
Price-$24
A vegan full-coverage foundation gives transfer-proof flawless texture-free finish in one go. The stunning shade range contains shades for every skin tone and undertone.
Price-$18 (mini)-$37 (full size)
This customizable face contour palette comes with 6 new-age powders that amplify the dimensions of your face. The silky, buildable powders gets love from both beginners & professional makeup artists.
Price-$49.50
Yet another stunner from Lock-It range! This weightless translucent setting powder ensures zero chalkiness, no-flashback and obviously diffused pore photo-ready look. Want to mattify your makeup without heavy cast? Try this!
Price-$31
Cover FX
Looking for high performance no-fuss makeup in vegan category? Cover FX is here for you! This brand's motto is to provide high coverage professional level makeup with all clean and harm-free ingredients. Established by a former MAC Cosmetics think tank, Cover FX knows what people's makeup choices are and how to satiate them,  the 100% cruelty-free and vegan way.
PS: Many of their products are at a FLAT 50% Sale!
Popular Products:
Mixing the goodness of Fermented Algae Extract, Rice Hull Powder and Rice Bran Wax, Cover FX prepares weightless, water proof, sweat-proof and transfer-proof Power Play Foundation. This cult-favorite foundation comes in plenty of shades in each of the categories, light, medium, tan and deep.
Price- $44 $22
This is an ultra-concentrated liquid illuminator. You can use it as highlighter, strobe cream or even bronzer depending on your shade choice. These shimmer drops work equally well in every part of your body including lips, facial skin and body skin.
Price- $42 $21
A talc free loose powder sets your foundation in most natural way. It does not exaggerate your facial pores or fine line. This actually helps in blurring out the pores to make your face look photo-ready.
Price- $35 $17.50
Another cult-favorite from Cover FX. This is a non-dry zero alcohol setting spray that melts your base makeup and creates a wrinkle free face look. This one also protects your skin from free radical damages.
Price- $31 $15
Pore-blur primers are generally targeted towards oily skin. But this Cover FX primer is specially designed for tackling texture issues of dry skin in particular. This visibly reduces the appearance of fine lines. You can wear it on its own or use it as a primer before moving on with another heavy coverage foundation.
Price- $38
Lime Crime
If you like to play with brighter colors or believe in statement colors in makeup, Lime Crime is your best pick. This LA based 100% vegan beauty brand makes some of the best funky makeup items and beauty tools gathering the ingredients from all over the world.
Popular Products:
These richly pigmented velvet matte liquid lipstick are the reason why Lime Crime is so popular among common makeup enthusiasts. A long lasting liquid lipsticks settle into comfy matte, touch and kiss proof finish. The shade range is to die for!
Price-$13-$20
Venus is Lime Crime's most popular eye shadow range. This range houses a number of colored eyeshadow palettes each with a specific color theme. The original Venus palette is for creating red and pink Italian art inspired grunge looks. You may also try the Venus 2, Venus XL and Venus XL2 palettes.
Price-$38-$58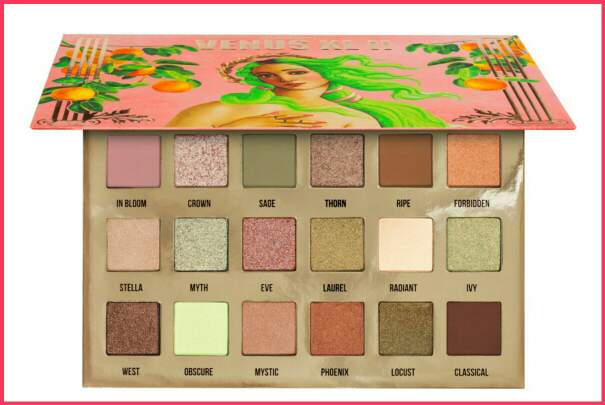 These are tinted and tint-less brow gels that adds texture and volume to your brows. This natural finish brow gel tames unruly brows quite well.
Price-$18
Turn any finish lipsticks into gorgeous shimmer blends using Diamond Crushers Lip Topper. These reflective colors and iridescent unicorn shades add luster to your lips. These long lasting shimmer toppers also works as strobe creams.
Price-$20
A unique fine tip pens are here for those freckle lover buddies who went gaga over natural looking freckled skin of Meghan Markle! This one is available in two shades; cocoa and amber. Also, it looks cute!
Price-$20
 Jeffree Star Cosmetics
If you love makeup and go through every happening thing in the makeup world, then you must be familiar with Youtuber Jeffree Star's cosmetic line, the Jeffree Star Cosmetics. It's one of the best vegan makeup brand famous for its unique packaging and creativity. Leaving aside the controversies and feuds of its owner, we can't sit still when a brand comes up with so many quality products one after another.
Popular Products:
This is a all-in-one palette for Smokey eye lovers. You get 10 colors and each of them is insanely pigmented. If you love colored eye looks but do not want to go neon, then this is the one for you!
Price-$45
If you want to buy only a single product from Jefree Star, it's a high time you should get a Velour Liquid Lipstick. This paraben and gluten free comfy mattes have everything that you seek in a liquid lipstick
Price-$18
Want a feathery soft setting powder with no chalkiness, caked up finish? Magic Star Setting Powder is the way to go! The formula is super light and shade range is stunning too.
Price-$22
These are new age hybrid highlighters that doubles the benefits of baked highlighters adding a gel touch to it. The talc free formula provides extreme shine while the gel sticks up to the skin making it long-lasting.
Price-$32
Imagine a princess like dreamy red-pink eye look… Yeah, that's what this palette does to your eyes. A pleasant mix of premium quality frost, matte and foiled shadows will take you to the land of pressed pigments.
Price-$52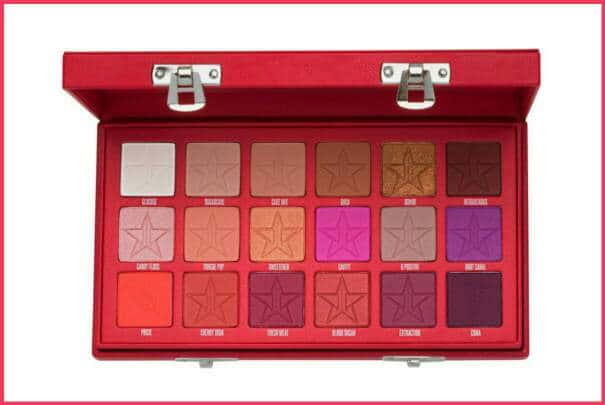 Haus Laboratories by Lady Gaga
Lady Gaga's newfound love, Haus Labs offers cruelty-free and 100% vegan makeup. When it comes to color pay-off and quality concerns, Haus Laboratories leaves no stones unturned!
Popular Products:
These are creamy to matte chubby crayons that offer full coverage. The amazing color selection provides one swipe pigmentation, weightless finish and fuller looking lips.
Price-$18
The long lasting and smudge-proof pen liner gives you flexibility and preciseness for creating desired liner styles. Go get this in black or brows if you love Gaga style signature liner look.
Price-$20
Want some cool tone eyeshadows in your life? Stupid Love has an interesting color scheme, with blue, brown and other pretty shades! It has 18 different shades ranging from warm to cooler shades. This palette is buildable and the pigmentation is also amazing.
Price-$34
This unique product fills the gap between cream eye shadow & traditional powder form eye shadows. Apply it as liquid shimmer and it sets as foiled eyeshadow. Isn't it cool?
Price-$20
These are premium quality creamy lip liners with demi-matte finish. Versatility, texture and precision lining are the USPs of this lip liner.
Price-$16
OFRA Cosmetics
Started out as supplier of beauty items to professional salons, the think tanks of OFRA, Ofra Gaito, knows how to make a permanent place in the vanities and lust-lists of many. When it comes to highlighters and vegan beauty, there's no stopping for OFRA!
Popular Products:
This is an universally flattering champagne liquid highlighter with baked finish. Create a perfect sun-kissed look with this pigment rich shade.
Price-$35
Enriched with Vitamin A and antioxidants, this liquid lipstick gives you an unique velvety touch to your lips with saturated pigments.
Price-$20
This dewy setting spray is not just a regular makeup fixer. Its light refreshing mist takes your makeup through any weather conditions with ease.
Price-$20
A feast for highlight-bronze crazies. This one palette contains each and every happening highlighters and bronzers from OFRA. You can even refill your palette as per your liking!
Price-$149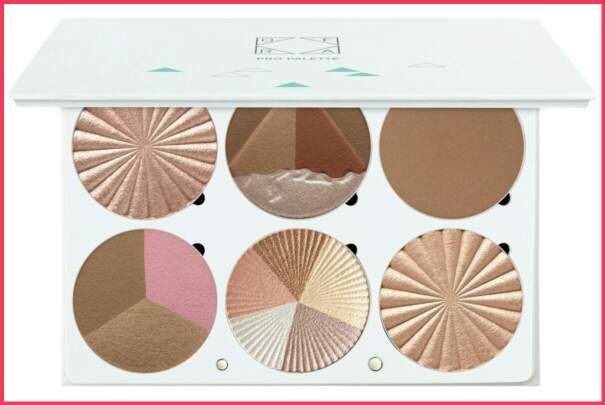 Using the famous liquid-to-baked pressed pigment technology of their bestseller highlighters, OFRA has recently come up with this bling palette. Satiate your glimmer dreams with this ultra-glam palette.
Price-$29
These are some of the top brands that are vegan as well as cruelty-free. Which is your favorite? Share in the comments below!
Share on Pinterest: