*includes affiliate link(s)
Last Updated on 01/09/2023
With the changing seasons, our tresses need immense care and attention. From dealing with frizzy hair to handling dandruff problems, it gets messy. Here to help you choose the right cruelty-free shampoo for your beautiful hair.
Some of these are best for common hair woes. Continue reading to know more about it!
Best Cruelty Free & Vegan Shampoo
Cruelty Free Shampoo Brands
Some of the good hair brands are as follows.
Acure
Avalon Organics
Bondi Boost
Garnier*
Paul Mitchell
TRESemme*
Yes To
* Brands marked owned by parent companies that test on animals.
Brands to Avoid
Paul Mitchell Tea Tree Shampoo
It is a great clarifying shampoo that deep cleans hair and scalp well. Tea tree helps in clearing away dirt and impurities. It is vegan and color-safe. Works wonders for a flaky scalp.
The brand doesn't claim it to be anti-dandruff shampoo. But it surely helps with dandruff. A clean, healthy, and non-greasy scalp ensures dandruff remains at bay.
It lathers fine and there is a pretty fragrance after washing your hair that I like. It eliminates any build-up. Great for the winter cold.
Pros:
Vegan
Paraben free
Sustainable packaging
Soothes & cleans scalp thoroughly
Amazing fragrance
Safe for colored hair
Contains tea tree oil
Helps with dandruff
Cons:
Not hydrating, you need conditioner
Yes To Tea Tree Scalp Relief Shampoo
A nice pick for an itchy scalp. Yes To has a pH-balancing formula. It doesn't dry your hair. Contains good ingredients such as salicylic acid, cypress, sage, and tea tree oil.
It helps to soothe and heal the dry and itchy scalp. There is a refreshing fragrance that isn't bothersome. You can give it a try if you face dandruff, itchiness & flakiness. Bonus points to it for the winter months!
Pros:
Vegan
Affordable
Balances the pH-level
Won't dry your hair
Refreshing fragrance
Soothes dry and itchy scalp
Parabens, petroleum & SLS free
Helps in controlling dandruff
Cons:
Paul Mitchell Awapuhi Shampoo

A shampoo that I keep going back to has to be this one. It is vegan and color-hair-safe. It doesn't mess with the color. Smells nice too. It leaves hair soft and smooth. A little goes a long way so the bigger bottle is worth it. Good investment for healthy, thicker hair and a salon-like experience.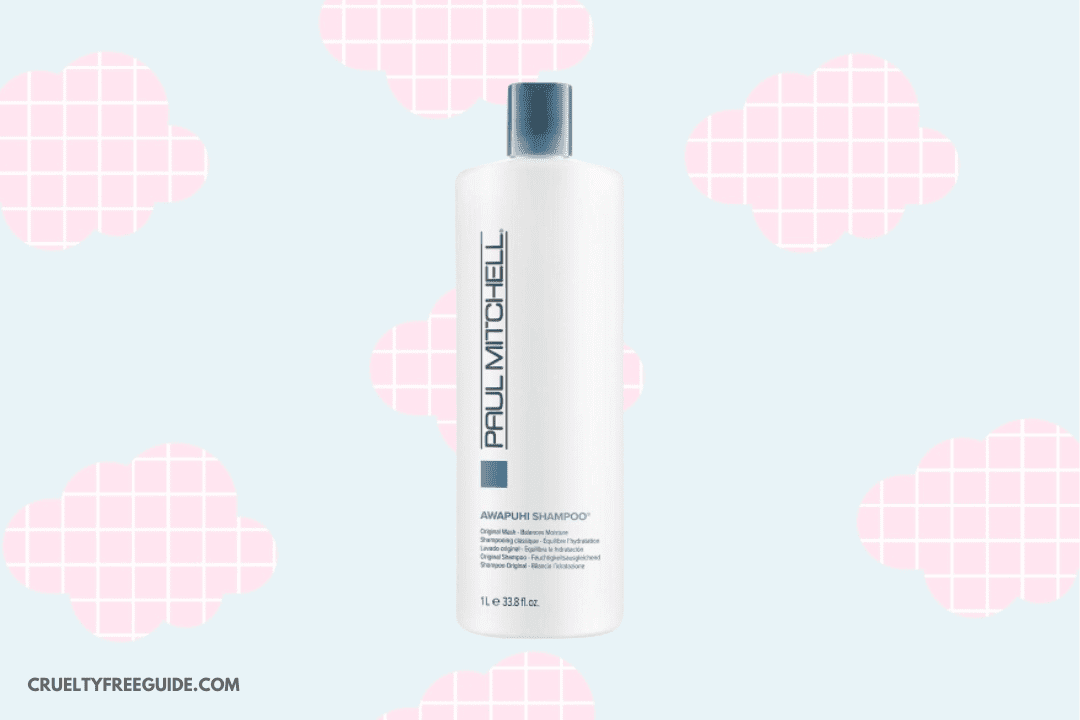 Pros:
Vegan
Safe for colored hair
Free of paraben & gluten
Cons:
Garnier Fructis Pure Clean Shampoo
The Garnier Fructis Clean is a good clarifying shampoo at an affordable price. It doesn't dry out your hair or strip it of moisture. Cleans nicely and has a citrusy fragrance. Not exactly citrus but similar. The fragrance is nice. It has aloe extract & vitamin E that leaves hair soft.
If you're late to the party, here is some good news for you. Garnier became certified cruelty-free by Cruelty Free International in March 2021. More information on Garnier being cruelty-free.
Pros:
Fresh citrus fragrance
Silicone free
Hydrating
Drugstore
Cons:
Bondi Boost Dandruff Shampoo
An amazing anti-dandruff shampoo that works. It treats itchy, flaky & dry scalp. Itchiness and flakiness go away on regular usage. Not only does it get rid of dandruff but also keeps it under control.
Bondi Boost is an Australian company and its products look impressive. The fragrance is pleasant. (I'm a fragrance person.)
Pros:
Vegan
Clean Beauty
Parabens, silicones & sulfates free
Effective on dandruff
Cleans gently
Cons:
Maui Moisture Detoxifying Shampoo
Maui Moisture Volcanic Ash is an affordable detoxifying shampoo that removes product build-up from hair. If your hair looks dull, give it a go. It makes hair shiny and adds a luster.
It contains bergamot oil, aloe vera, and volcanic ash which deeply clean your tresses. The smell is amazing!
As it is a detox shampoo, avoid frequent usage. Or alternate using a hydrating one.
Pros:
Detoxifies scalp
Safe for dyed/colored hair
Removes product build-up
Makes hair shiny and soft
Smells amazing
Drugstore
Cons:
Not suitable for the sensitive scalp
Acure Ultra Hydrating Shampoo
You'll love it if you're into nourishing and hydrating shampoo. Cleans hair and scalp thoroughly. Frizzy, dry hair? No more an issue with this Acure shampoo. It makes hair silky smooth and shiny. There is a nice fragrance somewhat like almonds. It's good.
Pros:
Vegan
Moisturizing & Nourishing
Free of sulfate, paraben, mineral oil
Suitable for Curly hair
Has argan oil & pumpkin
Cons:
Avalon Organics Therapy Thickening Shampoo
This shampoo literally works! As a thickening shampoo with biotin, it reduces hair fall and thickens hair. Cleans well and makes hair smooth & silky. There is a nice scent and no drying moisture out of your hair.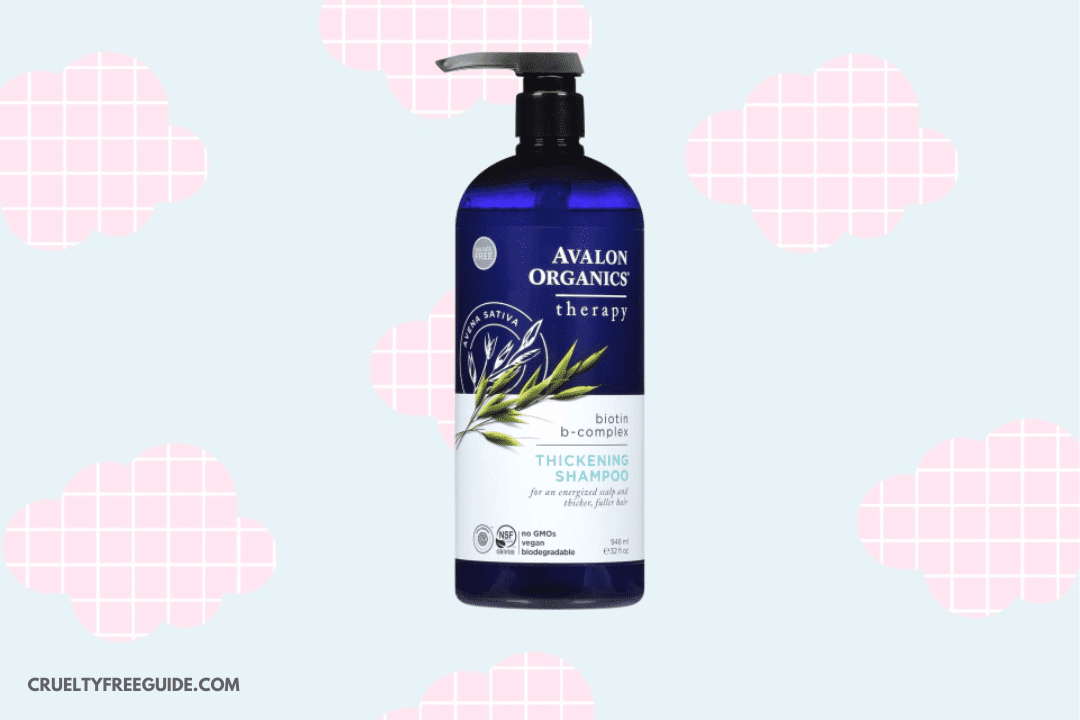 Pros:
Vegan
Free of parabens, phthalates & other harsh ingredients
EWG certified
Cons:
TRESemme Shampoo
It is a regular drugstore shampoo that cleans well. Smells great and is super affordable. Don't have anything bad to say about it. For the good part, it makes your hair shiny. A great pick for men.
Pros:
Free of paraben, aluminum & mineral oil
Suitable for dry hair
Makes hair shiny
Has vitamin E & biotin
Cons:
---
FAQ
Should you shampoo daily?

It depends on your hair but you shouldn't shampoo your hair everyday. You can shampoo on alternative days or thrice weekly.
These were all amazing cruelty free shampoos. Do give them a try and see how it works for you!
Share the post