Last Updated on 02/20/2023
Cruelty Free and Vegan are popular terms in the cosmetic and beauty industry nowadays. They are often interchanged and looked upon the same. However, that's far from the truth. Today, let's look at cruelty-free vs. vegan in the beauty sector in simple words without any jargon.
Cruelty-Free vs. Vegan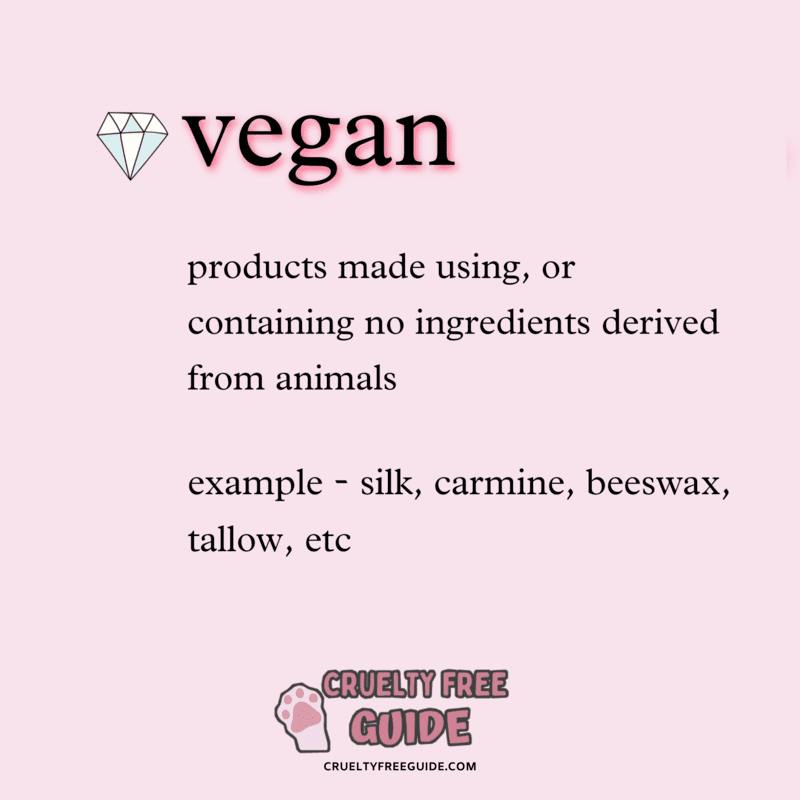 Key Takeaways
• Cruelty-free refers to the practice of no animal testing for cosmetics during production.

• The vegan tag in cosmetics is used for products that don't contain any animal ingredients.

• Cruelty Free and vegan are somewhat similar but still poles apart. They are two sides of the same coin.
Difference Between Cruelty-Free and Vegan for Cosmetics
| Cruelty-Free | Vegan |
| --- | --- |
| No animal testing is involved. | No animal ingredients are involved. |
| Cruelty-free is not necessarily vegan. | Vegan isn't necessarily cruelty-free. |
| Cruelty free saves animals from torturous and horrendous testing practices. | Vegan protects animals from being exploited and/or killed to become an ingredient. |
Learn cruelty-free related terminologies in simple words to shop consciously.
What is cruelty-free?
Cruelty-free is a label that ensures a brand and its products are free of any form of animal testing. It is an active campaign that protects animals from cruel practices. Know cruelty-free meaning in layman's language.
What is vegan?
 Vegan beauty implies that the products are free of any animal ingredients. These beauty products have formulations and active ingredients sourced from plants.
Examples of some animal ingredients are as follows.
Beeswax or Cera Alba
Carmine
Collagen
Gelatin
Ghee
Glycerine
Honey
Keratin
Lactose
Lanolin
Retinol
Silk
Tallow
These animal-derived ingredients can be ethically or unethically sourced. Some can also be plant-based. This factor directly depends on the brands' practices. More than often, these animal ingredients are obtained by killing the animals or destroying their home.
For example – Beeswax can be synthetic and glycerin can be plant-based.
Also, note that the ingredients are often used by their scientific names. Some animal ingredients are also masked this way.
For example – Tallow is sodium tallowate in the ingredient list. Basically, it indicates fat obtained from animal tissues. The general source is cows and pigs. However, it can also be plant-derived.
Being vegan-friendly means being animal-friendly.
Similarly between cruelty-free and vegan
Cruelty-free and vegan go hand in hand. Both of these labels are animal-friendly in their own way. They protect animals from the hurt, pain, and torture of being exploited for cosmetics.
However, they differ from each other quite a bit.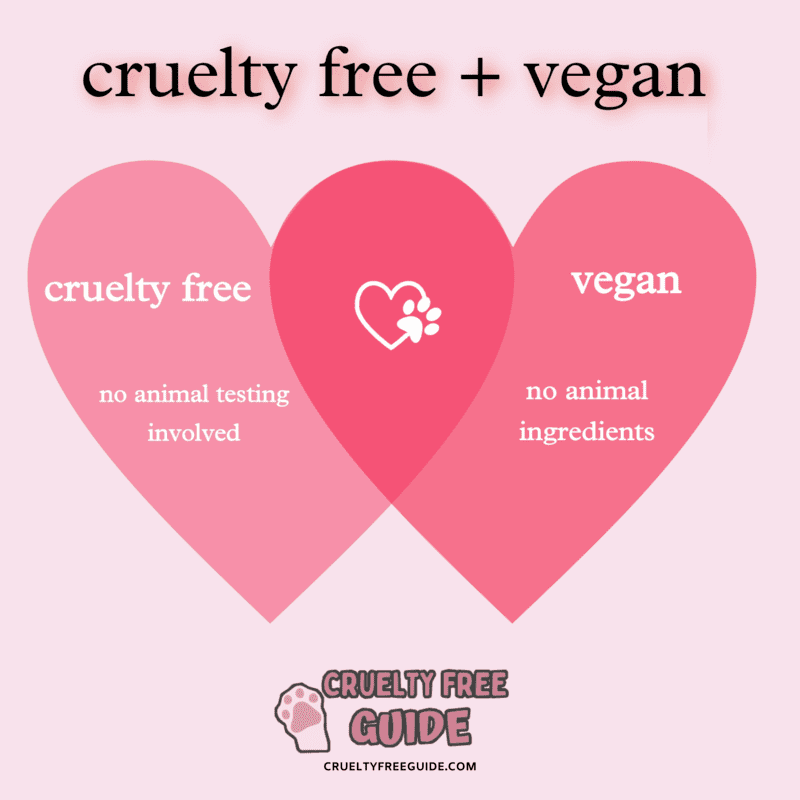 Difference between vegan and cruelty-free
Often used interchangeably, cruelty-free and veganism are not the same. However, it is two sides of the same coin. How do they differ?
Cruelty-free ensures no animal testing occurs on poor souls. Two keywords to consider here.
At any Stage – No testing must occur at different stages of production. Manufacturers, suppliers, third-party or the brand itself must not participate in testing.
In any Form – From the raw ingredients to the end product and anything in between must not undergo animal testing.
Whereas vegan means that the product is free of animal ingredients. It has nothing to do with the testing aspect. Vegan considers what goes into the making of the product.
To sum up in a line,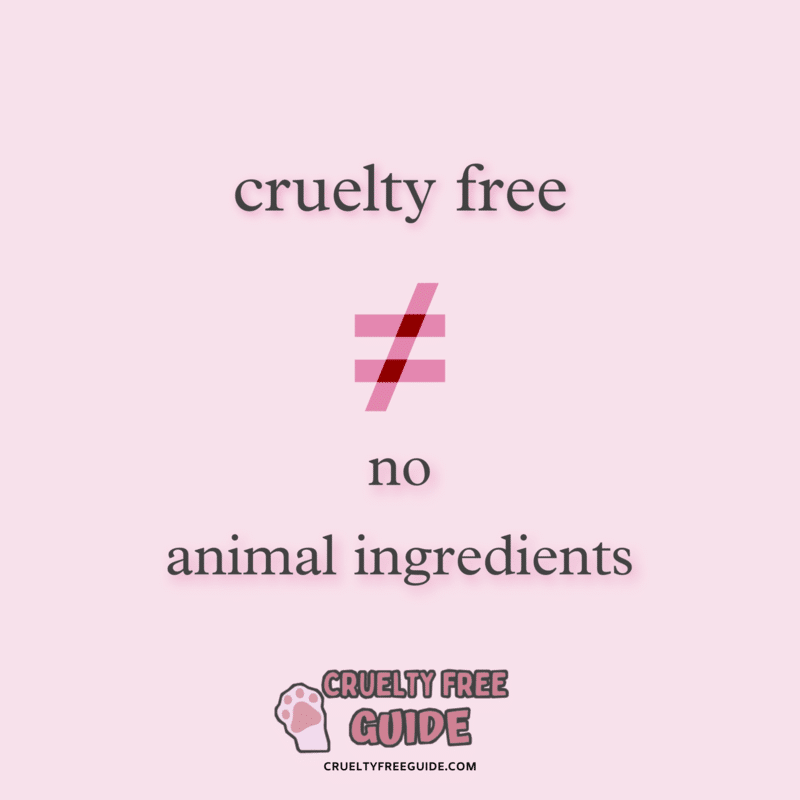 Which is better?
Neither is better than the other. They both contribute towards a better way of living. Cruelty-free and vegan promote ethical standards of living.
You can contribute towards the same by abiding by their principles.
How to ensure that the product is cruelty-free?
Here is a little summary.
Look for the authorized logo – First, know the authorized certifications and logos.
Cruelty Free International's Leaping Bunny
PETA's (People for Ethical Treatment of Animals) logo
The logo is picturized on the product and is easy to spot.
Be aware of fake gimmicky marketing aka unauthorized logo –
To spot the fake, you need to know the authorized logos and certifications.
Check out Cruelty Free Guide – Look for the Brand's A to Z details on Cruelty Free Guide. We cover the company's cruelty-free timeline, history, testing policy, parent company, and all possible details related to testing.
Parent Brand – Look for the parent company i.e. the owner company. Make sure to be aware of the owner brand's ethics.
Country of Business – Some countries have mandatory testing laws for imported cosmetics. For example – China.
Here is our checklist of 7 Easy yet Smart Ways to Identify Cruelty Free Products Like a Pro.
How to ensure that the product is vegan-friendly?
Vegan products carry the authorized label that ensures it is truly vegan-friendly. Look for the Vegan trademark (V label) that is approved by The Vegan Society. It is a reliable label that ensures transparency.
Otherwise, you can always look at the ingredient list and ensure that they are actually vegan. Make sure to check the complete list.
So that brings us to the conclusion. Now you know what is the real difference between these labels. Next, you can look at how to go Cruelty Free the right way.
Spread Awareness by Sharing