Taking care of mature skin is always a serious issue. Once you cross adolescence, your skin renewal process slows down. Dead skin starts layering up. Regular moisturizers that you have been loving for many years, fail to satiate the needs of your skin. Everyone starts noticing the dullness, blemishes, and appearance of fine lines. So here are some of the best cruelty free night cream. There are also vegan and affordable drugstore picks.
10 Best Cruelty Free Night Cream
Has your forehead, sides of the nose, delicate eye skin, and smile lines suddenly become severely dry and patchy? Unless you make efforts to reverse these signs of aging, it'll damage your skin beyond repair. What should you do? The best way to cut this episode of premature aging from your life is to opt for a seriously effective night cream.
Your night cream should contain some highly effective actives such as retinol or niacinamide. These actives often come from non-vegan sources and also from non-cruelty-free brands. Here are 10 of the best night creams that have maximum user votes. They are all cruelty free!
*contains affiliate link(s)
Tips:
Apply the cream on the neck too alongside your face. Often, the neck is skipped or missed!
A night cream is supposed to be heavier than a day cream. So do keep this in mind.
Let's get started!
1. PÜR Get A Lift Age-Defying Moisturizer
Got tired-looking skin? Let PUR Age-Defying Moisturizer help you! This cruelty free and vegan moisturizer reduces dullness and provides radiant & healthy skin. Potent ingredients like Ceretin complex, retinol, among others help in smoothing fine lines and sagging. Consumers have noticed significant firmness in their skin with this triple-action formula. Do try this paraben-free age-safe cream at night!
It is perfect to get started on this if you're in your thirties. That doesn't mean it is not for you if you are in your forties, fifties, or sixties. It works for sagging, tightening, and lifting the skin. So a great all-rounder at a nice price. Pur night cream has a light fragrance that is mild. The texture is smooth and goes on easily during application.
Pros:
1. Light, non-oily formula
2. Visible firmness
3. Paraben free
4. Vegan
Cons:
1. Not fragrance free; has a light aroma
2. Pacifica Youth Day & Night Face Cream
Pacifica is a brand I personally love and adore. It is a perfect one-word answer for people who say cruelty-free and vegan brands are expensive. Excuse me? Pacifica is a drugstore cruelty-free and 100% vegan brand.
This Day & Night Cream is enriched with Pacifica's revolutionary Fleuracell Complex. It provides you a youthful radiance that everyone wants. This PETA-certified cruelty-free cream deeply nourishes mature skin and provides hydration. It also tightens pores, lightens blemishes and maintains the natural elasticity of your skin. This plumping cream contains peptides, oat beta-glucan, and grapeseed oil as notable ingredients. This cream helps with fine lines and crow's feet. It is suitable for sensitive skin including others.
Pros:
1. Recovers skin from premature aging, fine liners, crow's feet
2. Paraben & sulfate-free
3. Vegan
4. Suits all skin types (sensitive skin too!)
5. Affordable anti-aging
Cons:
1. Not oil free (contains grapeseed oil)
3. Andalou Naturals Night Repair Cream
I've talked about this amazing product before. And it is worth a mention again. Andalou Night Repair Cream is a skin-stimulating power cream for all your skin-aging issues. Its unique Resveratrol and Bioactive Berry CoQ10 complex heal free radical damages. It restores your skin to its youthful vitality. This rich repair cream rejuvenates skin and provides lifting actions to dull and saggy mature skin. It enhances skin renewal too.
This Night Repair Cream is non-greasy and lightweight. There is also a great fragrance to it. Did I mention how affordable this cream is? Personally, I believe in not being stingy for skincare. You know if I love my skin the right way, it'll love me back. But a drugstore affordable option that works great (combined with others in my regime), I am all ears!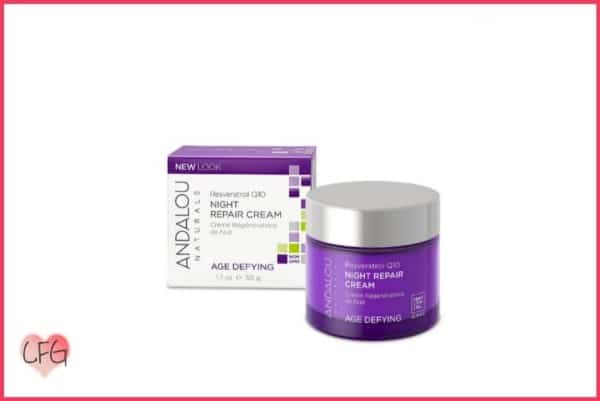 Pros:
1. 70% organic age-defying cream
2. Paraben-free
3. Leaping Bunny certified cruelty free
4. Vegan
Cons:
1. You have to be patient for the result
4. The Ordinary Retinol Serum & Moisturizing Factors + HA
Dealing with mature skin? Nothing could be better than a few drops of retinol serum from The Ordinary. I know it's just a serum. It won't be able to quench your skin's moisture thirst. Just pair it up with Ordinary Moisturizing Factors + HA. You'll get the best anti-aging skin potion! The 0.5% retinol serum works wonder for your skin. Retinol helps to deal with fine lines and aging of the skin. Additionally, it is vegan and free of sulfate, silicone, paraben, and gluten. This serum also helps with pigmentation.
The Ordinary Natural Moisturizing Factors + HA is also vegan and free of parabens, sulfate, and silicone. It comes with a combination of multiple skin nourishers like triglycerides, amino acids, anti-oxidant, and natural humectants. It does supple up your skin and provides immense non-greasy hydration. If you're looking for inexpensive daily hydration, look no further!
Pros:
1. Cruelty free vegan moisturizer and serum
2. Non-comedogenic; suits all skin types
3. PETA certified cruelty free and vegan
Cons:
None for us!
5. Glow Recipe Watermelon Sleeping Mask
I know you have heard loads about this. Korean famous, the sleeping mask has taken the skincare industry by storm. But that is only for good reasons. Sleeping masks work and work well! Glow Recipe Watermelon Sleeping Mask promises softer skin minus blemishes, wrinkles, and dullness! Good deal if you ask me.
This amazing sleeping mask gets the moisture back to your skin cells but doesn't make you look oily. The amino acid extracts, AHAs, the hyaluronic acid-rich mask is pillow-proof! Its soothing clarifying formula works wonders when you are taking beauty sleep. Do keep this award-winning glow-boosting night mask handy!
Glow Recipe mask provides hydration and radiance to your skin. There is a visible fewer appearance of pores. It is suitable for all skin types including sensitive skin. The texture is in-between, neither too thick nor thin, just the right.
Pros:
1. Perfect night mask for dry, mature, pigmentation prone skin
2. Gentle glycolic acid-based exfoliating moisturizer
3. Leaping Bunny certified cruelty free and vegan
Cons:
1. Extremely dry skin people might need a facial oil after this
6. Elf Skin Nourishing Night Cream
Elf is another great cruelty-free and vegan drugstore brand. Their Skin Nourishing night cream is fragrance-free specially designed for sensitive skin. The PETA-certified cruelty free and vegan formula fights dryness, the first and foremost sign of aging. The cream contains extracts of jojoba, aloe shea butter, and cucumber.
The rejuvenating cream plumps your skin during the repose hours. You wake up with perfectly nourished and wrinkle-free skin! It gets absorbed quickly and goes on smoothly during application. The texture is similar to thick cream but it is not heavy or sticky.
Pros:
1. Deep nourishing night cream
2. Fragrance-free
3. Paraben and phthalate-free formula
4. Vegan
Cons:
1. Not for oily skin
7. Purito Deep Sea Water Cream
Enriched with 60% deep sea water, 2% niacinamide and seaweed extracts, Purito Deep Sea Water Cream is a safe haven for your irritated mature skin. It provides gentle nourishment, relief from pigmentation spots, and replenishes hydration levels. It reduces the appearance of fine lines and provides radiant skin. The formula is free from fragrance, harmful preservatives, and colorants.
Pros:
1. Nourishing anti-aging cream with seaweed extract and hyaluronic acid
2. Cruelty free and vegan
3. pH balanced cream
Cons:
1. Fades spots slowly
8. IT Cosmetics Wrinkle-Reducing Retinol Serum + Cream
IT Cosmetics Daily Retinol Serum-in-Cream is best for those who are just starting with retinol in their skin regimen. This niacinamide and vitamin B5 rich cream is formulated in correspondence with famous cosmetic surgeons and dermatologists. This dual retinol cream gets absorbed into 15 layers of skin within an hour!
Pros:
1. Highly effective retinol + niacinamide moisturizer
2. tackle uneven skin tone, wrinkles, sagging, dull skin in a jiffy!
3. Clinically tested
4. Suits all skin types
Cons:
1. Pricy
9. Dermalogica Pure Night Moisturizer
Dermalogica Pure Night Moisturizer is the best restorative cream for damaged mature skin. It repairs the skin's moisture barrier with cranberry and raspberry seed oil. It reduces dullness and evens out your skin with oligopeptides, vitamin C, and niacinamide. This night elixir cures skin dehydration, generates fine lines, and gives smooth youthful skin. If you are looking for a night cream that would reverse environmental skin damages causing premature aging, do try this vegan cruelty free moisturizer!
Pros:
1. Increases skin hydration and collagen synthesis
2. Restores damaged skin and brings glow
3. Reverses fine lines and dark patches
4. Paraben-free
5. Free from artificial color and fragrance
Cons:
1. Don't use an extra product or your skin might get irritated from the highly effective actives
10. Drunk Elephant Retinol Cream
Enriched with 1% pure phyto-retinol or plant-based retinol and skin-nourishing superfoods, Drunk Elephant A-Passioni Retinol Cream is a no. 1 choice in the vegan retinol category. As we all know, retinol is derived from animal ingredients but this cruelty-free and vegan one is a surprising exception! This award-winning retinol cream contains oils of apricot, passion fruit, marula, and jojoba. It not only fights signs of aging but also provides deep nourishment to the skin.
Pros:
1. Super effective plant-based retinol cream; treats sagging, dull skin and lack of moisture
2. Free from skin irritating ingredients like fragrance, paraben and essential oils
3. Vegan
4. Maintains ideal pH of your skin
Cons:
1. Super strong formula; don't apply excess
---
These are some of the best cruelty free, vegan night cream and moisturizer. Some are drugstore affordable picks like The Ordinary. Meanwhile, others are geared more towards tackling specific skin issues such as aging in the mid-end bracket. Which is your pick?
Further Read:
Cruelty Free Skincare Brands – Drugstore
Ultimate Cruelty Free Makeup Remover Guide *2021*
Is Glossier Cruelty Free & Vegan? *2021*
Is Stila Cruelty Free & Vegan?
Share on Pinterest!