*contains affiliate link(s)
Last Updated on 01/16/2022
Search for a good makeup remover and you will get bombarded with makeup and skincare brands that still test on animals in 2022. These are the huge big brands, such as Neutrogena, Clinique, Cetaphil, the giant corporation, L'Oreal, among others. Let them not fool you. Because there is plenty of cruelty-free, vegan, organic, clean, sustainable, plant-based, and natural makeup remover out there in the market. Today's article is all about these cruelty free & vegan makeup removers, micellar water, cleansing balms, cleansing oil, & wipes. Yes! This is the ULTIMATE Cruelty Free Makeup Remover Guide of 2022!
Best Cruelty Free Micellar Water, Makeup Remover, Balms, Oil & Wipes *2022*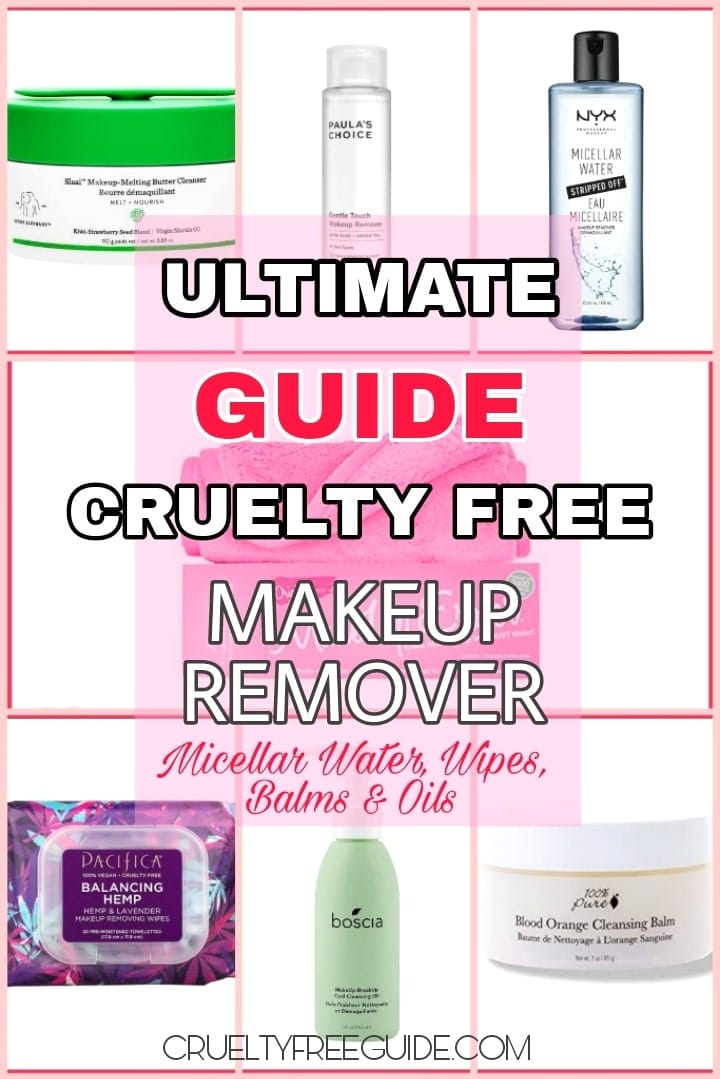 Love shopping from Amazon like yours truly? Then make sure you're signed up for Amazon Prime to avail amazing deals, special discounts, coupons and free shipping alongside fast delivery. Sign up for a FREE trial here!
If you're a visitor from the UK, you can head to Cult Beauty or Beauty Bay or Boots and shop there!
Let's get started!
A. Best Cruelty Free Cleansing Balm, Cream & Gel
You still need to double cleanse. Follow-up with a cruelty-free, vegan face wash after using a cleansing balm.
1. elf Holy Hydration Makeup Melting Cleansing Balm
elf is a drugstore cruelty-free and vegan brand. They're super affordable plus AMAZING. This brand will burst your bubble if you think cruelty free and vegan makeup is expensive. There are other brands too, check out all of them here.
Elf Hydration Cleansing balm is a hassle-free easy to use a product that helps to remove makeup. It has a nice texture that dissolves your makeup away. This balm contains hyaluronic acid, ceramides, and peptides. Elf is free of sulfates, phthalates, parabens, etc.
Pros:
Vegan & cruelty free
Affordable
Doesn't dry out the skin
Suitable for all skin
Cons:
2. Drunk Elephant Slaai Makeup-Melting Butter Cleanser
This is a nourishing cleansing balm that removes makeup and sunscreen. It has a buttery smooth texture, also is lightweight. It won't feel heavy while applying. This balm won't clog your pores. It is fragrance-free and suitable for sensitive skin without breaking out your skin. Also free of sulfate and silicone.
Drunk Elephant balm comes with a magnetic spoon. There is also their "Bamboo Booster" which you can add occasionally to the cleanser for exfoliation. It contains fruit extracts and removes waterproof makeup easily.
Pros:
Nourishes your skin
Fragrance free
Gentle makeup remover
Suitable for sensitive skin
Made in the USA
Cons:
3. The Body Shop Camomile Cleansing Butter
The Body Shop cleansing balm melts just like the butter! It removes even waterproof makeup. Also removes eye makeup. This one is specifically made for sensitive skin. It won't cause any irritation or breakouts. There is a nice soft scent to it. You can use it even if you've combination skin.
Pros:
Affordable cruelty-free cleansing balm
Suits sensitive skin
Gentle makeup remover
Cons:
4. 100% PURE Blood Orange Cleansing Balm
100% Pure Cleansing balm is a great cruelty-free waterproof makeup remover. It contains coconut, olive oil, vitamins, fatty acid, and blood orange essential oil. It has a fruity citrus fragrance which is awesome. You'll want to try this if you're on the dry skin side. It gently hydrates your skin, leaving you moisturized. But skip it if you've oily skin. It might make you feel greasy.
Pros:
Best suited for dry & normal skin
Vegetarian (not vegan)
Toxin free & natural
Gluten free
Cons:
Oily skin may find it greasy
5. IT Cosmetics Bye Bye Makeup 3-in-1 Makeup Melting Cleansing Balm
IT cosmetics do some seriously amazing anti-aging skincare, such as this vegan anti-aging face cream which has pytho-retinol that prevents the appearance of fine lines. Their cleansing balm is a light, creamy makeup remover that acts as a face wash, makeup remover, and anti-aging serum. Yes, it's actually a 3-in-1 product!
This makeup remover is made for waterproof as well as eye makeup. Yes, we are talking about mascara & eyeliner. They can be really messy to remove but not with this balm on your side!
Pros:
Anti aging; contains peptides, collagen
Sulfate & paraben free
Long-lasting
Removes waterproof and eye makeup
Cons:
6. Sunday Riley Moon Cleansing Balm
I like their name! Moon cleansing balm is a cruelty-free makeup removing balm that is hydrating. This balm removes your eye makeup too, alongside acting as an exfoliant. You'll find your skin to feel smooth and supple. It removes dead skin cells and cleanses gently.
Best suited for dry skin as it contains essential oils that are soothing. Yup, an exfoliator that won't make your skin feel dry! Oily to combination skin people would also love this. Moreover, it is free of sulfate and paraben. There is also a pleasant fragrance to it. It's pricey but totally worth the cost as a little goes a long way. Although hydrating, do follow up with a good cruelty free moisturizer.
Pros:
Suitable for dry, combination skin
Smooth, clean skin
Removes makeup easily, including eye makeup
Lasts long
Great exfoliator
Cons:
7. Queen Helene Professional Cleansing Cream
Holy Grail of many, Queen Helene needs no introduction! If you want a salon experience, get a salon-worthy product. This cleanser is a cream that you need to wipe out with a warm washcloth.
It has a nice scent which is perfect. The cream removes waterproof makeup and won't break out your skin. Suitable for sensitive skin. It is a cruelty-free dupe of Pond's Cream. But better! You get more product, affordable and animals love you more. Great deal, I guess.
Pros:
Affordable
Suitable for sensitive skin
Removes waterproof makeup
Soft, hydrated skin
Cons:
B. Best Cruelty Free Cleansing Oil
1. boscia Makeup Breakup Cool Cleansing Oil
Bosica makeup remover is an oil-based cleanser that removes waterproof makeup and cleanses your skin. It is free of artificial fragrance and color. However, there is a mild natural fragrance to it that is pleasant. Boscia boasts of their anti aging skin care ingredients such as Green Tea, Avocado, Rosehip, Vitamin E, fruit oil, etc. It has clean ingredients as well.
This oil cleanser does remove every bit of your makeup, including eye and waterproof makeup! Bonus? It does the job easily! It has a pump bottle that makes it convenient to use. Get nourished and smooth skin with the boscia oil based makeup remover!
Pros:
Vegan
Natural and Clean
Artificial fragrance and color free
Nourishes
Cons:
2. DERMA E Nourishing Rose Cleansing Oil
It is a lightweight cleansing oil that dissolves stubborn waterproof makeup easily. Derma E cleansing oil comes in a glass bottle with a dropper applicator. The product has a light rose scent which is not bothersome at all. It is suitable for sensitive skin.
It is highly moisturizing but still follow-up with a cruelty free moisturizer. You can find the list of the best cruelty-free moisturizer in 2022 here. It contains jojoba and argan oil, vitamin E.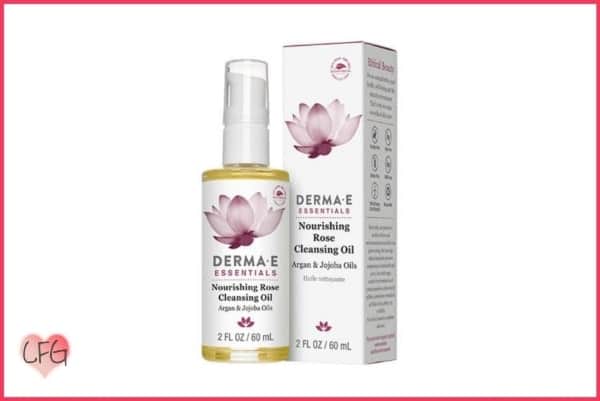 Pros:
Vegan
Sulfate, paraben, lanolin-free
Provides smooth, supple skin
Cons:
C. Best Cruelty Free Micellar Water
1. Pacifica Beauty Coconut Water Micellar Tonic
Pacifica tonic water gently removes your makeup, oil residue, dirt and impurities without over-drying. It is suitable for all skin types. This tonic has coconut, calendula and grapefruit waters. A truly vegan and cruelty-free micellar water which is formulated without the bad guys such as parabens, phthalates, mineral oil and petroleum.
It smells like coconut, which is refreshing and appealing to the buds! A naturally moisturizing tonic that is long lasting and makes your skin appear healthy.
Pacifica also has another variant, the Rose Water wipes. It is rose-based wipes that does the same job but with the refreshing floral scent! It contains ingredients such as coconut water, rose flower water, grapefruit water, and calendula extract.
Pros:
Vegan
Hydrating
Coconut based fragrance
Cons:
Not for sensitive skin
Scent might be strong for sensitive nose
2. Drunk Elephant Milki Micellar Water
Drunk Elephant E-Rase Milki is one of the best cruelty free micellar water out there in the market currently. It's a multi-purpose water that you can also use as a primer, toner or general refresher spray. It feels cool on skin. This one is highly recommended!
It cleanses off dirt & waterproof makeup, providing you a smooth soft skin. There is a wonderful scent to it. Also it is hydrating and you can wear it as a toner or primer. It contains vitamin E.
Pros:
Perfect for sensitive skin
Removes waterproof makeup
Cons:
3. Tarte Micellar Magic Makeup Remover
I love Tarte and always shop on their official website. So naturally, I had to try this Magic Micellar Water! The container is cute, the bottle is easy to use. It is best suited for oily to combination skin.
Coming to the product, this micellar water is great. It removes my waterproof mascara. Mostly, I use it alongside other makeup removers. It is hydrating and nourishing.
Pros:
Removes waterproof makeup
Cool packaging; pump bottle
Gentle cleanser
Works well for oily to combination skin
Paraben, SLS, pthalate, gluten, mineral oil free
Cons:
4. Yes to Coconut Ultra Hydrating Micellar Cleansing Water
Yes to Micellar Water is a drugstore cruelty free makeup remover that is not tested on animals. It comes in a pump bottle that makes it convenient to use. As the name suggests, it has a tropical coconut scent to it which you'll surely love.
Apart from removing the makeup efficiently, it also hydrates your skin without any greasiness or dryness. It is best suitable for dry skin. But you can use it as normal, combination skin too. Yes to Micellar Water contains coconut extract, aloe leaf juice and witch hazel. It is free of paraben, SLS and silicone.
Pros:
Really moisturizes
95% Natural
Pleasant coconut fragrance
Free of paraben, SLS & silicone
Affordable
Cons:
5. Sukin Organics Micellar Cleansing Water
Looking for micellar water that works great and is natural yet affordable?
It cleanses thoroughly but without stripping oil off your skin. Oily and combination skin people will love this. So will sensitive skin people. The fragrance is wonderful. It is available in aroma such as honey, aloe vera, etc. Overall, the fragrance is great but if you're someone with a sensitive nose, it may bother you slightly.
It has aloe gel which has soothing & moisturizing properties. So is this micellar water! It is hydrating and soothing, feels good during application.
Pros:
Cons:
Fragrance may bother some
6. Eminence 3 in 1 Cleansing Rice Water
This Eminence product is an amazing 3 in 1! You can use it as a cleanser, toner and makeup remover. It is cruelty free, vegan, natural and organic. There are some great ingredients such as rice milk, jasmine, pomelo juice and witch hazel. This micellar water makes your skin feel smooth and clean. You can also wear it under your makeup as a primer. The only downside is that it is costly. But the ingredients are clean, and it can be used in various ways too.
Pros:
Vegan & Organic
Free of parabens, SLS, gluten, pthalates
Natural & sustainable
Cons:
7. NYX Stripped Off Micellar Water
NYX Micellar Water acts as a gentle makeup remover that is suitable for sensitive skin. It doesn't dry out your skin and easily removes waterproof makeup. You'll only need a little of the product, but obviously, that depends on the amount of makeup you're wearing. Overall, a nice, affordable drugstore buy if you're looking for one.
Pros:
Affordable
Removes waterproof makeup
Lasts long
Cons:
8. Garnier Micellar Water for Waterproof Makeup
Garnier is now cruelty free! It is certified by Cruelty Free International. However, it is still owned by L'Oreal that is not a cruelty-free brand. Garnier Micellar water works great for waterproof makeup. It removes all the makeup. including eye makeup, easily. All you need to do is hold it gently for few seconds, then wipe it off. Garnier micellar water is cruelty-free and drugstore. However, it contains oil. Also, do shake well before using.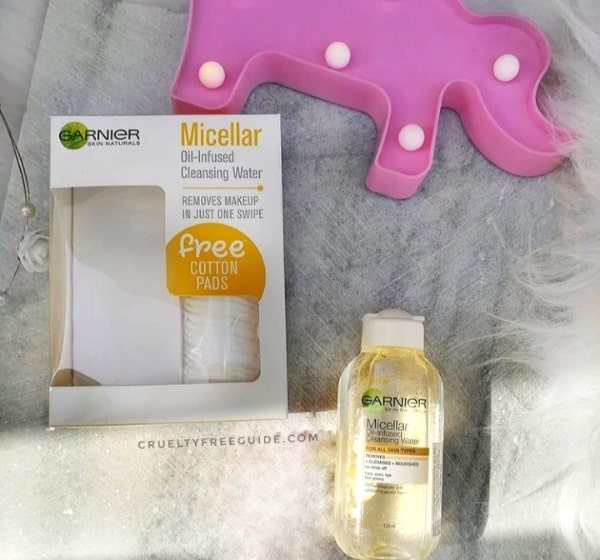 Pros:
Drugstore & affordable
Removes waterproof makeup easily
Removes eye makeup too
Cons:
D. Best Cruelty Free Makeup Remover Wipes
PS: Try to avoid using makeup remover wipes until it is biodegradable or in case of emergency. Instead switch to Reusable Face Wipes. Let's do what we can for our planet!
1. Yes To Soothing Hypoallergenic Facial Wipes
These are Cucumber and Aloe based cruelty free face wipes that remove makeup easily. Yes to says they're made up of compostable FSC Certified fabric. They also claim it to be biodegradable. The wipes have a cucumber and aloe fragrance to them, which many are not fond of. Although these are made for sensitive skin, it hasn't suited many.
These are available in different variants that tackle various skin issues. It includes stressed dull & uneven, sensitive, ultra-dry, blemish-prone skin. This 95 % natural, oil-free, non-comedogenic, hypoallergenic wipes are made with compostable, FSC certified fabric. They are petroleum-free, SLS free, paraben free, and cruelty-free.
Pros:
SLS, paraben, oil-free
Hypoallergenic
Compostable & Biodegradable
Cons:
2. Pacifica Beauty Balancing Hemp Makeup Wipes
Pacifica wipes are cruelty free and vegan. It contains the goodness of Hemp, coconut water, calendula, lavender, among others. These wipes remove makeup, oil and dirt. They're gentle and suitable for all skin, especially oily. Travel friendly with 30 wipes. The wipes work well and have a pleasant fragrance. They'll make your face clean and remove makeup.
Pros:
Vegan
Free of SLS, parabens, pthalates
Made in the USA
Suitable for all, particularly oily skin
Affordable & Drugstore
Cons:
3. The Original MakeUp Eraser
First off, these are the real Makeup Eraser on Amazon, being sold by the brand itself, The Original. So don't think they're a dupe or fake. With this information out of the way, let's talk about the Eraser now! The Makeup Eraser works like magic. It removes mascara, lipstick, foundation, eyeliner, concealer and other makeup effortlessly, including waterproof makeup. All you need is water and that's it!
It also exfoliates your face and lips. These are suitable for all skin types, including sensitive skin. Just a heads-up, you need to properly wet it prior to the usage. The brand says it has no chemical and acts as less wastage. It is reusable and you can wash it in the washing machine.
No this is not your washcloth or regular towel. It's a makeup eraser that works amazingly.
Pros:
Made in the USA
Reusable, machine washable
Actually works; only water is needed
Removes waterproof makeup
Suitable for all skin, including sensitive
Cons:
E. Best Cruelty Free Makeup Remover
1. Paula's Choice Makeup Remover
A great makeup remover for tackling waterproof makeup. It is a gentle remover that is oil-free. This baby removes makeup without drying your skin or making it feel tight. It contains aloe, green tea, and antioxidants.
Paula's Choice is a hydrating water that actually removes makeup without greasiness. It is also fragrance and parabens free. Sensitive skin people would love this as it doesn't irritate your skin and gently cleanses off the makeup.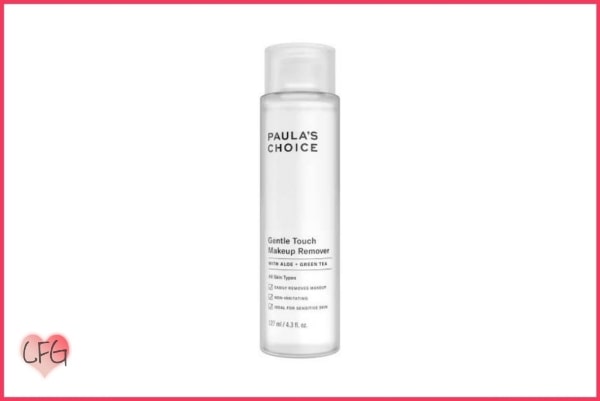 Pros:
Works as Eye Makeup Remover
Removes waterproof makeup
Effective
Fragrance free
Cons:
2. Covergirl Clean Makeup Remover for Eyes & Lips
Okay so this is another effective cruelty free makeup remover I know of. So, I'm including this eye makeup remover from Covergirl. It works great for waterproof makeup, and removes your mascara and lippie effortlessly. Use a cruelty free face wash to cleanse any residue.
The best part of this remover has to be the price! A makeup remover that actually works and is pretty affordable, yes, please!! There is no active scent to it. It is best recommended for combination skin.
Pros:
Gently removes waterproof makeup
Affordable
Non greasy
Silicone and phthalate free
Cons:
---
Wrapping off, these are some of the top-performing players in the cruelty free makeup remover section. These range from drugstore to mid-end. Some are affordable and cheap, while some are luxurious. Which is your favorite? Have you tried any of these? Share in the comments!
Don't Miss:
Is Stila Cruelty Free & Vegan in 2022?
Is Charlotte Tilbury Cruelty Free & Vegan?
10 Best Cruelty Free Deodorants to Switch to! *2022*
Is Colourpop Cruelty Free & Vegan?
Share on Pinterest!