Last Updated on 07/05/2021
Concealer is your best friend when you've had countless sleepless nights or just having a bad skin day. Or when you don't want full-face makeup for the day. It saves you from going out with under-eye dark circles or a zit that just popped on your face. Here is the list of the best Cruelty Free concealer available in the market. It includes drugstore as well as vegan options too.
These Skincare Brands are STILL Testing on Animals *2021*
11 Best Cruelty Free Shampoo to Solve Your Hair Woes
10 Best Cruelty Free & Vegan Body Wash *2021*
Is Glossier Cruelty Free & Vegan? *2021*
Finding the right concealer is not an easy job. So here's a list of the top 16 Cruelty Free concealers which will be your ride or die in any situation. Read on to know which concealers these are.
*contains affiliate link(s)
PS: In order to get your right shade and all the shades to choose from, I've included multiple links. So you can check for your ideal pick on Ulta, Sephora, or the brand's official website. I did notice that the official website does carry all shades when others don't.
Best Cruelty Free Concealer *2021* – Drugstore & Vegan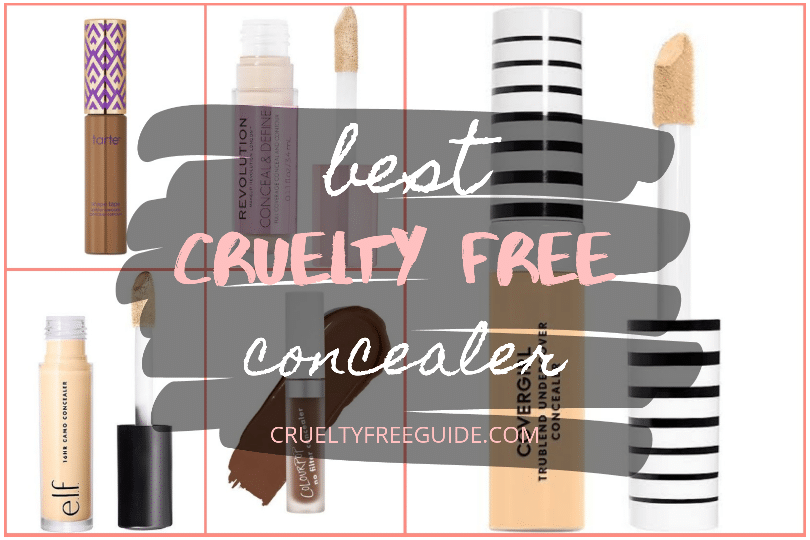 Let's get started…
Elf 16Hr Camo Concealer:
Elf has done a great job when it comes to this Camo concealer. It comes in 26 different shades. So you can also contour and highlight. Elf Camo is a full coverage concealer with amazing pigmentation. It is thick, creamy but still lightweight & easy to apply. Goes on smoothly, blends beautifully, and settles to a matte finish. This concealer dries down to a darker shade, do keep it in mind while finding your ideal shade. It can stay up to 16 hours, primarily depending on your skin! Overall, it does stay put for a couple of hours. This variant is best suited for Oily to Normal skin.
If you are on the normal to dry skin side, then you can opt for the Elf Hydrating Camo Concealer. It provides a satin finish & lasts longer. Available in 25 shades, it is a hydrating concealer. The good part is it won't budge at all. Also, an affordable concealer that has so much to offer. A must-try for sure!
Elf Camo is a well-known dupe for Tarte Shape Tape concealer because of the coverage it provides.
Pros:
Drugstore
Matte finish
Lasts long
Available in 2 variants
Vegan
26 shades to choose from
Cons:
May crease under eye (you can set with a translucent powder)
IT Cosmetics Anti-Aging Waterproof Concealer:
It is available in 48 shades! Impressive, yeah!! Bye Bye is a full coverage concealer with a creamy formula. It provides a natural finish that lasts throughout the day without creasing or settling into lines. Ideal pick for people with mature skin as it covers your eye bags & wrinkles quite perfectly.
Moreover, this is a waterproof concealer. You need only a tiny amount and you're good to go as the pigmentation is really amazing. This makes sure you don't end up looking cakey. It also blends easily into the skin and has a simple & easy to use packaging. Worth the price, great concealer.
Pros:
Full coverage
Good Anti Aging concealer
Lasts throughout the day
Suitable for sensitive skin
Doesn't crease
48 shades to choose from
Small amount required
Cons:
Can appear cakey if over applied
Catrice Liquid Camouflage Concealer:
Exclusively available online at Ulta, Catrice Camouflage comes in 18 shades. It is a good concealer with great coverage. Coverage is high and buildable. This concealer doesn't settle into the fine lines and creasing is also negligible. Camouflage concealer is easy to apply and blends nicely.
The USP of this cruelty-free concealer is its long lasting capacity. This concealer is good for everyday usage as it is pretty cheap. Oily to combination skin people won't like it much though.
Pros:
Cheap
Long lasting
Negligible creasing
Nice coverage
Cons:
Not vegan; contains Cera Alba (Beeswax)
More colors please
Shop here: Ulta
KVD Vegan Beauty Lock-It Concealer:
As the name suggests, it is a creamy concealer that lasts throughout the day. It provides full coverage which is buildable. Comes in 21 shades, Lock-It concealer is cruelty-free and vegan. This concealer gives a matte finish. KVD concealer is moisturizing and intensely pigmented. It works great and can also be used as eyeshadow primer to pop the colors. This one is also lightweight and can be worn under your foundation.
Pros:
Vegan
Intense pigmentation
Full coverage
Doesn't crease
Smooth & creamy
Cons:
Urban Decay Stay Naked Concealer:
This one has a medium consistency and is quite pigmented, providing medium to full coverage. It offers a matte finish which is perfect for oily skin people. Sets in place and doesn't budge up to 7-8 hours. It comes with a patented wave tip applicator which helps to get the right level of coverage. This Urban Decay concealer comes in 25 shades.
There is no caking or creasing. You can blend with a brush or better, a beauty blender. The coverage is buildable, so you can achieve full coverage in order to hide your tired eyes! Stay Naked concealer is also vegan.
Pros:
Matte finish
Lasts long
Vegan
Medium to full coverage
25 shades
Cons:
Tarte Shape Tape Concealer:
Tarte Shape Tape has been one of the most hyped concealer. It is a cult favorite of many, including me! So, I'm a little biased with this one!! You'll find me recommending this concealer to everyone personally too. It is that good.
Shape Tape is available in 30 colors. A full coverage formula which blends easily giving your face a lifted look. This concealer stays put for about 8-9 hours and gives a matte finish to the skin. It is long lasting and hydrating. Tarte concealer blends smoothly, and offers beautiful pigment. This concealer also won't sit into the fine lines or crease. Good for under eye bags!
It contains good ingredients like Shea butter, Mango butter and Licorice root extract. Also, Tarte concealer is manufactured without all the nasties like parabens, mineral oils, phthalates etc.
Pros:
Free of paraben/harsh chemicals
Full coverage
Vegan
Suitable for sensitive skin
Travel friendly
Doesn't crease or settles into fine lines
Blends like magic
Goes on smoothly
Cons:
Try a mini for $10 (if you've not tried Shape Tape ever)
Buy: Tarte Store | Ulta
Covergirl TruBlend Undercover Concealer:
TruBlend is available in 30 shades. It provides full coverage and a matte finish. Easy to blend and work with. It is a vegan drugstore concealer with no creasing. This Covergirl concealer lasts long and feels lightweight. Suitable for everyday usage. It conceals redness, imperfection, and pigmentation. Moreover, it is fragrance-free and comes with a helpful applicator.
Pros:
Affordable
Lightweight
Full coverage
Vegan
Cons:
Shop here: Ulta
Fenty Beauty Pro Filt'r Instant Retouch Concealer:
Rihanna has done an awesome job with her makeup collection, specially with this concealer. It comes in 50 freaking shades! While this is exciting, finding the right match is a bit of work. Nonetheless, you can use the concealer for contour or highlight, if it's not your exact shade.
Pro Filt'r has a weightless formula and blends easily offering a medium to full coverage and a beautiful soft matte finish. It stays put for about 8-9 hours. Fenty concealer is sweat resistant as well crease-proof. It doesn't settle into fine lines and looks fresh even after several hours of application. This concealer has a creamy texture which goes on pretty good. Lightweight concealer that won't clog your pores or fade away.
Pros:
Crease proof
Lightweight & creamy
Brilliant shade range (what else do you expect from the Queen herself?)
Long lasting
Buildable, goes on smoothly
Cons:
NYX HD Photogenic Concealer Wand:
This concealer by NYX is available in 22 shades. It provides medium to high coverage and helps to conceal redness, pigmentation and blemishes.
This Photogenic concealer also covers your dark circles quite well. The NYX concealer is lightweight, blendable, and looks skin-like on your face. It is actually high definition as the name suggests and gives a nice smooth finish which lasts for 6-7 hours. Also, it is non-comedogenic which is a yay!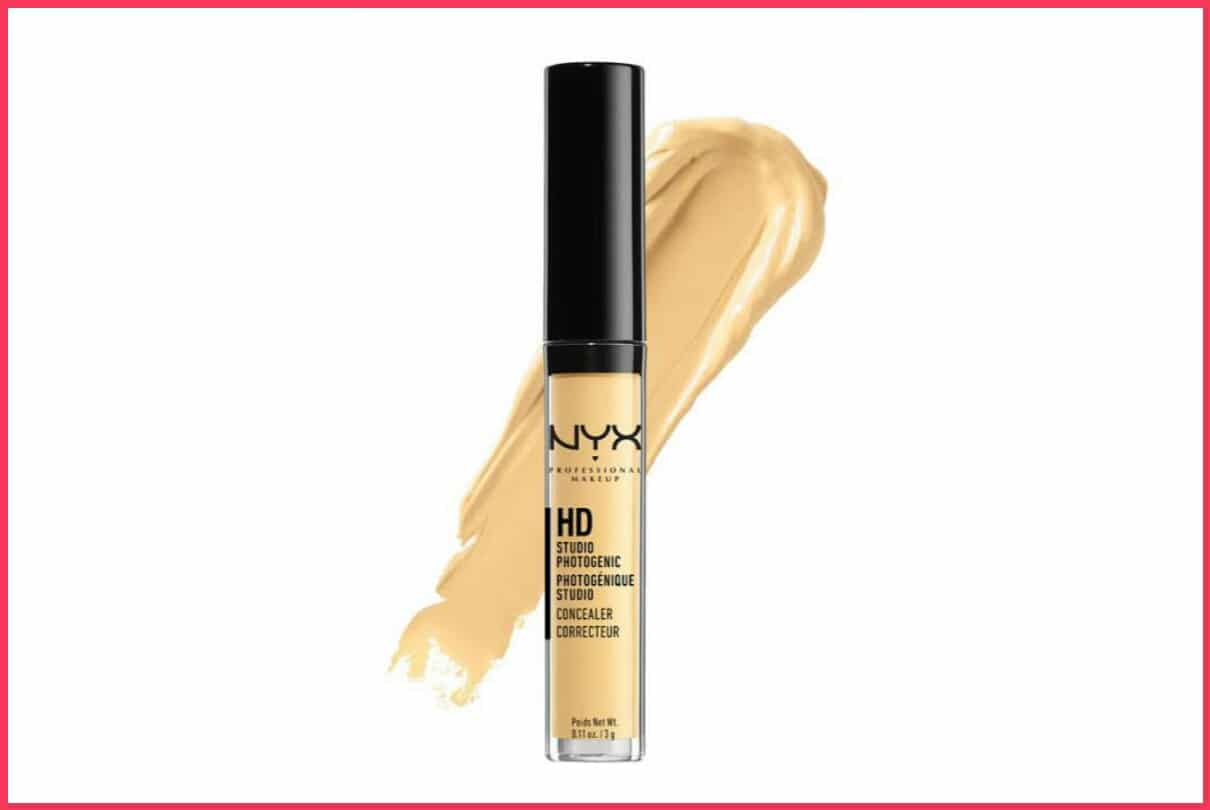 Pros:
Blends well
Covers redness & blemishes
Non-comedogenic
Value for money purchase
Great coverage
Cons:
Appears cakey if overused
Buy here: Ulta
Too Faced Born This Way Sculpting Concealer:
This Too Faced concealer comes in 35 shades. It is lightweight and hydrating. So dry skin people would love it. Born This Way Sculpting Concealer has an oil-free formula and is non-comedogenic. So they've got your back if you're on the oily/combination side too! This concealer is photo-friendly and doesn't give any flashbacks. The doe-foot applicator results in easy application, providing a flawless finish. It looks beautiful on the skin.
Additionally, it is a full coverage concealer that is comfortable to wear. A little goes the long way for this concealer as the pigmentation is the real deal. Good for under-eye usage or if you have fine lines.
Pros:
Hydrating
Lasts throughout the day
Lightweight
Doesn't crease or cracks
Great shade range
Creamy & smooth texture
Full coverage
Cons:
L.A. Girl HD Pro Concealer:
One of my personal favorites has to be this baby. Comes in total 43 shades – 30 for concealer, 10 color corrector & 3 highlight shades. It offers medium coverage, good for regular usage. The pigmentation is great and goes on smoothly. Doesn't crease and lasts well & good for about 5-6 hours. Combination to oily skin people would like this as it provides a pretty matte finish.
Pros:
Good shade range
Suitable for sensitive skin
Cheap
Nice pigmentation
Easy to use packaging
Cons:
Buy Ulta
Milani Conceal+Perfect Longwear Concealer:
Milani Longwear concealer comes in 18 shades. This concealer is water resistant and has a medium coverage. A lightweight concealer that gives a nice finish. It has a medium consistency and stays well for couple of hours without cracking. There is no artificial fragrance to it.
It contains good ingredients such as Vitamin E, Hyaluronic acid, Shea butter & Olive fruit oil. But the only con is that it might crease a bit, so make sure to set it properly with a loose powder. Overall, it is a good cruelty-free and vegan drugstore concealer that does its job.
Pros:
Water resistant
Good coverage
Long wear
Doesn't settle in fine lines
Cons:
May crease, use setting powder
Colourpop No Filter Concealer:
Colourpop is one of my favorite brands. It is pretty good on the pocket but looks & feels expensive. No Filter Concealer is another awesome cruelty-free concealer in the drugstore range.
It comes in 30 shades at a drugstore price which is amazing. It gives a pretty matte finish and stays good for about 6-7 hours. Colourpop concealer offers full coverage and doesn't require much product to cover any marks or dark circles. An amazing concealer, that doesn't look dry or chalky. It won't make your skin feel dry. A lightweight, blendable concealer that can give a run to high-end concealers easily!
The only con is that it does oxidize. So try getting a shade or two lighter.
Pros:
Awesome coverage
Affordable
Lightweight
Blendable
Matte finish
Vegan
Cons:
Oxidizes
Online availability
Buy here: Colourpop Cosmetics
Cover FX Power Play:
If you're looking for a vegan & cruelty free concealer which WON'T settle into the fine lines & crease, look no further! Power Play is crease proof, making it great for under eye area. Cover FX concealer offers beautiful high coverage and can hide great level of pigmentation easily.
It blends easily, goes on smooth and lasts well throughout the day. Available in 29 shades.
Pros:
Crease & Transfer Proof
Full Coverage
Long lasting
Doesn't settle in fine lines
Vegan
Cons:
Milk Makeup Flex Concealer:
If you liked NARS concealer, you may find this one to be a close match. It is a buildable concealer which offers medium to full coverage. Flex is a creamy concealer which keeps you free from cakiness and conceals the imperfections. There are 24 shades available in matte & natural finish.
PS: You may want to look into Too Faced Born This Way Concealer as well.
Pros:
Free of harsh chemicals
Vegan
Buildable
Creamy concealer
Cons:
Shop here: Sephora
Makeup Revolution Conceal & Define Concealer:
Full coverage vegan concealer at an affordable price has to be this beauty. You have 43 shades to choose from. It is a creamy concealer that works well. Lasts long and offers amazing coverage. Also, I use the wand to directly apply to my face and later buff it via a blender. This is a great concealer!
Pros:
43 freaking shades
Drugstore concealer
Provides full coverage
Vegan
Lasts long
Cons:
Summary with comparison table:
---
These are some of the best cruelty free concealer with drugstore and vegan options. These concealers have different properties for different skin types and you can choose whatever suits you the best. I hope now you know which one to choose for yourself!
Read further:
Cruelty Free & Vegan Sunscreen to Protect You & Animals too!
10 Cruelty Free Deodorants Will Keep You Smelling Fresh All Day Long!
10 Best Cruelty Free Vegan Micellar Water & Cleansing Balms
Make sure to share on Pinterest!