Last Updated on 07/18/2023
In 2023, Francoise Bettencourt Meyers & family owns 34.7% stake in L'Oreal. While Nestle owns 20.11% of L'Oreal share. Francoise Bettencourt Meyers is the granddaughter of the founder of the company. The remaining shares of L'Oreal are owned by International institutional investors, French institutional investors, individual shareholders, and employees.
Who Owns the largest cosmetic company?
| Shareholder | Percentage |
| --- | --- |
| Téthys Holding (Family Stake) | 28.5% |
| Nestle | 20.1% |
| Françoise Bettencourt Meyers (Granddaughter of Founder) | 6.2% |
| Others | 45.2% |
Summary
Here is the summary in a tabular form.
| | |
| --- | --- |
| Parent Company | Null |
| Founder | Eugène Schueller |
| Acquisition | None; Absorption of Gesparal in 2004 |
| Headquarters | Clichy, France |
| Country of Origin | France |
| Countries Sold in | Worldwide |
| Countries Produced in | Many |
| Parent Company Cruelty-Free | Not Applicable |
| Owner Company Vegan | Not Applicable |
L'Oréal S.A. is a French public company with headquarters in Clichy, Hauts-de-Seine. It is a famous brand in cosmetics, beauty, makeup, hair and skincare.
Who owns L'Oreal? L'Oreal Brands List 2023
L'Oreal is the largest cosmetic company in the world. This 114-year-old MNC has multiple subsidiaries and owns several brands in the beauty space. Some of its major competitors are Unilever, Estee Lauder, etc.
L'Oréal – Brief History
Let's look at the brief history of the brand of honor.
1909 – French chemist Eugène Schueller founded L'Oreal in 1909. The first product was a professional hair coloring dye called Oréale.
After its huge success, the brand soon came out with other makeup and beauty products including hair styling products, makeup items, skincare products, and so on.
Over the years – Later, the brand's business wing started expanding by acquiring beauty and cosmetic brands.
2023 – Right now, this business giant owns 36 international brands, multiple local brands and 20 well-equipped research centers spread across 11 countries around the globe. The headquarters of L'Oreal is in Clichy, Paris.
History of L'Oreal Ownership
Let's look at if and how L'Oreal ownership has changed over the years.
1974: Nestle, a Swiss-based MNC owns stake in L'Oreal since 1974.
Liliane Bettencourt, the daughter of the founder of L'Oréal exchanged some of her L'oreal shares for Nestle shares in 1974.
2004: Absorption of Gesparal occurred in 2004 when both Liliane Bettencourt and her family, and Nestle agreed to the proposal. The Gesparal Holding Company owned 53.8% of L'Oreal.
The Bettencourt family owned 51% and Nestle owned 49% of Gesparal Holding.
2021: Nestle sold a part of its stake in L'Oreal in 2021. This sell-off reduced Nestle's ownership from 26.4 to 20.1 percent.
What company owns L'Oreal?
L'Oreal is not solely owned by any parent company. It has multiple shareholders.
The largest shareholders are Tethys and Nestle. Françoise Bettencourt Meyers is the largest individual shareholder of L'Oreal. She is the granddaughter of the founder Eugène Schueller
The descendents of founder owns the largest stake of 34.7% in 2023 via Téthys Holding. Téthys constitute 28.5% and 6.2 percent lies directly with Françoise Bettencourt Meyers.
Members of Bettencourt Meyers family include Jean-Pierre Meyers, husband of Françoise and their two sons.
How many companies does L'Oreal own?
L'Oréal owns 36 international brands. Out of these, there are YY beauty brands. L'Oreal brands fall into four sectors. These 4 divisions are as follows.
L'Oreal Luxe
Professional
Dermatological Beauty Brands
Consumer Products
Here is the list of all the beauty brands under L'Oreal ownership.
L'Oreal Luxe Brands
Aēsop
Atelier Cologne
Azzaro
Biotherm
Cacharel
Diesel
Giorgio Armani
Helena Rubenstein
IT Cosmetics
Kiehl's
Maison Margiela
Mugler
Prada
Ralph Lauren
Shu Uemura
Valentino
Viktor & Rolf
Youth to the People
YSL Beauté
Consumers Brands
Ambi Skincare
Dark and Lovely
Essie
L'Oréal Paris
Le Club des Créateurs
Mixa
Niely
SoftSheen Carson
3CE StyleNanda
Dermatological Brands
AcneFree
La Roche-Posay
SkinBetter
SkinCeuticals
Vichy
Professional Brands
L'Oreal Professional
Kerastase
Redken
Matrix
Shu Uemura Art of Hair
Keraskin Esthetics
Pureology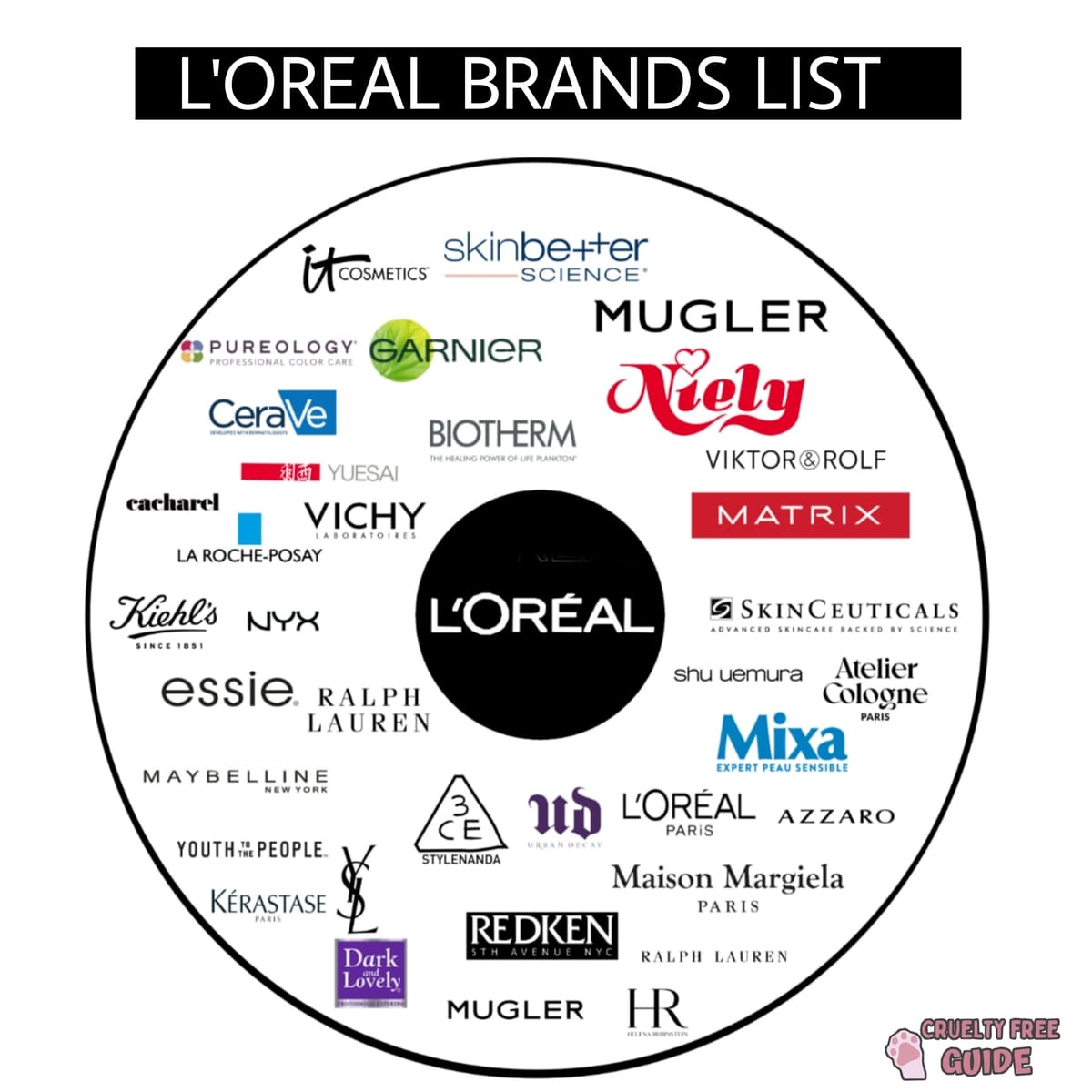 Who founded L'Oreal?
Eugène Schueller, a Frech chemist founded L'Oreal in July 1909. The journey began with a hair dye.
Where is L'Oreal based?
L'Oreal is a French MNC headquartered in Clichy with a registered office in Paris, France.
Where are L'Oreal products made?
L'Oreal products are manufactured in many countries with over 40 production plants worldwide. There are five manufacturing plants in North America, North Little Rock being the largest global one.
L'Oreal has three manufacturing factories in China and two in India.
Where are the L'Oreal products sold?
L'Oreal sells its products worldwide.
That's a wrap for now. Next, you can find out more about your brands of interest.
Source – Press Release 1, 2
Who owns What in Beauty Industry?