Last Updated on 05/19/2023
Tarte Cosmetics has confirmed that it is cruelty-free. It does not test its finished products or ingredients on animals by themself, suppliers or third-party. Tarte doesn't sell in countries where testing is required by law.
Tarte Cosmetics offers some of the best makeup you can get at Ulta or Sephora. A US-based brand that is popular in other countries t. Tarte addresses its consumers as 'Tartelettes'. Cute, must say! Tarte is often an obvious choice for makeup lovers. But is Tarte cruelty-free or vegan in 2023?
Is Tarte Cruelty-Free or Vegan in 2023?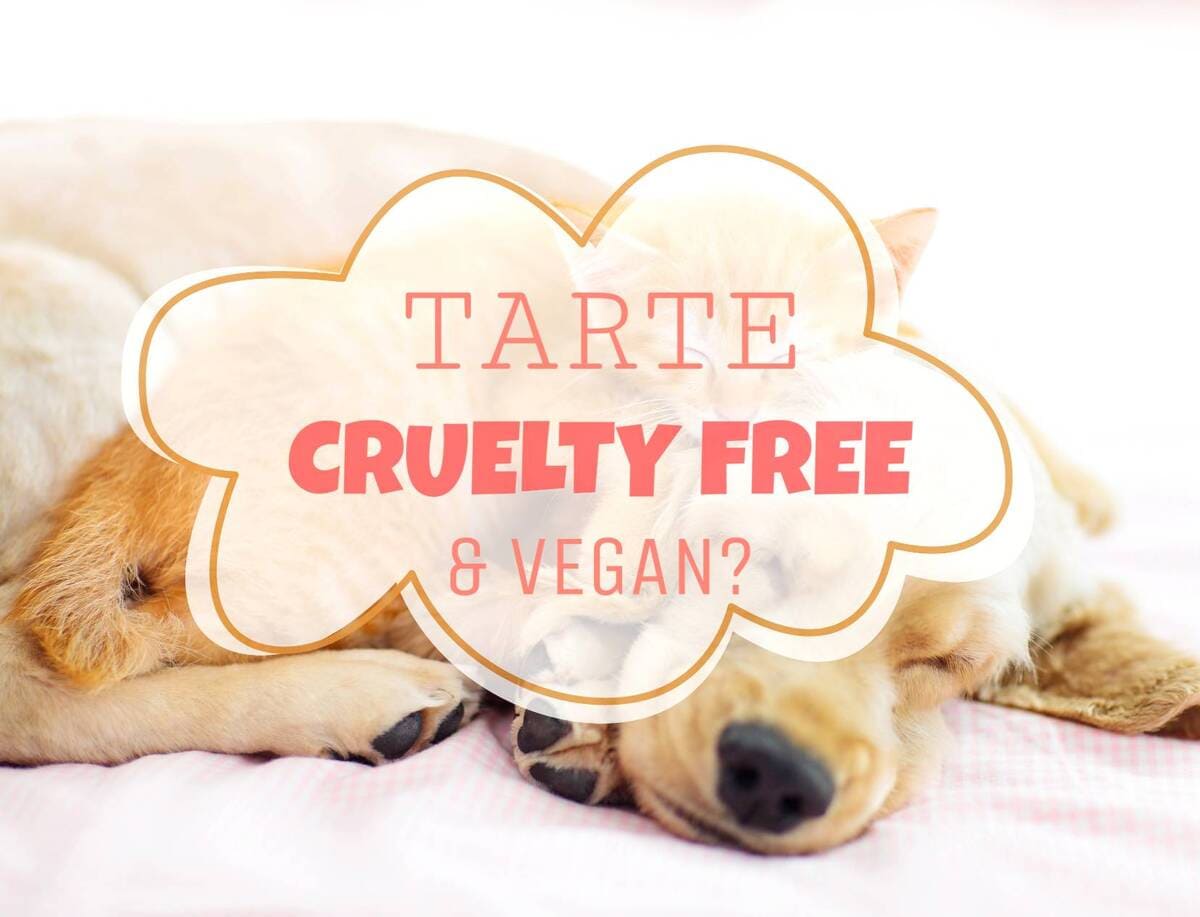 Tarte Cosmetics emerged from the bedroom of a US-based psychologist turned cosmetic enthusiast, Maureen Kelly. All of it began with a cheek stain launched in 1999.
Let's check out more about Tarte's testing policy and ethical morals.
Does Tarte Test on Animals?
Tarte does not test on animals in 2023. It is a PETA-certified cruelty-free brand. It does not test any of its finished products or its constituting ingredients on animals. The suppliers or other third-party does not test Tarte products on animals either.
Tarte Animal Testing
Here is what Tarte says about this topic.
Do you test on animals? Is Tarte cruelty-free?

Tarte cosmetics is a cruelty-free cosmetics line & has been since 2000! Tarte makeup & skincare is never tested on animals. We are also an approved PETA participant.
Cruelty-Free Timeline
2000 – Just one year after its debut, Tarte decided to go cruelty-free. It became PETA-certified cruelty-free.
2014 – In 2014, Tarte was acquired by a parent company that is does test on animals. So, there was much buzz and speculation. The question was whether Tarte will compromise its animal testing policies.
Thankfully, the owning brand kept Tarte's cruelty-free status unaltered.
Is Tarte sold in China?
Tarte does not sell its products in China. You will not find Tarte Cosmetics in the markets of Mainland China. Also, Tarte does not manufacture its products in China.
Is Tarte Vegan?
No, Tarte is not entirely vegan. Wish Tarte had all vegan products in its collection. Unfortunately, that's not the case. Here is what the brand says in its own words:
"Many of our products are vegan – just search for the vegan logo on the product image!"
Tarte vegan products have a 'Vegan Mark'. So, you can easily spot the vegan products by looking at the packaging.
You can check out the full list of over 250 Tarte vegan makeup & skincare products here.
Do I recommend this brand?
Yes, I do recommend Tarte. Tarte mascara is a personal favorite. If we consider pigmentation, staying power & performance, Tarte products are amazing.
You get what you pay for. Moreover, Tarte products are toxic-free & clean. If you are a cruelty-free makeup lover, it is one of your best options in mid-range makeup.
PS – If you're a fan of MAC or NARS, you can switch to Tarte, a great cruelty-free alternative. Because both NARS and MAC are not cruelty-free.
FAQ
Is Tarte non-toxic?
Tarte is clean and non-toxic. It doesn't contain harsh ingredients such as parabens, SLS, triclosan, phthalates, mineral oil, etc. Tarte Cosmetics is also gluten-free. Its products are marked as 'Clean at Sephora'.
Is Tarte certified by PETA?
Tarte is PETA-approved since 2000. It is cruelty-free and vegan-friendly. However, it is not certified by Leaping Bunny.
Is Tarte Shape Tape vegan?

Tarte Shape Tape is vegan and clean. Its variant, Tarte Shape Tape Ultra Creamy concealer is also vegan.
Share on Pinterest!