Last Updated on 01/01/2023
Oral B is not cruelty-free. The brand tests on animals, either via the supplier, third party or by themselves. Oral B offers some vegan products although it's not entirely vegan-friendly.
Oral B is an American oral hygiene brand popular for its toothbrushes, electric brushes, and toothpaste. It is The Most Awarded Brush Of 2020 and Allure Beauty Award Winner. But is it animal-safe too?
Spoiler: Not at all.
Brand's Overview
| | |
| --- | --- |
| Testing of Finished Products? | Yes |
| Ingredient testing? | Likely |
| Testing by the brand itself? | Likely |
| Third-party testing? | Possible |
| Supplier testing? | Maybe |
| Sell in China? | Yes |
Oral B Vegetarian vegan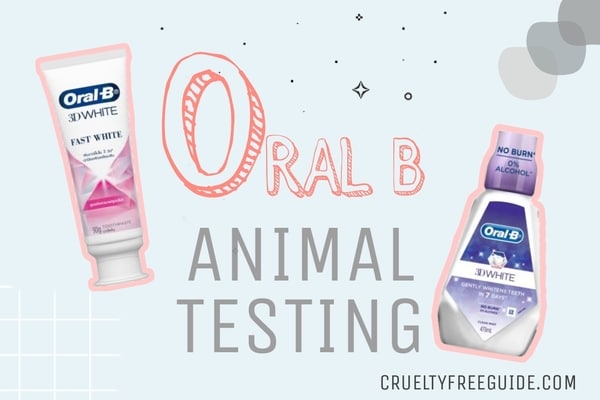 Oral B Animal Testing Statement
There isn't one. More focus is on sustainability and being environmentally friendly. There are promises of 100% recycling products by 2030 and more. But in the present? Can't label Oral B as a sustainable brand. Although it is putting efforts towards the same and that is commendable.
Only wish is that the brand would take similar measures for being cruelty-free, vegan, and ethical.
Who owns Oral B?
Procter & Gamble owns Oral B. P&G added Oral B under its umbrella in 2005 when it acquired Gillette, the old owner of Oral B. Gillette purchased Oral B in 1984.
Oral B has been through many hands, including its founder, Gillette, and now P&G.
P&G also owns Pantene, Olay, and Whisper, among others. If you're wondering, Pantene is not cruelty-free and Olay still tests on animals.
Is Oral B Cruelty Free?
Oral B is not cruelty-free. Its parent company, P&G also tests on animals. Both of them sell in countries where testing is compulsory by law.
Is Oral B vegan?
Oral B doesn't label its products as vegan as Colgate does. I don't recommend you to try Oral B if you're a vegan, even if it makes some vegan products.
Some of its products are vegetarian but can't necessarily be vegan. (Example: Milk is vegetarian but not vegan.) Some ingredients can be plant-based or animal based. Unless explicitly mentioned, it is hard to figure out the sourcing of ingredients.
Is Oral B approved by PETA or Leaping Bunny?
Oral B is not certified by any cruelty-free organization. It is not approved by PETA (People for Ethical Treatment of Animals) or Leaping Bunny (Cruelty Free International. It is so because Oral B is still a participant in animal testing.
Is Oral B vegetarian?
The brand claims all of its products to be vegetarian except the Pearl Glow. It has natural pearl extract derived from shellfish. (Non-vegan alert.)
Is Oral B made in China? Where is Oral B made?
Oral B is made in possibly 2 main countries, the USA and Germany. Some parts are manufactured in Germany & States while some supporting materials such as travel cases are manufactured in China.
PS: Oral B doesn't make its toothbrushes, toothpaste, and other products in China.
Is Oral B Sold in China?
Yes, Oral B sells its products in China. It is quite a popular brand among Chinese consumers. Oral B has run many successful campaigns in China. It sells its products as sold as 'imported' goods.
Do I recommend Oral B?
I don't recommend this brand if you're cruelty-free, vegan, or both. There are better cruelty-free brands (this is the brand list resource) that you can switch to.
Alternative to Oral B
If you are looking for cruelty-free and vegan toothpaste brands, here is a quick list of the brands to avoid.
Cruelty Free and Vegan Brands to switch to: