*may contain affiliate link(s)
Last Updated on 02/10/2023
L'Oreal is not cruelty-free still in 2023. The biggest beauty conglemerate supports animal testing. It still sells in China and supports their mandatory testing laws. Its subsidiaries include popular brands like Maybelline, Garnier, Nyx, CeraVe, Redken, among others.
Do you know the name of the world's No. 1 Cosmetic group? Yep, L'Oreal is the biggest beauty brand that gained popularity by selling quality makeup at a stunningly cheap price. Today let's check out the cruelty-free status of L'Oreal. How animal-friendly is it?
Summary
| | |
| --- | --- |
| Finished Product Testing? | Probably |
| Third-Party Testing? | Yes |
| Testing by Brand Itself? | No |
| Sells in China? | Yes |
| Ingredient Testing? | No |
| Any Cruelty-Free Certification? | No |
Does L'Oréal test on animals?
To keep the business machine running, L'Oreal never gave much thought to animal testing. How does it shield its cruel practices on animals year after year? Let's dig deeper into L'Oreal's stance on cruelty after being in business for over 100 years.
Join on Youtube
What does the brand say about its testing policy?
Here is L'Oréal's latest animal testing policy.
L'Oréal no longer tests its ingredients on animals. L'Oréal no longer tolerates any exception to this rule.

Certain health authorities may nevertheless decide to conduct animal tests themselves for certain cosmetic products, as it is still the case in China.
A quick glance at this shady product testing policy may mislead you to think L'Oreal is cruelty-free.
However, from the later part, it is clear that L'Oreal does support cruelty passively. It finances the animal testing practices if needed by authoritative bodies of certain countries.
In response to the famous Daily Mail questionnaire, L'Oreal said and we quote,
"In China, the regulatory authorities carry out within their evaluation centers animal tests for finished cosmetics products before these are placed on their market. We think these tests are unnecessary but we cannot prevent them."
Here is one line summary of the whole page of the policy – L'Oreal's cruelty free claims are misleading and bogus!
L'Oréal – Brief History
Let's look at the brief history of the brand of honor.
1909 – French pharmacist, Eugène Schueller founded L'Oreal in 1909. The first product was a professional hair coloring dye called Oréale.
After its huge success, the brand soon came out with other makeup and beauty products including hair styling products, makeup items, skincare products, and so on.
Later, the brand's business wing started purchasing beauty and cosmetic brands.
2023 – Right now, this business giant owns over 500 brands and 20 well-equipped research centers spread across 11 countries around the globe. The headquarters of L'Oreal is in Clichy, Paris.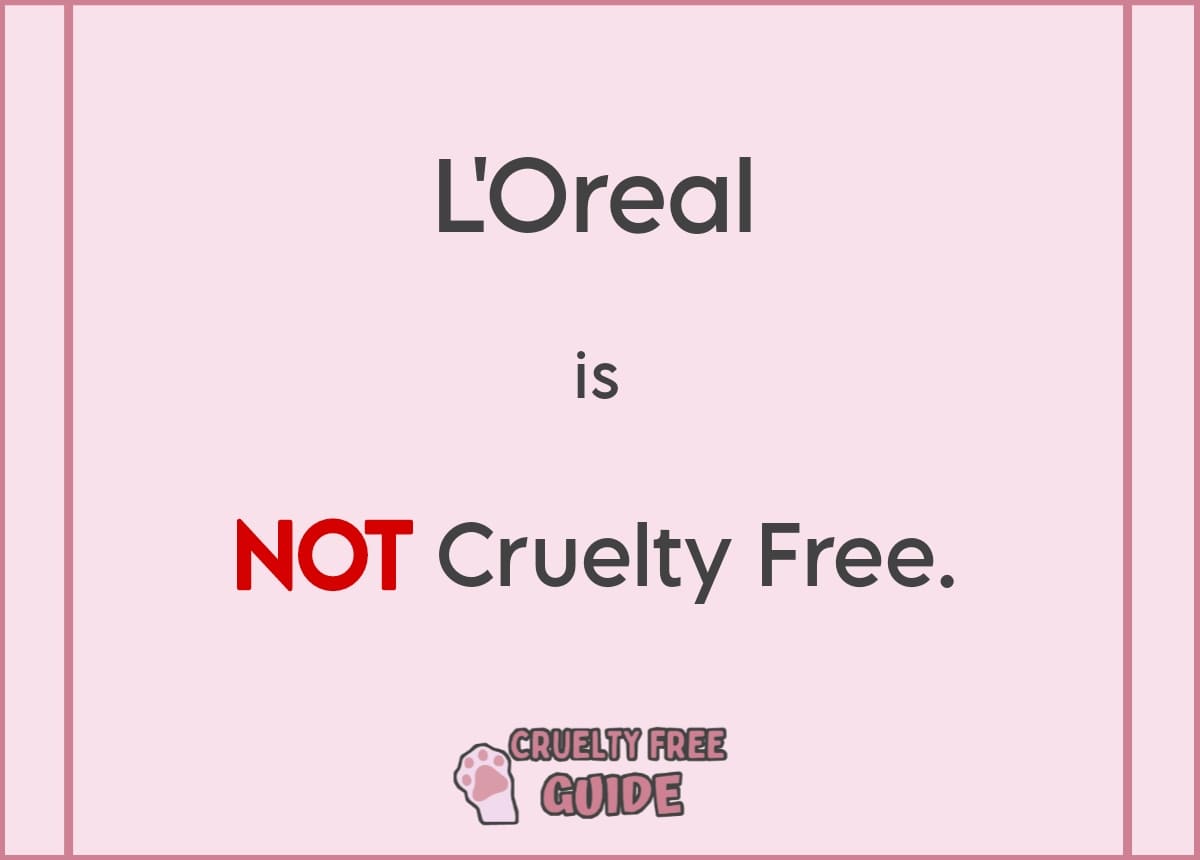 Cruelty Free Timeline
Initially – From the very beginning till 1979, every L'Oreal product did undergo testing.
1979 – In 1979, the cosmetic company constructed the human skin dummy model 'episkin' for testing.
1989 – Came1989 when it stopped animal testing on its finished goods by itself. Its products started to get tested by country regulatory bodies.
2010 Onwards – FDA sent a Warning Letter to the company's CEO stating that 2 of its products were marketed as drugs under the FD&C Act. It has happened multiple times over the years.
The beauty company still treats its anti-aging firming creams, and skin restoration products as drugs and performs cruelty-based testing on them in the name of drug testing.
Currently – It does not perform ingredient-based testing. But the loophole is that it supports and funds third-party animal tests.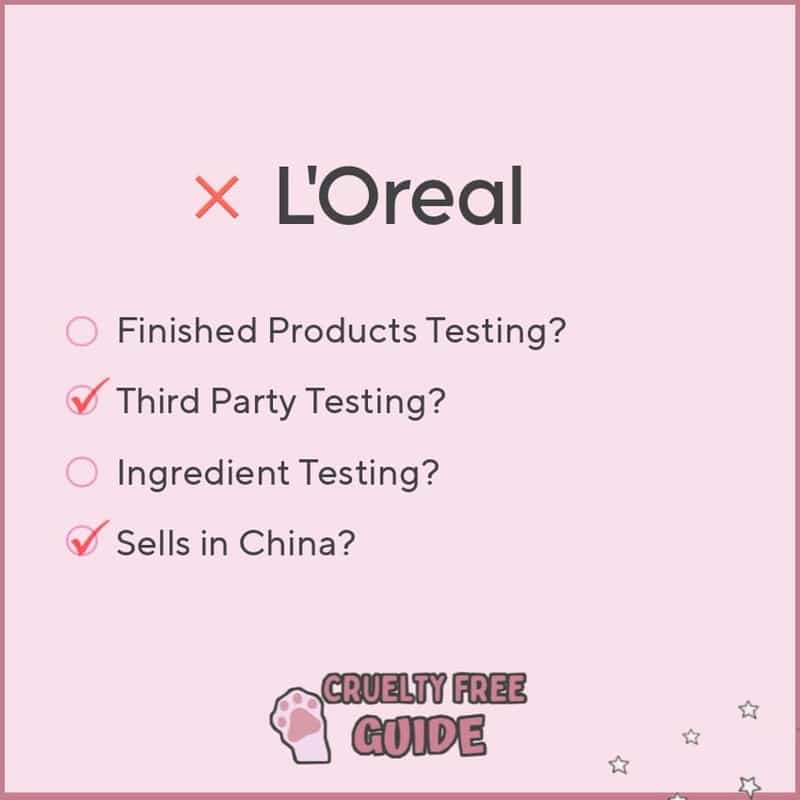 Is L'Oreal Cruelty Free?
BIG No. L'Oreal supports animal testing and still finances unethical animal testing to sell its products in 2023.
Although China has made some changes in its testing laws recently, testing is still a part of safety measures. L'Oreal allows testing establishments to run cruelty-based tests on its products.
Is L'Oreal Vegan?
Makeup, skincare, or cosmetics can be vegan only if it is free from animal-derived ingredients and not tested on animals.
Loreal markets its products with a 100% vegan label. But in reality, it is not vegan. The ingredients of L'Oreal products are not animal-derived. They are either plant-based or chemically produced in laboratories.
However, its products go through an inhuman phase of animal harm. Can it truly be called vegan?
Is L'Oreal certified by any organization?
L'Oreal is not certified by any authorized organization such as PETA or Cruelty Free International. This is why its products don't carry any cruelty free logo. No Leaping Bunny or PETA Bunny logo is there.
But you can find L'Oreal on PETA's Brands to Avoid list.
Does L'Oreal sell in China?
Of course. L'Oreal sells in China and follows mandatory testing laws.
Do we recommend L'Oreal?
The L'Oreal product sitting on your vanity might have caused havoc to innocent animals. Endorsing non-cruelty-free brands is encouraging inhuman practices on animals.
So sorry to disappoint guys! Can't recommend L'Oreal.
Makeup Brands to Avoid
L'Oreal is on our list of brands to avoid. These brands are not cruelty-free and still participate in animal testing. Some other notable mentions of our list are as follows.
Cruelty Free Alternatives
L'Oreal Voluminous Lash Mascara
This is one of the bestselling L'Oreal products. It not only defines your lashes but also provides separated volume. Try out the cruelty-free alternative, Too Faced Better Than Sex Mascara. Here is a list of cruelty-free mascara for you to find an amazing alternative!
Infallible Pro-Matte Foundation
Can't keep your hands off this medium-to-full coverage long-staying foundation? Shift your focus to guilt-free love Bite Supercharged Micellar Foundation. You'll get the exact same coverage!
Looking for a drugstore alternative? Got you. Here is a list of the best cruelty-free drugstore foundation that we love. There are vegan options too.
L'Oreal Paris True Match Concealer
This is again a hot favorite lightweight concealer with feather-light formula and awesome coverage. I recommend Tarte Shape Tape Concealer or select one from these cruelty-free concealer babies.
Color Riche Matte Lipstick
Demi matte lips are again in the trends now. L'Oreal's moist matte range is quite a hit in this category. Flower Beauty and NYX offer some great dupes of moist matte that you need to try right now.
L'Oreal Paris Magique Primer
No doubt this is a popular drugstore primer. However, you can easily replace it with a wide range of Smashbox primers.
---
Conclusion
L'Oreal offers some vegan products but can't classify as a vegan brand. It is because L'Oreal is not animal-friendly and still a participant of compulsory testing.