Last Updated on 05/23/2023
Elf is confirmed to be cruelty-free in 2023. It does not test its ingredients and finished products on animals, neither do its supplier or any third-party. Elf does not sell wherever testing is required by law. It is PETA-approved since 2007 and Leaping Bunny-approved since 2022.
Overview
| | |
| --- | --- |
| Testing by Brand? | No |
| Supplier or Third-Party Testing? | No |
| Ingredient Testing? | No |
| Finished Product Testing? | No |
| Vegan? | Yes |
Do you think cruelty-free makeup is expensive? Allow Eyes Lips Face Cosmetics aka e.l.f. Cosmetics to burst your bubble! Elf claims to be cruelty-free but there are talk of ELF's China connection. So is ELF cruelty-free or not?
Is ELF Cruelty-Free or Vegan in 2023?
ELF manufactures in China, but still claims to be cruelty-free. How so? Here is all you need to know about this affordable makeup brand.
Elf Animal Testing
According to ELF's official statement,
We are Double certified cruelty-free.

We're Leaping Bunny and PETA certified, meaning we do not conduct or tolerate any tests on animals, nor do we use any ingredients that are tested on animals in any of our skincare or makeup products.
ELF does not test any ingredients on animals. It does not engage in third party testing i.e. testing laboratories to run cruelty tests on its finished product.
Does Elf test on Animals?
Elf Cosmetics does not test on animals in 2023. No ingredient and finished products testing occurs by the brand, its suppliers and third-party.
Also, it does not sell its products in physical or offline stores in China to avoid animal testing.
Cruelty-Free Timeline
2004 – Since its beginning days, ELF had an active presence in the cruelty-free community.
2005 – Just one year after its launch, ELF joined PETA's Beauty Without Bunnies campaign in 2005.
2007 – In 2007, it joined PETA's Fur Free campaign with its faux leather tweezer packs.
2022 – Elf is approved by Leaping Bunny in 2022.
Is Elf certified by any Organization?
Elf is certified by PETA and Leaping Bunny. It is labeled as 'Global Animal Test-Free' and Vegan by PETA. Elf is also approved by Leaping Bunny since 2022. So it is double certified and also completely vegan.
Is Elf sold in China?
Yes. ELF sells in mainland China but not by 'direct marketing'. That means you won't find ELF products at any offline stores there.
You have to place an overseas order at the online website. China's product safety policy mandates animal testing for products sold in 'physical' stores.
Is Elf Vegan?
Elf is entirely vegan in 2023. Its products don't contain animal-derived ingredients such as silk, honey, carmine, tallow, among others.
All the ELF brushes and fake lashes are 100 percent synthetic and vegan. No animal hair is used.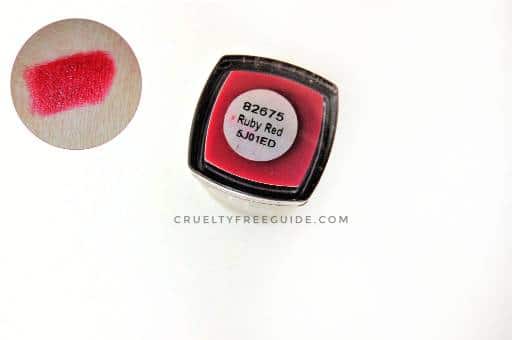 Do I Recommend ELF?
ELF products are cruelty-free, vegan, noncomedogenic & hypoallergenic. It is also free from harmful chemicals like paraben, phthalates, and hydroquinone.
Not only animals but your wallet will love you too!
Elf Cosmetics is entirely vegan! To conclude, elf cosmetics is a cruelty-free and vegan drugstore brand with double certification.
Share on Pinterest!