Last Updated on 05/21/2023
Colgate is not cruelty-free. It tests its ingredients and finished products on animals. Colgate sells in countries where testing is required by law.
Colgate offers offer oral hygiene products, namely toothpaste, brush, mouthwash and more. Today let's explore its ethical practices. Is Colgate cruelty-free or vegan in 2023? As a popular oral brand, where does it stand?
Did you know?
Initially, Colgate was sold in glass jars at the time of its release.
Overview of the Company
| | |
| --- | --- |
| Testing of Finished Products? | Possibly |
| Ingredient testing? | Unknown |
| Testing by the brand itself? | Unknown |
| Third-party testing? | Yes, where required by the law |
| Supplier testing? | Unknown |
| Available where animal testing is mandatory by law? | Yes |
Is Colgate Cruelty-Free or Vegan?
Colgate's Animal Testing
The official testing policy –
"Animal testing is only conducted where specifically required by regulatory agencies or where alternative testing methods are unavailable to ensure the safety of our products."
Colgate shares that it is against animal testing and how its scientists are working for a better alternative. However, it still has to follow the guidelines where animal testing is mandatory by law.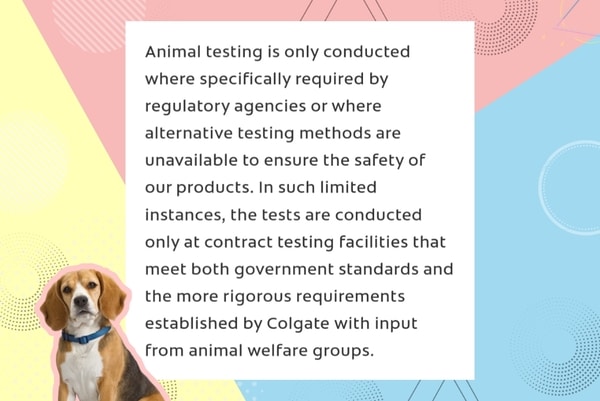 Does Colgate test on Animals?
Colgate does test on animals. It also sells in countries where testing is mandatory. It is not a cruelty-free company.
Is Colgate certified cruelty-free by any organization?
Colgate is not certified by any organization as it is not cruelty-free. Colgate is neither approved by PETA (People For Ethical Treatment of Animals) nor Leaping Bunny.
Is Colgate sold in China?
Yes, Colgate sells in China and it dates back to 1991. (Source) It has been expanding ever since.
Is Colgate made in China?
Yes, it does manufacture in China. Also, it sources the ingredients locally to reduce the overall cost.
Is Colgate Vegan?
Colgate is not vegan but it does offers some certified vegan products.
Most of its products contain glycerine that is often animal fat-based. Additionally, it does test on animals. So, no Colgate is not a vegan company or animal-friendly.
It has launched a few products that are vegan. These products carry the international Vegan trademark by the Vegan Society.
Colgate Vegan Products
Smile for Good Protection
Smile for Good Whitening
Is Colgate Vegetarian?
Colgate is not vegetarian as its products contain animal ingredients. Toothpaste contains animal fat, mostly pig fat-derived glycerine.
Some of its products are vegan. These vegan products are vegetarian. But Colgate is not a vegetarian company.
Do I recommend Colgate?
I don't recommend Colgate. There are better cruelty-free and vegan toothpaste.
Alternative to Colgate
Here are a few alternatives to Colgate. Brands marked by an asterisk (*) are owned by non-cruelty-free companies.
Cruelty-Free Options
Hello* (Owned by Colgate Palmolive)
Kiss My Face
Lush
Tom's of Maine* (Owned by Colgate Palmolive)
Vegan + Cruelty-Free Alternative
Oral Hygience Brands to Avoid
FAQ
Is Colgate white teeth vegan?
Colgate has launched a few vegan products. But Colgate WhiteTeeth is not one of them. So, it is not vegan.
How do I know if my toothpaste is vegan?
You need to check the complete ingredient list. Check for glycerin, whether synthetically sourced or not.
You also need to check bristle ingredients (for toothbrush), flavorings, and colors. Generally, the company labels vegan toothpaste.