Last Updated on 12/31/2022
Colgate is not cruelty free. Their parent company, Colgate Palmolive, is also involved in animal testing. They can be involved actively/passively. Colgate sells in countries where testing is required by law. They sell in Mainland China.
Colgate is synonymous with toothpaste. That's a huge accomplishment for any brand. Millions of consumers use Colgatere all over the world. They offer oral hygiene products, namely toothpaste, brush, mouthwash, etc. But their ethical practices are questionable.
Colgate is well interlinked with its parent company. A rich history of about 148 years, since 1873. It's also interesting to note that the parent company dates back 215 years.
Did you know?
Initially, Colgate was sold in glass jars at the time of its release. Sounds cute, although a clumsy person like me would break it being half-asleep in the morning!
Let's dive in and check out the ethical standards of Colgate.
Overview of the Company
| | |
| --- | --- |
| Testing of Finished Products? | Possibly |
| Ingredient testing? | Unknown |
| Testing by the brand itself? | Unknown |
| Third-party testing? | Yes, where required by the law |
| Supplier testing? | Unknown |
| Available where animal testing is mandatory by law? | Yes |
About the Brand – Colgate
1806: William Colgate started a soap and candle business in New York City.
1873: It started selling toothpaste in glass jars.
1896: Came 1896, brought the tube that we currently use.
1906: Marks the 100th Anniversary of the company.
By 1920: They started to expand globally, covering Canada, Europe, Asia, and Africa.
1953: They adopted Colgate Palmolive as the official name after their merger with another company, Palmolive, founded by B.J. Johnson.
1983: Colgate launches toothbrush.
1989: The financial calendar of 1989 was impressive for the company. Their annual sale surpassed $5 Billion.
Present: Colgate is a well-known name and a strong holder in the oral hygiene space. You can find its products in over 200 countries worldwide.
Colgate's Animal Testing Policy
The official testing policy of Colgate-Palmolive is:
"Animal testing is only conducted where specifically required by regulatory agencies or where alternative testing methods are unavailable to ensure the safety of our products."
Colgate shares that they are against animal testing and how its scientists are working for a better alternative. However, they still have to follow the guidelines where animal testing is mandatory by law.
The same goes for the brand, Colgate. They test on animals when required by law.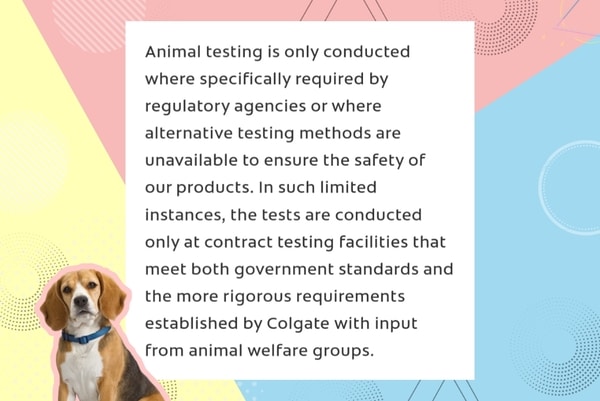 Cruelty Free Timeline
1806: William Colgate opened a small business. No talks of animal testing.
1873: Introduces toothpaste. Still, animal testing laws were unavailable to lenient, if any.
1999: After Colgate as a brand was formed, Colgate Palmolive announced a 'voluntary moratorium' on animal testing of products & ingredients.
2000s: They've tried to work on the alternative testing measurement over the years.
2022: Colgate Palmolive, including Colgate, participates in the testing of animals. How? They sell in countries where testing is compulsory and follow the government authority's regulations.
To summarise the cruelty-free timeline, Colgate was never cruelty-free, to begin with. Although they've taken remarkable steps to counter the cruel lab-based tests, they still fail to be actually cruelty free.
Who owns Colgate?
Colgate falls under the parent company, Colgate Palmolive. Their parent company also houses other big brands, such as Cuddly, Elmex, Elta MD Skincare, Palmolive, Tom's of Maine, etc. Colgate Palmolive is an American MNC having its Headquarters in New York.
Does the parent company test on animals?
Colgate Palmolive also tests on animals. They are neither cruelty free nor vegan. This means their products may contain animal by-products. More on that later.
Is Colgate cruelty free?
Colgate does animal testing, either actively or passively. They also sell in countries where testing is mandatory. They're not a cruelty free company.
Is Colgate vegan?
They do have some certified vegan products but as a company on a whole. However, they are not vegan-friendly. Most of their products contain glycerine that is often animal fat-based. Additionally, they do testing on animals. So, no Colgate is not a vegan company or animal friendly.
They have launched a few products that are vegan. These products carry the international Vegan trademark by the Vegan Society.
Colgate Vegan Products
Smile for Good Protection
Smile for Good Whitening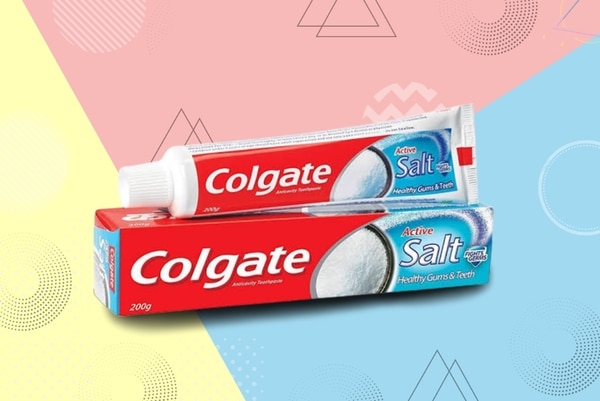 Is Colgate made in China?
Yes, they do manufacture in China. Also, they source the ingredients locally to reduce the overall cost.
Where Is Colgate Made?
Colgate sells in many countries. They have multiple manufacturing units across different continents.
Is Colgate sold where animal testing is required by law?
Colgate sells in places where testing is mandatory by law. This eliminates the chance of them being truly cruelty-free.
Is Colgate sold In China?
Yes, Colgate sells in China and it dates back to 1991. (Source) They have only been expanding since then.
Is Colgate certified cruelty-free by any organization?
Colgate is not certified by any organizations as they are not cruelty-free.
Is Colgate approved by PETA?
Colgate is not certified by PETA (People For Ethical Treatment of Animals).
Is Colgate approved by Leaping Bunny?
Colgate is not certified by Leaping Bunny.
Is Colgate vegetarian?
Colgate is not vegetarian as its products contain animal ingredients. Toothpaste contains animal fat, mostly pig fat-derived glycerine. Some of their products are vegan. These vegan products are vegetarian. But Colgate is not a vegetarian company.
Do I recommend Colgate?
I don't recommend Colgate. There are better cruelty-free and vegan toothpaste. They offer oral hygiene products without harming the animals.
Alternative to Colgate
Here are a few alternatives to Colgate. Brands marked by an asterisk (*) are owned by non-cruelty-free companies.
Cruelty Free Options
Hello* (Owned by Colgate Palmolive)
Kiss My Face
Lush
Tom's of Maine* (Owned by Colgate Palmolive)
Vegan + Cruelty Free Alternative
Oral Hygience Brands to Avoid
FAQ:
Why is Colgate not vegetarian?
Colgate toothpaste and other products contain glycerine. Mostly, glycerine is obtained from animal fat, such as pig fat. Unless explicitly mentioned that glycerine is plant-based, the products are non-vegetarian and non-vegan in nature. There are other non-vegetarian ingredients too that you need to double-check.
What toothpaste do vegans use?
Cruelty-free and vegan toothpaste to switch to is Aesop, Dr. Brite, and Davids among others.
Is Colgate white teeth vegan?
Colgate has launched a few vegan products. But Colgate WhiteTeeth is not one of them. So, it is not vegan.
How do I know if my toothpaste is vegan?
You need to check the complete ingredient list. Check for glycerin, whether synthetically sourced or not. You also need to check bristle ingredients (for toothbrush), flavorings, and colors. Generally, the company labels vegan toothpaste.
More from the Blog
Is Sephora Cosmetics Cruelty Free or Vegan?