Last Updated on 06/04/2023
Cetaphil is not cruelty-free in 2023. It means Cetaphil products and ingredients are animal tested by the supplier and/or third-party. It is present on PETA's list of brands to avoid. Cetaphil sells in mainland China where testing is mandatory by law.
Overview
| | |
| --- | --- |
| Testing of Finished Products? | Yes, where required by law |
| Ingredient testing? | Likely |
| Testing by the brand itself? | No |
| Third-party testing? | Yes, where required by law |
| Supplier testing? | Yes, where required by law |
| Available where testing is required by law? | Yes |
Cetaphil is an absolute favorite of many. Ingredient-based skincare is the main USP of this brand. But is it animal-friendly? Is Cetaphil cruelty-free or vegan in 2023? Let's explore.
Is Cetaphil Cruelty-Free or Vegan?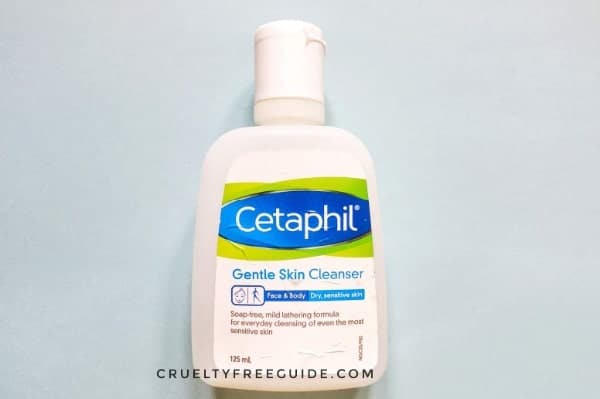 Cetaphil Animal Testing
Go to any country-specific website of Cetaphil and you'll find the same copy regarding its animal testing policy. It reads as follows.
Nevertheless, some health authorities may conduct animal testing for certain cosmetic products prior to approval for sale on the market, as is still the case in China.
Cetaphil allows its products to be tested by third parties wherever required by the law. Cetaphil's parent company also follows similar path and even funds the testing.
Cruelty-Free Timeline
There is not enough information regarding the history of Cetaphil's stance in the cruelty and testing sector. However, its parent brand was never really cruelty-free in the past. Cetaphil is not cruelty-free either. It allows animal testing wherever required by law.
Does Cetaphil test on Animals?
Yes, Cetaphil tests on animals in 2023. Cetaphil is not cruelty-free because of two main reasons.
Firstly, it allows animal testing whenever required by certain country authorities.
Secondly, Cetaphil's owner brand is a registered medicine brand. Not just China, but many other countries mandate animal testing on brands making consumable medicines.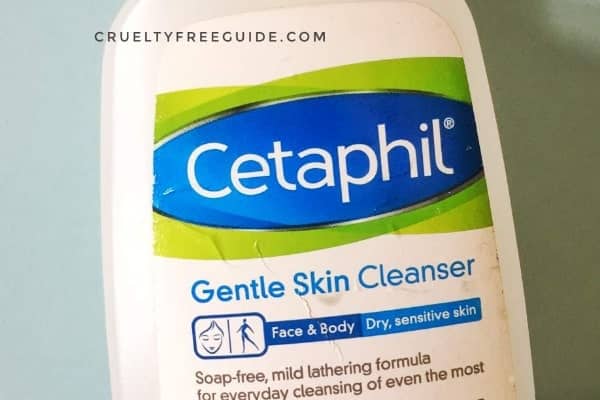 Does Cetaphil sell in China?
Cetaphil products are available in China. It is sold in mass markets, drugstores, and departmental stores. You can also find Cetaphil online in China.
Does Cetaphil manufacture in China?
Most of Cetaphil's US range gets manufactured in China. However, the company owns manufacturing units in other countries too.
Is Cetaphil Vegan?
Cetaphil is not vegan. It means that Cetaphil products contain animal-sourced ingredients. The company itself mentions using tallow, an animal ingredient.
Did Cetaphil undergo a formula change?
Yes, Cetaphil products were reformulated in 2022. This was done to make Cetaphil 'clean'.
Toxic ingredients such as parabens, mineral oil, sulfates, etc were removed from some of its products.
Do I recommend Cetaphil?
No, I don't recommend a skincare brand like Cetaphil just for the sake of popularity. Cetaphil is not cruelty-free. Additionally, PETA is aware of Cetaphil's cruelty testing status. That's why it has put Cetaphil on its list of brands to avoid.
On a side note, I really wish CeraVe and Cetaphil to go cruelty-free. It would be such a game changer in the cruelty-free skincare industry.
FAQ
Is Cetaphil Gentle Cleanser cruelty-free?

Cetaphil Gentle Cleanser is not cruelty-free because the brand tests on animals. It also sells in countries where testing is mandatory by law.
Is Cetaphil vegetarian?
Cetaphil is not vegetarian. It is because it contains animal fats. There is no clear Cetaphil animal ingredient list. But the uncertainty of sources of ingredients such as glycerin makes it unclear.
Is Cetaphil Hydrating Moisturizer cruelty-free?

The Hydrating Moisturizer is non-cruelty-free. None of its products are free of animal testing.
Is Cetaphil eco-friendly?
Cetaphil is not eco-friendly. However, the brand is improvising. Cetaphil promotes recycling and offers recyclable packages. So count it as steps toward being environmentally friendly.
Is Cetaphil clean?
Some of its products are free of toxic ingredients. But as a whole, Cetaphil is not a clean brand. Gentle Skin Cleanser, Daily Facial Cleanser, and Moisturizing Lotion are some of the products that went under the formula change.
Is Cetaphil paraben free?
Cetaphil products went under reformulation recently. Earlier, Cetaphil cleanser had parabens used as preservatives.
Share on Pinterest!