Last Updated on 06/04/2023
Aveeno is not cruelty-free. Finished products and/or ingredients are tested by the brand itself, via supplier or third-party. Aveeno sells wherever testing is legally required. It has been selling in China since 2013.
Overview
| | |
| --- | --- |
| Testing by Brand? | No |
| Supplier/Third-Party Testing? | Yes |
| Ingredient Testing? | Unclear |
| Finished Product Testing? | Yes |
| Sells in China? | Yes |
| Vegan? | No |
Aveeno is a popular drugstore skincare brand. How 'animal safe' is it? Does Aveeno test on animals? Is it vegan?
Is Aveeno Cruelty-Free or Vegan in 2023?
Animal Testing Policy
The statement is full of filler words. The brand tries to convince consumers about Aveeno's stance on how it tests only when mandatory. It also focuses on finding effective alternatives to animal testing.
Aveeno's parent company shares the similar approach when it comes to testing practices.
"AVEENO® doesn't conduct animal testing of our cosmetic products anywhere in the world, except in the rare situation where governments or laws require it."
From the country-specific official sites, it is still the same.
Our products are not animal tested, with the rare exception when it is required by law.
The harsh truth is Aveeno agrees to test its finished products on animals. It doesn't run these tests by itself. The third-party laboratories authorized by the Chinese government test the products.
The brand lacks transparency and doesn't provide enough information on how the individual ingredients are tested by its suppliers.
Cruelty-Free Timeline
1945 – Not enough data on testing during its launch.
I didn't find enough information on Aveeno's testing policy during the initial years of launch. We did reach out to the brand but didn't hear back. Understandably so.
1999 – Aveeno got acquired in 1999 by a non-cruelty-free MNC.
2013 – In 2013, Aveeno expanded into the Chinese market. Officially becoming a non-cruelty-free brand.
2023 – Currently, it supports animal testing and sells in mainland China.
Does Aveeno test on Animals?
Aveeno products are tested on animals in 20203. It allows its products to get tested on animals which is a necessary step for some countries. Aveeno mentions this fact clearly on its official website.
Does Aveeno sell in China?
Yes, Aveeno is readily available in China. It started selling in China in 2013.
Initially, Aveeno was available offline through China's famous Tmall. Currently, you can buy Aveeno products in China through its official online shop and various offline stores.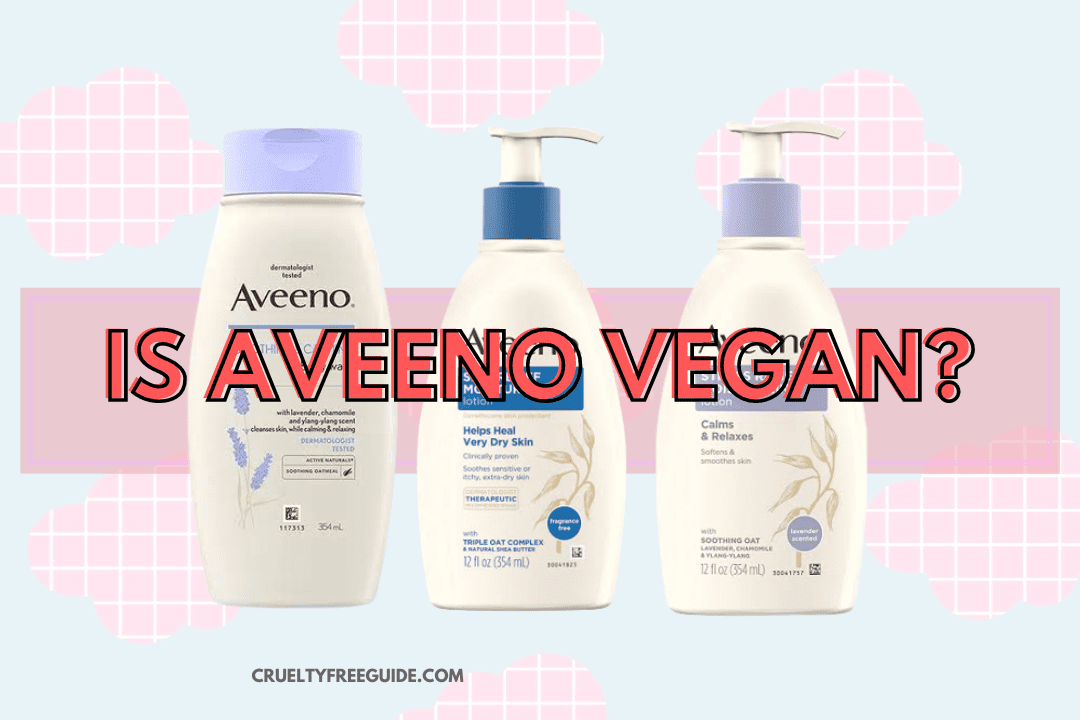 Is Aveeno Vegan?
Aveeno is not vegan. It is not authorized by any organization. However, Aveeno offers vegan-friendly products currently. But it is still not a vegan brand as a whole.
Aveeno Vegan Products
The brand offers 2 vegan products as of now and claims them to be plant-based.
Aveeno Strength & Length Plant Protein Shampoo
Strength & Length Plant Protein Conditioner
Is Aveeno Natural?
Aveeno promotes its products as natural. Sadly, many ingredients are chemically sourced. Aveeno is in PETA's brands to avoid list.
Is Aveeno Clean?
Aveeno products are not clean. Some Aveeno products contain petrolatum. This mineral oil derivative is tagged carcinogenic by the European Union cosmetic safety division. Also, EWG has given a safety rating of "moderate hazard".
Do I recommend Aveeno?
No, I don't recommend Aveeno because it is not animal-friendly. Aveeno products are tested on animals and it is not vegan either.
Alternatives to Aveeno
Switch to these cruelty-free and vegan brands.
| Brand | Cruelty-Free | Vegan |
| --- | --- | --- |
| Acure | Yes | Yes |
| Derma E | Yes | Yes |
| Hempz | Yes | Not 100% |
| Skinfix | Yes | No |
| St Ives | Yes | No |
FAQ
Is Aveeno vegetarian?

Aveeno is not vegetarian because it contains animal ingredients. Since it is clearly a non-vegan brand, it is also non-vegetarian.
Is Aveeno a clean brand?

Some of its products are free of toxic ingredients. Aveeno is not a clean brand as a whole as a whole. 
---
If you have a favorite Aveeno dupe, kindly share it with others!
Share on Pinterest!