Last Updated on 12/29/2022
Aveeno is not vegan. It is not authorized by any organization. However, Aveeno offers 2 vegan-friendly products currently. But it is still not a vegan brand as a whole. Aveeno's parent company is also not vegan.
Aveeno is a popular name in the skincare game. Does it contain animal ingredients? Let's see where it stands with being vegan-friendly.
Is Aveeno Vegan?
Aveeno's slogan is better ingredients, better skincare. Are these better ingredients coming from animals? Looks so. Let's dive in.
What does the brand say about its vegan policy?
The brand's official website lacks a vegan policy. Clearly, there does not exist one. However, there is an animal testing policy where you can find out if Aveeno is cruelty-free or not.
Is Aveeno vegan friendly?
Aveeno is not a vegan brand. At Cruelty Free Guide, a brand is marked as truly vegan in two scenarios.
1. Brand is cruelty-free.
2. Products are free of animal ingredients.
Aveeno fails at both. So, it is a non-vegan brand. Simple.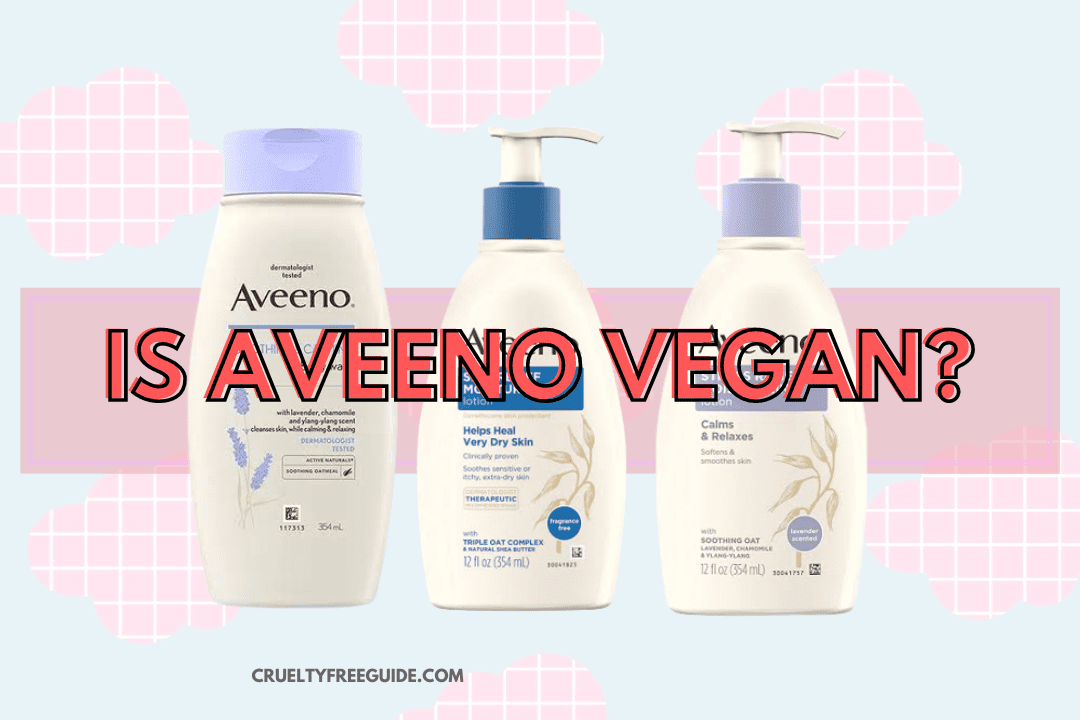 Why is Aveeno not vegan?
Here is why not.
1. It tests on animals – A brand can't be vegan if it is not animal-friendly.
2. Animal Ingredients – Its products contain animal-derived ingredients. It offers some vegan products. It is to lure ethical consumers.
3. A brand can't be classified as vegan if it offers a few vegan-friendly products. Moreover, those products are not certified by any authorities or organizations.
Products can contain hidden animal ingredients. It is quite common to hide them under their scientific names.
For example, Sodium Tallowate can be animal or plant-based. It is fat that comes from the organs of living animals after killing. If animal-derived, it is sourced from cattle, mainly cows and pigs. Until mentioned how it is sourced, there is no way to know.
4. Aveeno is not certified and lacks any authorized logo. None of its products are labeled as vegan. There is no Vegan Trademark by The Vegan Society.
Aveeno Vegan Products
The brand offers 2 vegan products as of now and claims them to be plant-based.
Aveeno Strength & Length Plant Protein Shampoo
Strength & Length Plant Protein Conditioner
Vegan Alternatives
Switch to these cruelty-free and vegan brands. Some of these are also eczema-friendly.
| Brand | Cruelty-Free | Vegan |
| --- | --- | --- |
| Acure | Yes | Yes |
| Derma E | Yes | Yes |
| Hempz | Yes | Not 100% |
| Skinfix | Yes | No |
| St Ives | Yes | No |
FAQ
Is Aveeno vegetarian?

Aveeno is not vegetarian because it contains animal ingredients. Since it is clearly a non-vegan brand, it is also non-vegetarian. Only 2 products are vegan and henceforth vegetarian.
Is Aveeno ethical?

Aveeno is not ethical because it is not animal-friendly in any way.
Is Aveeno sustainable?

Aveeno is not sustainable. However, it is taking steps towards being a sustainable brand and visions 2025 as the year of becoming so. It does offer somewhat refillable products and recyclable packaging. 
Is Aveeno paraben-free?

Yes, Aveeno offers paraben-free products. Products that are free of parabens are labeled.
Is Aveeno a clean brand?

Some of its products are free of toxic ingredients. Aveeno is not a clean brand as a whole as a whole. 
Is Aveeno lotion vegan?

Aveeno lotion is not vegan.
---
That's all for now. Hope you find it useful. Share to spread awareness.