Rough and flaky skin? Or maybe dehydrated skin? It is tough to handle skin tantrums, especially with the weather's mood swings! Don't fret, we have got you covered. We've got a list of the best cruelty free moisturizer that is for sure to change the way your skin looks and feels. Continue to read more about these amazing moisturizers!
This list includes vegan moisturizers too, alongside Drugstore picks. There is also an anti-aging moisturizer that is cruelty-free and vegan-friendly for mature skin. If you're a Holy Grail and want to tell about it, share in the comments below! All of the mentioned products are easily available on Sephora or Ulta.
*contains affiliate link(s)
If you're in the UK, you can head to Cult Beauty, Boots, or Beauty Bay to get one of these.
Best Cruelty Free Moisturizer *2022*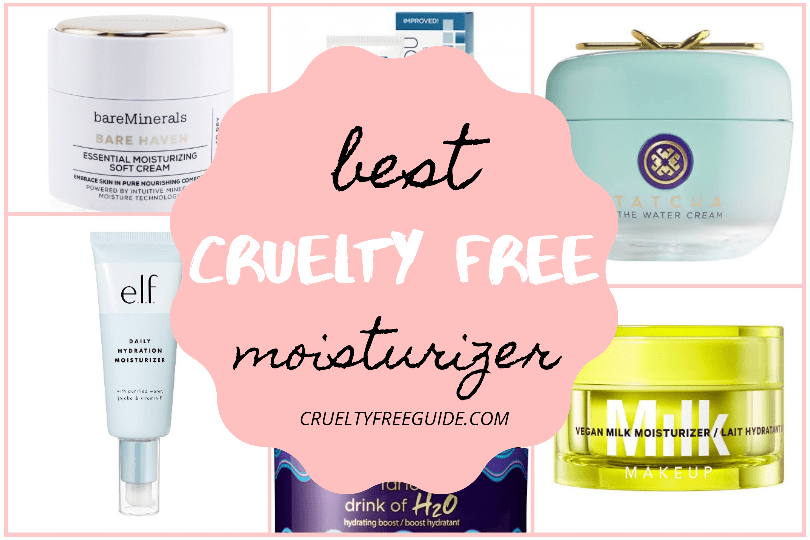 Anti-Aging Moisturizer:
Bare Minerals Bare Haven Essential Moisturizing Soft Cream
4.0 out of 5.0 stars
Go for this one if you're on the normal to dry skin side. It provides immense hydration to the skin by melting into the skin effortlessly and giving it a healthy glow. Consists of the goodness of peptides, ceramide & amino acids.
This helps to soften the texture of the skin while simultaneously reduces the appearance of fine lines. It goes on smoothly and hydrates from within. The fragrance has slight notes of eucalyptus. Dermatologist tested & non-comedogenic formula that doesn't weigh down your skin.
Amazing for people with mature skin. You can also use it as a night cream. It is light and won't weigh down. This Bare Minerals moisturizer is smooth and effective. So give it a try and your skin might just love it!
Pros:
Reduces signs of aging
Hydrates the skin
Has a subtle soothing fragrance
Absorbs quickly
Lightweight texture

Non-comedogenic
Cons: no cons for this one!
PÜR Get A Lift Age-Defying Moisturizer
5.0 out of 5.0 stars
You can use this as a day or night cream. Personally, it is better to use it as a night cream. But if you don't want to get 2 separate moisturizers, I totally get it. Pur Moisturizer is a nice option for anti-aging face lotion. It is made to work on sagging skin, fine lines, and wrinkles. This moisturizer helps to retain elasticity and achieve firm skin.
The cream has a smooth texture and is lightweight. It has a light scent to it that is not bothersome. The fragrance is fruity but mild. The price is reasonable for the result it offers and a little goes a long way. Don't over-apply, else you might find it greasy. Like a regular moisturizer, it hydrates your skin and provides soft skin.
Pros:
One of the best anti-aging moisturizer
Lightweight
Firms skin & restores elasticity
Cons:
3. Juice Beauty Stem Cellular Anti-Wrinkle
4.0 out of 5.0 stars
Juice Beauty moisturizer is best suitable for aging skin. It tackles the sign of aging such as wrinkles and fine lines. Suitable for all skin types including sensitive skin. This moisturizer contains essential ingredients such as resveratrol, fruit stem cells, Grapeseed, Vitamin C, jojoba, and Shea. Additionally, it is also free of parabens, SLS, phthalates, petroleum among others.
This moisturizer provides you with healthy-looking, even-toned skin. It deeply hydrates and nourishes your skin from within. There is a pleasant citrus fragrance to it. If you don't like fragrance or find it bothersome, you can skip it. You can get the Juice Beauty Anti-Wrinkle kit which includes anti-aging face serum, moisturizer, and eye serum.
Pros:
Vegan
Hydrating
Works for fine lines, blemish-prone skin
Cons:
Pricy
Fragrance may be bothersome
Sunday Riley C.E.O. Vitamin C Rich Hydration Cream
3.5 out of 5.0 stars
Sunday Riley cream contains vitamin C that deals with premature skin aging. It prevents and repairs the first sign of aging of the skin. It is ideal for usage for females in their 30s. THD Ascorbate, a powerful vitamin C derivative is the key ingredient. This ingredient also helps to brighten skin. If your skin dehydrated and dull, this cream can be a good antioxidant booster.
Pros:
Brightens & hydrates skin
Prevents & repair premature aging
Sulfate and paraben-free
Cons:
Tatcha Water Cream Moisturizer
4.5 out of 5.0 stars
Tatcha moisturizer is one of the best sellers at Sephora. So, yeah it is that good. Also, this Water Cream is Allure Reader's Choice 2020 Award Winner. You'll love it if you've oily or combination skin, or acne-prone skin. I know it is pricey, so today is the best time to grab it as Sephora is having a SALE! Or you can get the travel version and fall in love with it before committing.
It is a lightweight, nourishing cream that moisturizes your skin deep within. This feels great on your skin, and can be worn under makeup too. There is no greasiness or stickiness which is amazing. The scent is quite pleasant and I like it. It is also oil-free and a great anti-aging cruelty-free moisturizer that contains Japanese nutrients. If you've dull skin and visible pores, do give this one a try.
i have oily skin and i love this product. my skin is left feeling refreshed and glowing. it also hasn't led to breakouts!
Lightweight, refreshing and helps diminish my pores.
Been on the hunt for a hydrating moisturizer for my oily skin and I've finally found it. This one is absolutely amazing and I will continue repurchasing this
Anti aging; suitable for mature skin
Lightweight & immensely moisturizing
Not greasy
Oily/combo & acne prone skin suitable
Won't clog pores or cause breakouts
Cons:
Not for dry skin
IT Cosmetics Confidence in a Cream Hydrating Moisturizer
4.5 out of 5.0 stars
It is the #1 Bestseller for Anti Aging facial moisturizer in the US in 2019. Free from paraben, sulfate, and phthalates, IT Cosmetics Hydrating Moisturizer is one of the great picks for cruelty free moisturizer. It hydrates the skin and gets absorbed quickly.
Additionally, reduces the appearance of wrinkles, fine lines, and pores. It also helps to fade away discoloration. This cream is for all skin types including sensitive skin. It includes ceramide, hyaluronic acid, collagen, antioxidants & other skin-friendly ingredients. All these ingredients help the skin to retain moisture as well as prevent hyper-pigmentation & acne without being greasy at all. This cream is best suited for anti-aging.
IT Cosmetics moisturizer hydrates well and lasts long. It makes your skin soft and fresh. This facial moisturizer is light and deeply nourishes without any greasiness. Highly recommended for mature skin.
This cream, Confidence in a cream, is wonderful! Thick, but light, and intensely hydrating. But, I wake up, and feel and see a difference in my skin. I'm not big on full makeup now a days, too much trouble! But at 57, and looking like I'm 40, is nice!
Pros:
Plumps & softens the skin
Absorbs quickly
Anti aging; promotes elasticity
Makes skin even toned
Cons:
Costly but a little goes a long way for this one
Mario Badescu Hydrating Moisturizer
4.0 out of 5.0 stars
A lightweight moisturizer that is super hydrating. It is suitable for dry and sensitive skin. Also suitable for mature skin as it contains collagen, Vitamin E and A. Mario Badescu moisturizer provides soft and supple skin. It contains hyaluronic acid that is hydrating in nature and your skin loves it! You can also wear it under makeup without any disappointment. Overall, a good cruelty-free moisturizer for dry and sensitive skin. Sensitive skin people love this as it doesn't cause them breakouts. However, as always, I recommend a patch test if you've sensitive skin. Let's not take those stupid risks!
For fine lines, wrinkles, and aging skin, Mario Badescu offers Peptide Renewal Cream. It has peptides, nori extract, and sorghum juice. A lightweight moisturizer that tackles the sign of aging effectively.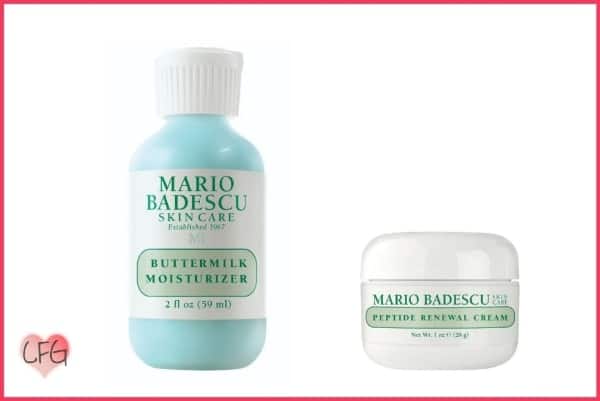 Pros:
Contains collagen, Vitamin A & E
The goodness of Hyaluronic acid
Suitable for dry and sensitive skin
Cons:
Murad Acne Control Skin Perfecting Face Moisturizer
4.5 out of 5.0 stars
Murad face lotion is perfect for oily and combination skin that is acne-prone. It has retinol and acts as a great hydrator. Another plus is that this face moisturizer is lightweight and non-greasy. It provides well-nourished skin. Murad moisturizer is free of sulfates, parabens, phthalates, etc. It helps to deal with acne and is most suitable for sensitive skin. But a patch test is recommended.
Murad also offers this SPF 30 moisturizer, Environmental Shield Essential-C Day. It contains vitamin C that brightens your skin. A moisturizer that brightens, hydrates, and protects you from the sun! It is still suggested to use a cruelty free & vegan sunscreen. The moisturizer gets absorbed quickly and hydrates nicely. It also brightens your skin.
Pros:
Oil free lightweight formula
Suitable for acne-prone skin
For oily & combination skin
Contains retinol
Cons:
Vegan & Cruelty-Free Moisturizer
Tarte H2O Hydrating Boost Moisturizer
4.0 out of 5.0 stars
This is a gel moisturizer that is best suited for oily to combination skin. It is quite light and can be used as a makeup primer. There is a cool sensation when you apply it and the scent is quite refreshing. Since it has a gel texture, there is no greasiness after application. Also, it gets absorbed easily and hydrated quite well.
Love this product! Feels like you're hydrating at the beach. Smells great and rubs in quickly to rehydrate the skin. I consistently have dry skin and since I started using this product My skin feels healthier and normal instead of dry and scratchy.
Vegan
Suitable for oily/combo skin
Lightweight & hydrating
Gel moisturizer with no stickiness & greasiness
Pleasant fragrance
Cons:
Not for extremely dry skin
Some people may find the fragrance bothersome
Milk Makeup Vegan Milk Moisturizer
5.0 out of 5.0 stars
Kind of new in the market, but definitely deserving a spot here is the vegan and cruelty-free moisturizer by Milk Makeup. It is suitable for normal to dry skin. Sorry oily skin people! Feel free to skip on this one if you're on a combination/oily skin side.
It provides a replenished hydrated glow and moisturizes the skin immensely. This Milk moisturizer has a thick creamy consistency but won't feel greasy after application. It also has a light aroma to it which fades away soon and isn't bothersome. Also, a little goes the long way. Overall, worth the pinch in the pocket or you can grab it while on sale. Like now?!
OMG this is the BEST moisturizer i have EVER used. it's thick which is really nice and it's super moisturizing and hydrating. i use this ever night and it makes my skin so soft!!! i highly recommend
Pros:
Vegan
Nourishes your skin
Suitable for dry skin
Non-greasy
Cons:
Not for oily skin
Price (grab on sale!)
Drugstore Moisturizer
Shea Moisture Manuka Glow Getter Serum
4.0 out of 5.0 stars
Not just a regular moisturizer but a solid pressed serum + moisturizer that melts into a velvety serum as you rub it between your hands. It hydrates the skin and deeply nourishes for a healthy glow.
It has manuka honey, yogurt, and vitamin C as its key ingredients. All of these are known to make skin supple and soft by hydrating it. Also giving the skin a brighter look & natural glow. The texture of this cream is definitely something that you'll fall in love with. The fragrance is not at all bothersome, quite subtle.
However, skip on this if you've oily skin. It might not be the best for oily skin type since it does give a sheen on the face which appears greasy. Moreover, keep in mind to apply a tiny pea-sized amount. So if you need more, add a bit more in smaller portions. Else, you'll end up rocking an oily day (still like a boss though!).
Pros:
Nice texture
Gives skin a brighter look
It acts like a 2-in-1 serum and a moisturizer
Makes skin soft
Makes the skin look glowy by giving it a sheen
Cons:
Not suitable for oily skin people
The texture is a bit thick
ELF Daily Hydration Moisturizer
4.5 out of 5.0 stars
Firstly, I love the smell of this one! Apart from smelling amazing, it is suitable for all skin type, as per it claims. But as always, I ask you to perform a patch test prior to usage.
Performance-wise, quite a lightweight moisturizer that deeply nourishes, making your skin smooth and soft. It's infused with good ingredients such as jojoba, aloe, shea butter among others. Elf cruelty free moisturizer doesn't leave any residue on. What's more, is that it helps the skin stay fresh all day. So, it is a light face lotion, perfect for everyday usage. Love me some non-greasy lotion, all weather!
Additionally, it is also free from parabens, sulfates, and phthalates. Not to forget, Elf Moisturizer has also won the Allure Best of Beauty Award for 2015 & 2017. One of the best drugstore moisturizers out there in the market right now which is also cruelty free.
Pros:
Lightweight moisturizer
Free from harsh chemicals
Keeps skin fresh all day
Drugstore
Cons:
Has a strong fragrance to it, which may bother some (hello sensitive nose!)
Andalou Naturals Ultra Sheer Daily Defense Facial Lotion
4.5 out of 5.0 stars
It has a light fruity fragrance that isn't bothersome. The sunscreen is GMO-free and gluten-free & derived naturally. This cruelty free facial lotion comes with SPF 18.
A great pick if you're looking for cruelty free + anti-aging lotion. It helps in repairing & revitalizing the skin, and gives your skin a youthful glow. This cream works amazingly well.
It doesn't cause any irritation to the skin and is great for sensitive skin type people. However, the only con is that the SPF is less but otherwise it's good.
Pros:
Lightweight formula
Has SPF 18
Amazing for sensitive skin type
Provides nourishment to the skin
Not greasy at all
Affordable
Anti aging
Cons:
Less SPF
Jack Black Double-Duty Face Moisturizer
4.0 out of 5.0 stars
Jack Black moisturizer is a great hydrator. It is suitable for all skin types including sensitive skin. It is artificial fragrance-free and also free of paraben and gluten. This moisturizer contains vitamin A and E and has SPF 20 UVA UVB protection. It is light and non-greasy. There is a light scent that is not overpowering.
If you've dry skin or need extra hydration then Jack Black Ultra Calming Moisturizer is good to go. You can also use it as a night cream. Similar to the other one, it is also non-sticky and light. No shine or anything! It is also fragrance-free.
Pros:
Artificial fragrance-free
Free of gluten and paraben
Cons:
There is still a fragrance
Pacifica Dreamy Youth Day & Night Face Cream
4.5 out of 5.0 stars
This cream is packed with antioxidants and peptides to help you give a brighter and clearer complexion. It moisturizes the skin very well. Moreover, it is perfect for both day & night time.
After application, the floral fragrance fades away. It doesn't feel heavy on the skin and a little goes a long way. This cream is suitable for all skin types. It will also suit people having sensitive or even acne-prone skin.
Pros:
Brighten the skin
Gives a clearer complexion
Good for day and night time both
A little amount is required only
Best for sensitive and acne prone skin
Vegan & affordable
Cons:
Fragrance might be too strong.
Pixi H20 Skindrink
3.5 out of 5.0 stars
It a moisturizing gel that gives boosts hydration to your skin. This gel has a cooling formula that re-hydrates the skin while making it appear plump. I highly recommend this one. You are most probably gonna end up repurchasing it.
I know it is slightly on the expensive side, but it is definitely worth a purchase. Pixi Skindrink feels refreshing on skin and immensely hydrating. A lightweight texture that is easy to absorb, is non-greasy & makes your skin feel fresh. In addition, it includes green tea, aloe vera, glycerin & rosemary which provide necessary antioxidants & moisture to the skin. A great choice for people with oily to combination skin type.
Pros:
Hydrates the skin
Plumps the skin
Lightweight texture
Provides necessary antioxidants to the skin
Refreshing, non-greasy formula
Recommended for oily to combination skin type
Cons:
Not the best for extremely dry skin type
These are some of the amazing cruelty free moisturizers that you must be buying this season. Which one is your favorite pick out of all the above?
x
More Cruelty Free Resources:
Makeup Brands that Test on Animals
12 Best Cruelty Free Body Lotion & Body Butter
11 Best Cruelty Free Face Wash
10 Best Cruelty Free & Vegan Body Wash *2022*
16 Best Cruelty Free Concealers – Vegan & Drugstore
Share on Pinterest!